Although Australia is often portrayed as a nation of gamblers, we still know relatively little about the extent to which gambling affects our society. One blind spot in our knowledge is the impact of gambling in regional and remote Australia.
Currently, regulatory and research attention exhibits an urban bias. The political debate over mandatory pre-commitment during the Gillard era provides an example of this. The suggested trial site (the Australian Capital Territory) was implicitly and problematically assumed to be representative of the rest of Australia.
If such a trial had taken place, any lessons learnt from Canberra, with its relatively high socioeconomic status and uniform suburban layout, were unlikely to have translated well to other urban areas, and far less to rural and remote localities.
To investigate the possibility that lessons learnt in urban areas might be mistranslated in remote Australia, we investigated the catchment of Lasseter's Hotel and Casino in Alice Springs.
Standard techniques such as mail-out surveys or computer-assisted telephone interviews are not feasible options in remote areas, so very little is known about the extent of the casino's catchment. Instead, we trialled the use of annotated "sketch mapping" exercises to gather data. Put simply, sketch mapping involves asking people to draw, using pen and paper, their own mental maps of particular places.
At the time of fieldwork, the casino had 300 pokies, making it roughly equivalent to some of the larger clubs in Canberra. In Canberra, gamblers travel up to 20 kilometres to visit such venues. To examine the extent of casino-related travel in Central Australia, we conducted sketch-mapping interviews with representatives of Indigenous communities in and around Alice Springs, service provision caseworkers and senior government regulators.
We found the catchment of the casino to be vast, covering much of the southern part of the Northern Territory, the top north-western corner of South Australia and parts of Western Australia. This catchment is illustrated on the map below.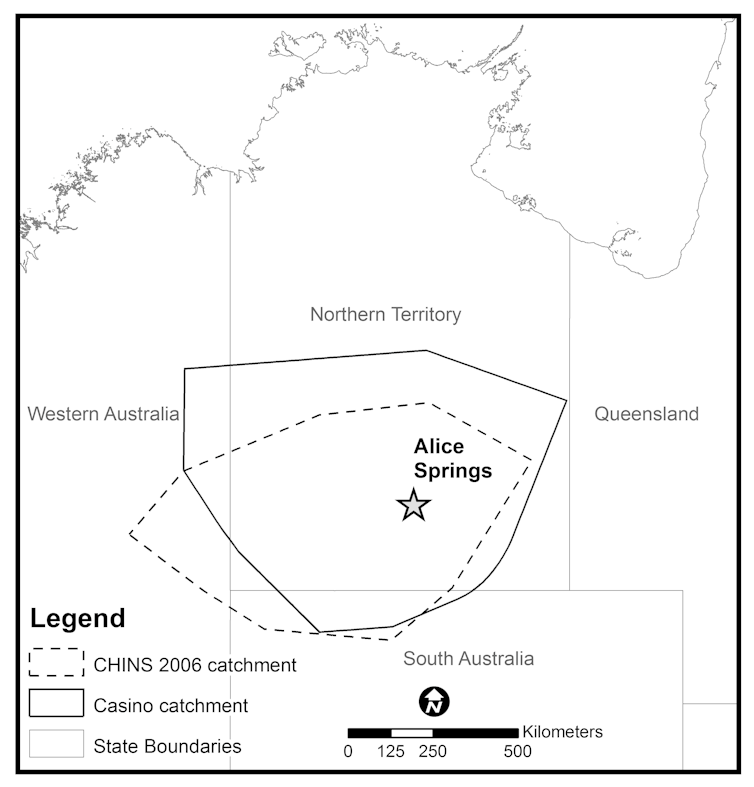 Gambling venue catchments in Central Australia are hundreds of kilometres larger than those in metropolitan areas. In the case of the Alice Springs casino, some patrons travel more than 800km to visit. Remote casinos, such as those in Darwin, Alice Springs, Cairns and Townsville, may have a much greater social and public health impact than previously thought.
However, all respondents made it clear that casino visitation was strongly tied to general access to the town's services. These included health, financial, employment and commercial opportunities. When we compared the casino catchment to data from the Australian Bureau of Statistics (ABS) on nearest services for Central Australian communities, we found a strong overlap between the two.
So, what do these findings mean? The vast catchment of the casino has the potential to generate far-flung social impacts, much more than a similarly sized venue in a major city. But because data on gambling impacts in remote areas is rarely collected, we have no way of identifying or assessing these impacts.
For example, the Alice Springs casino was reportedly authorised to install 100 additional pokies in 2011, but the impacts of this expansion are unlikely to be detected by regulators.
Not only is the catchment vast, it is characterised by high levels of socioeconomic disadvantage. Given that the last state-wide gambling survey in the Northern Territory in 2005 did not record representative data for the 22% of the population who live in very remote areas, the impacts upon such communities could well be flying under the regulatory radar.
While casino gambling appears to be a highly desirable activity for many rural residents, by siphoning money out of some of the poorest remote communities in the Northern Territory, the casino has the potential to generate significant social harm. The Alice Springs casino may effectively be exporting harm throughout Central Australia. The precise nature of these impacts is unknown.
For example, does the out-of-town context, away from social safety nets, predispose some patrons to gamble in different or relatively more risky ways? Are the impacts of losing your money worse when away from your home town? Does money lost at the casino reduce the opportunities for local enterprises in remote communities to thrive?
These findings suggest that state regulatory bodies should be gathering representative data to understand the impact of gambling in remote areas. To continue to treat the Alice Springs casino and other remote gambling venues as "typical" or "standard" pokie venues, impacting only upon those living nearby, would be a serious mistake.
---
This is part one of a two-part feature on Indigenous and remote gambling in Australia. You can read part two here.