The best photos do more than freeze time. They capture a moment and take us there, making witnesses of us all. Here lies their power to inspire, touch and transform; a power tied to the stories, hopes, dreams and struggles that shape our lives.
The image of the Indigenous AFL footballer Nicky Winmar pointing with pride to his skin in 1993 in response to racial abuse from the Victoria Park crowd is one such photo. Reproduced countless times, it has graced posters, art galleries and city walls. And now a football game shall commemorate it. The AFL has announced that the 2014 Indigenous Round will feature a game between St Kilda and Collingwood to celebrate Winmar's famous gesture.
Those who might question the need to still celebrate the photo and action depicted need only go back to the comments Sydney Swans Indigenous star Adam Goodes made in his interview with Karla Grant that aired earlier this week on NITV's Living Black. While it was the possibility of a move into politics that garnered national attention, the most moving part of the interview concerned Goodes' reaction to the way he was vilified in May this year. Being called an "ape" was "just shattering".
No footy picture taken in the last 20 years has spoken to racism as powerfully as the image of Winmar pointing in pride and defiance to the colour of his skin. But the image of Goodes responding to the shout of "ape" came closest. Late in the opening match of the 2013 Indigenous Round, Goodes' momentum took him along the boundary fence. Then suddenly he turned around, drew the attention of a security guard, and pointed to the girl who had just vilified him.
Captured from behind by photographer Andrew White, Goodes is statuesque in profile as if he was intentionally embodying the latest campaign against racism.
Racism. It stops with me.
Racism in the AFL was supposed to have stopped after the cumulative effect of Winmar's gesture in 1993, Michael Long's public demand in 1995 that the AFL move against on-field racial abuse, and the AFL's subsequent development of the groundbreaking Rule 30 to "combat Racial and Religious Vilification".
And yet, the last few years have seen the AFL plagued by a stream of racist incidents from the on-field vilification of Joel Wilkinson by Justin Sherman, to spectator abuse directed at players such as Wilkinson, Majak Daw, Lance Franklin and Goodes, to controversies around the recruitment of Indigenous players and the linking of Goodes to King Kong by Collingwood president Eddie McGuire.
Not only has abuse continued to occur, but much of the public response to the denigration of Goodes was disturbing. Many people simply didn't understand why he was so offended and advised him to "harden up" and deal with such "trivial" insults.
Twenty years ago, another Collingwood president, Allan McAlister, had shown why these insults are not trivial. Defending his club in the aftermath of Winmar's gesture, McAlister told a national TV audience that the Magpies did not have an issue with Indigenous Australians, but then added the following proviso:
As long as they conduct themselves like white people, well, off the field, everyone will admire and respect them.
When asked to explain what he meant, McAlister made his position even clearer.
As long as they conduct themselves like human beings, they will be all right. That's the key.
McAlister was giving voice to long-discredited but still active assumptions of racial hierarchies. These assumptions had their roots in racialised science, which saw white men as the pinnacle of evolution and believed Indigenous Australians were the remnants of an inferior, dying race. It was such continuing, inchoate beliefs which made "black" a term of disparagement.
These damaging assumptions of Indigenous inferiority remain beneath the surface of Australia's still problematic race relations. In the aftermath of Goodes' vilification, the AFL's head of diversity Jason Mifsud made a critical point. Unconscious biases and assumptions reveal themselves in moments of rage and attempts at humour.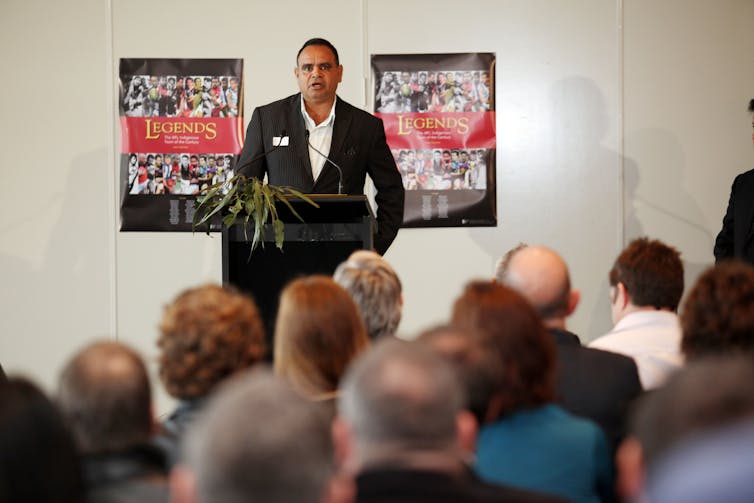 The enraged call of "ape" and a supposedly humorous joke about "King Kong" both pointed to the assumptions promulgated by the long-discredited science of race. Both were deeply offensive because they link back to a history of discrimination and violence that was justified by claims that Aboriginal peoples were lesser humans. Yet this history remains largely neglected outside of universities and Indigenous communities.
The lesson unintentionally provided by McAlister has been forgotten – the public link between racist abuse and the history of discrimination has been lost. And not for the first time. What struck us in researching the history and impact of Nicky Winmar's gesture is just how frequently key moments in the struggle for Indigenous rights featured on the front pages of newspapers and then disappeared from public memory.
Somehow, there was no enduring story of Australia's highly problematic race relations for these moments to become part of.
The photos of Winmar are an intriguing exception. Australian rules football is the language of much of Australia. What happens on footy ovals at the elite level is likely to be remembered, debated and told over and over again. And Winmar's stunning statement brought race into the heart of this conversation. The power of the image facilitated important change. But for the underlying causes of racism to be addressed, we need to begin remembering more than just Winmar's action.
---
Matthew Klugman and Gary Osmond's book on the history and impact of Nicky Winmar's gesture - Black and Proud: The Story of an Iconic AFL Photo - is available from November 1.