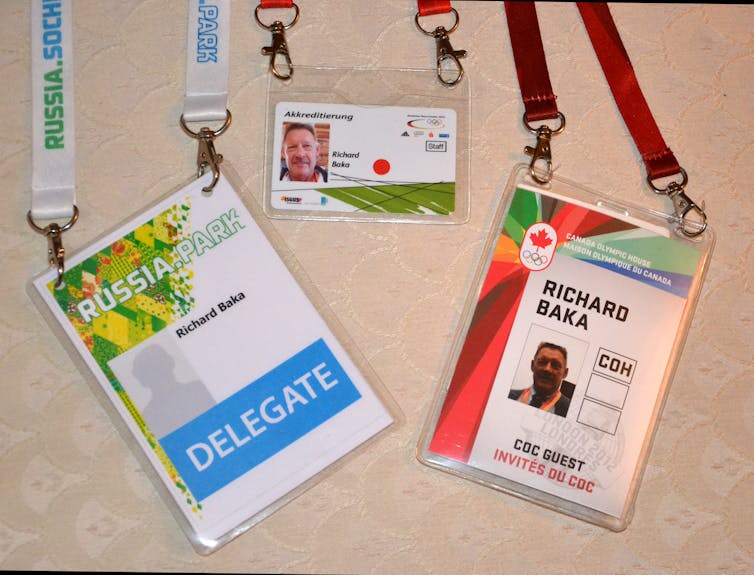 One of the purposes of my trip to the London Games was to investigate the concept of Olympic Houses – something most Australians would not know about.
Basically these are temporary Embassies of Sport that are set up in the host games city by most of the larger national Olympic committees (NOC). These venues are set up for various reasons but mostly to be a "home away from home" for a nation's Olympic athletes, NOC officials, sponsors and family and friends of the athletes.
It is a place for sponsors to network and showcase their products, celebrate medals won, for athletes and supporters to socialise, to host special functions, entertain guests and so on.
At the 2010 Vancouver Winter Olympics I managed to secure a one-day guest pass to the Canadian Olympic House and was very impressed. Every Canadian Olympian could gain access and they could nominate a set number of family and friends who would be accredited to gain admission to this venue.
The house had a media room for athlete interviews, a free internet area, a bar, serving area for food and beverages, message boards with an information service and a large room that could be booked out for corporate or special functions.
When a Canadian athlete won a medal it was a place for celebration. Above all it seemed like it was best used by the family and friends of athletes who could meet them there. Canadian Olympic Committee officials said it was ideal for the athletes and served as "distraction management", allowing the competitors to train and do their thing but then have a place where they could meet their support networks. (Guests are not allowed in the athletes' village.)
Over the past few years I have been following up on this concept and in London I managed to get into a number of these specialised venues. This included Canada Olympic House, USA Olympic House, German Olympic House, Russia Park and Sochi Park, Africa House and Italy House. The models are sometimes a bit different.
The Canadian version is by accreditation and invitation only and has no public area. The Americans House is quite private and in London it had two separate houses – one for the corporate sector and the other, sponsored by Procter and Gamble, was for athletes, their families and friends and global visitors from the wider Olympic community.
Germany had a very impressive combined model in a converted art gallery out near Canary Wharf. Not only was there a private accredited area for their Olympic "family" but also a Fan Fest area which was next door. This area allowed the public into a beer garden atmosphere along with music and entertainment.
I managed to spend four hours there one evening where I had a reunion with several academic colleagues and friends from the German Sport University. It helped that a former exchange student of mine was a volunteer at German House and as a result he arranged a guest pass and gave me a detailed explanation of how it all operated. Interestingly the cost was primarily borne by the German Olympic Sponsors.
The Germans have been doing this the longest (since 1988) so they do it well with expert efficiency and a first-class setting.
One of the most famous all of the Olympic houses is Holland Heineken House which is, as the name, suggests a gigantic pub full of big screens and a celebration of Dutch culture. There is a charge to get in and you can even book ahead of time although Dutch citizens have preferential entry. They also have a private accredited section for their Olympic Family.
There were dozen of these Olympic Houses scattered all over London but I did not have time to visit them all.
So where was Australia's Olympic House in London? Well, there wasn't one. Apparently the Australian Olympic Committee (AOC) tried this once in Atlanta in 1996 but it was never repeated. The only explanation I could find was that it got a bit too "boozy". It was sponsored at that time by Fosters so I assume the model was like the Dutch Heineken House and the emphasis was on a pub atmosphere.
In lieu of an Australian Olympic House, Aussie supporters, family of athletes and others usually take over and adopt a pub. Our swimmers even have an official supporters group known as Parents, Pals & Partners of Oz Swimmers (POOS) – quite a catchy name but they had no Aussie Olympic House at which to gather.
Parents of our Olympic athletes who give up so much of their time by way of financial and emotional support of our Olympians deserve a common meeting place at The Games. So do our athletes and all of the Olympic Family.
My recommendation is that the AOC, our Olympic sponsors, Austrade (who often host big corporate events at the Games), the Australian Sports Commission/Australian Institute of Sport and our Federal Sports Minister look into this situation in more detail.
Perhaps a rejigged and remodelled Australia Olympic House could be tried again in Sochi or Rio. I'd be pleased to share all my notes and research on this concept. As one of the leading Olympic nations this is one thing we are missing. All of the feedback I could find on these Olympic Houses was overwhelmingly positive.
Here are just a few points to consider if we want to develop this concept:
We could showcase Australian symbols, icons and our culture.

It would be the ideal place to fly the boxing kangaroo flag without any IOC interference.

It should not directly cost the AOC or taxpayers much, if anything, as the majority of these houses' expenses are paid for by sponsors or by in-kind support.

It would be the ideal setting to celebrate medals or outstanding achievements by our Olympians.

VIPs or members of the Royal Family might drop in on noteworthy occasions such as happened at Canada House after a Canadian silver medal was won in rowing.

Hey we are Aussies and when we travel half way around the world to participate in the Olympics we need a place to hang out.
What are we waiting for?