It was not your normal book launch. When Pamela Williams' book Killing Fairfax: Packer, Murdoch and the Ultimate Revenge was launched in Sydney, James Packer and Lachlan Murdoch turned up to celebrate. The Crikey website described them as "a grinning duo". They had spoken very frankly to Williams while she researched the book, they had posed for the cover photo and the book's title had emerged after a vodka toast by the duo at the fancy Rockpool restaurant. Their gloating presence at the launch guaranteed the book extensive publicity.
The book is the inside story of corporate players and their playthings: newspapers, pay TV and radio and television networks. Its centrepiece is a description of the business sparked by the rise of the internet over the last 15 years. Its argument is that Packer and Murdoch were savvy enough to buy into new digital advertising startup sites like Seek, realestate.com.au and carsales.com.au and eat Fairfax's lunch. Their motive was age-old hatreds handed down from father to son. Now, the book implies, Fairfax is dying but it only has itself to blame. Published by Murdoch's company, HarperCollins, the book contains only praise for Packer and Murdoch and only scorn for Fairfax's managers.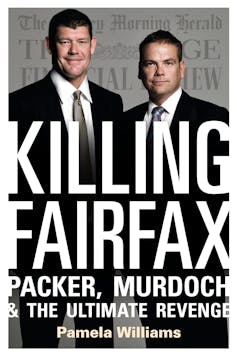 It sounds as if Williams celebrates the collapse of Fairfax; but she does not. The last words of her book are a toast: "To Fairfax, long may she survive!" There's no reason to doubt Pamela Williams' sincerity in this cry. She herself is a product of Fairfax and she subjects the company and its past managers to the kind of independent scrutiny for which Fairfax has been famous for at least 30 years. She is still an 'editor-at-large' of Fairfax's Financial Review and was allowed six months leave to write the book.
But the overall effect of the book, particularly its title, cut deep at Fairfax Media where it was seen as a kind of betrayal. So much so that Fairfax CEO, Greg Hywood, responded to the book with a rousing statement which attacked the "hubris and triumphalism of James Packer and Lachlan Murdoch". It added: "With respect, what an affront it surely is to all Australians for Packer and Murdoch to rejoice over threats to quality journalism". It concluded with a warning to readers of the danger of an Australia "where the commercial interests of Packer and Murdoch prevail, self-satisfied and free of scrutiny". It was a brave and unprecedented statement.
The statement is a living example of one of the book's themes which is the hatred for Fairfax which Packer and Murdoch share. In Packer's case it's because of the journalistic coverage of his father Kerry and in Murdoch's case it's contempt for Fairfax's alleged "left wing" political stance. This visceral hatred allowed Williams to persuade these two powerful individuals to open up about their roles and even about their deepest emotions (James Packer discussed his grief at the death of his father Kerry).
This access to the powerful players plus the vivid blow-by-blow reconstruction of events is the strongest point of the book. It begins with the 1990s rise of digital start-ups which sold classified ads for cars, real estate and jobs. These start-ups took many years to break even and they burnt through tens of millions of dollars to get to that point. But as they rose, they began to hack at the famed rivers of gold which paid for Fairfax journalism. Today, these former digital start-ups dwarf Fairfax. The job site Seek is capitalised at over $2 billion and REA (realestate.com.au) is just under $2 billion. Fairfax has dropped to around $1 billion.
In exploring how this happened, there is a view fostered by Murdoch newspapers that Fairfax management was so stupid that it simply did not understand that the threat posed by the internet to their classified ads. Yet early on Fairfax started its own classified websites sites such as Domain (real estate) Drive (cars) and MyCareer (jobs) which they retain. Moreover, like many others they saw the dotcom bubble burst in 2000 and concluded that the internet was over-rated. In the subsequent years they diversified their revenue by merging with Rural Press, buying radio stations and other media businesses. They were not unaware of the digital threat.
What they did not do was to move boldly and early enough to buy a strategic share in their online classified rivals. Nor did they pour money into their own classified sites to fight to keep market dominance in classified ads. Their failure to do this was "a catastrophic mistake", as Williams rightly says, and may yet result in the break-up of the company.
The main weakness of Williams book is that, like many blow-by-blow accounts, the long-term meaning of events is buried under a mass of fascinating detail. Killing Fairfax has nothing to say about the meaning and significance of the events it describes. While we read about the clothes which John Fairfax wore to a crucial meeting (charcoal grey suit and blue striped shirt,) and those of Fairfax chairman, Ron Walker, (pink shirt and navy tie with yellow polka dots, page 231) we have no hint as to what the possible collapse of Fairfax Media will mean to Australian journalism, let along wider Australian society. It's a rollicking but ultimately superficial tale.
If Fairfax Media collapsed or was broken up and sold off, would it matter? Though increasingly debilitated, Fairfax Media has been, as Hywood's statement argued, a source of quality journalism for many years. Its key newspapers, The Age and Sydney Morning Herald, have offered an independent scrutiny of governments and corporations that has not been equalled. Until now their strength has allowed them to pay for in-depth journalism and to fight legal battles to protect their journalists and their sources. And newspapers still matter. They set an agenda for TV and radio and they are the source of most online news.
The weakening of Fairfax also matters for Australian politics and democracy. With Fairfax alive, we have a duopoly in news, which is not ideal but better than having a Murdoch monopoly in news. Of course, an alternative of sorts exists. Fairfax could have life breathed into it by a takeover by mining billionaire Gina Rinehart. This would truly be the definitive "killing of Fairfax".