The recent collapses of Air Australia, Malev and Spanair raise questions about airline strategies and business models.
With rising fuel prices and continuing economic turmoil in Europe and elsewhere, what is the sustainability of low-cost air travel and new-entrant budget airlines?
Although these three airlines have in common their recent collapse, they have different histories. Air Australia and Spanair were "new-entrant" airlines, while Malev is a "legacy" airline with 66 years of almost continuous operation. It was the Hungarian national airline, part of the Oneworld airline alliance that also includes Qantas, American Airlines and British Airways.
There are still successful new-entrant airlines in the industry. Virgin Australia has been growing and just delivered a 118% increase in its interim profit, despite facing a large and powerful competitor: the Qantas Group.
Jetstar, within the Qantas Group, is another successful new-entrant airline that is profitable and growing in Australia and overseas.
There are also successful new-entrant airlines around the world. Southwest Airlines in the USA and Ryanair in Europe are the two largest and most iconic new-entrant airlines. Both have relatively low costs and offer low fares. Nevertheless, these airlines can be characterised as adopting contrasting "high-road" and "low-road" approaches to managing people.
A High-Road Approach: Southwest Airlines
Southwest was the first new-entrant airline. It was founded in Texas in 1971 and has been profitable and growing steadily throughout its life. It is now one of the largest airlines in the USA, with only one strike in its history (in the early 1980s), and no layoffs or redundancies.
As we mentioned in another article, the US Department of Transportation reported in 1993: "Southwest is having a profound effect on the airline industry. Southwest's much lower operating costs are making it the dominant airline today in the sense that Southwest, more than any other airline, is causing the industry to change. Other airlines cannot compete with Southwest in the same manner as they do with each other."
Southwest's operating strategy is based on achieving high levels of employee and aircraft productivity and low unit costs through rapid turnaround of its aircraft at the gate. Rapid turnarounds at Southwest are supported by standardisation of aircraft and by offering a single class of service without pre-assigned seating.
But rapid turnarounds also require high levels of coordination across the functions involved in flight departures - including pilots, flight attendants, mechanics, ramp agents, gate agents, operations agents and so on. This enables Southwest to maintain a rigorous schedule while minimising delays, customer complaints and lost baggage.
Coordination at Southwest is characterised by relatively high levels of frequent, timely, problem-solving communication between functions, supported by relationships of shared goals, shared knowledge and mutual respect, especially useful when coordinating work that is highly interdependent, uncertain, and time-constrained. This form of coordination, known as relational coordination, has enabled Southwest to achieve high levels of employee and aircraft productivity while also achieving reliable performance relative to its competitors.
Southwest achieves these high levels of relational coordination through a distinctive set of people-management practices. For example, Southwest uses the recruitment process to identify relational competence in addition to functional skills, and then invests in training to build further relational competence.
At the recruitment stage, for instance, prospective employees are asked to take an incident from their previous work experience when they had a conflict with another employee, and explain how they handled it and what the repercussions were. Recruiters are on the alert to identify prospective employees who demonstrate awareness of other people and a respect for their work, as well as the willingness to do what it takes, over and above the immediate job assignment, to ensure a successful outcome.
Southwest's stated priority is to be a "safe, profitable, and a fun place to work". Moreover, at Southwest, unlike some other employers, statement the latter part of this statement is not empty rhetoric. Southwest really does prioritise fun. It also aims to maintain a high degree of cooperation with the unions that represent its workforce. In the USA, it is probably the most highly unionised airline and is often rated as one of "the best places to work". Simultaneously, it is also the most consistently successful in terms of profits, growth and most other key performance indicators. Moreover, Southwest offers relatively high levels of pay to its staff.
A Low-Road Approach: Ryanair
Ryanair was born in 1985. It has grown to be one of the largest airlines in Europe. From its early days, work practices at Ryanair had a high-stress approach, which the airline has since become known for.
"Everyone at Ryanair worked long hours. One former employee said it was like being on a treadmill constantly moving at a frenetic pace. 'Ryanair felt that it owned you. You were hands-on all the time but there was no direction.' Reservations staff worked from eight till eight every day including weekends. Cabin crew could work twenty-seven days in a row without a day off."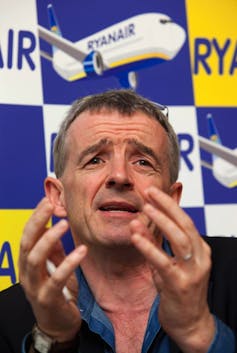 There were a number of brief strikes in Ryanair's early years. Pilots were asked to take substantial pay cuts. There were changes in working conditions and relocation to new bases with no help with their relocation costs. The Irish Airline Pilots' Association (IALPA) pointed out that Ryanair's pilots were already paid only about half of what Aer Lingus' pilots were paid, even before Ryanair implemented pay cuts. Ryanair's answer was to hire pilots from Romania – because they were on work permits and were not IALPA members, they could be expected to comply - without negotiation - with Ryanair's demands. When Ryanair's Irish pilots objected to renewing the work permits of the Romanian pilots, Ryanair threatened to sack the Irish pilots!
High-Road versus Low-Road Strategies
Unlike at Southwest, whose people-management practices focused on conflict resolution and problem-solving rather than blaming, Ryanair's CEO was feared in meetings for his attacks on staff in front of their colleagues.
Unlike Southwest, which developed a reputation for encouraging employees to maintain work/family balance, Ryanair saw long work hours as a sign of commitment. According to one employee, "the idea was to recruit a vibrant start-up team, burn them out, then get rid of them and put in a fresh team".
Such low-road strategies contrast with the Southwest high-road strategies. We argue that in the longer-term, such a high-road approach is more socially responsible and sustainable than the low-road approach, because it can meet the needs of a broader range of stakeholders. We would encourage other enterprises, including airlines, to learn from Southwest, then to develop and implement their own high-road approach.