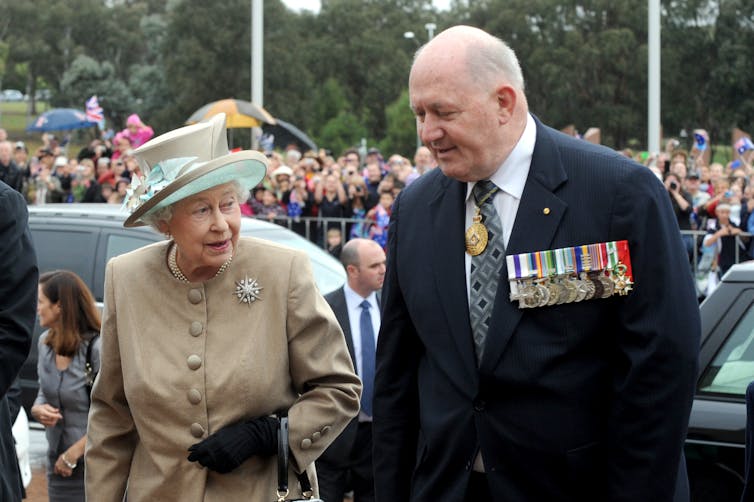 The choice of Peter Cosgrove as Australia's next governor-general has been one of the worst-kept secrets in the history of vice-regal appointments. The Coalition has encouraged the speculation since opposition days. Tuesday's official statement will be an ante-climax.
The former Australian Defence Force chief, who is chancellor of the Australian Catholic University, will be a popular choice. Cosgrove, who served in Vietnam, became widely known to the general public when he led the international peacekeeping forces in East Timor – a military man with high media exposure who helped in that country's successful quest for nationhood. It was a tough gig with a happy ending.
Who it selects as governor-general tells something about both a government and the times.
Malcolm Fraser chose the respected and eminent legal figure Zelman Cowen because he wanted a consensus "healer" after John Kerr's divisive dismissal of Gough Whitlam. Bob Hawke installed Bill Hayden to reward and see off the man from whom he had seized the Labor leadership a few years before.
Paul Keating found in William Deane, a High Court judge, a combination of impeccable legal qualifications and progressive social views, especially on indigenous affairs and multiculturalism. Kevin Rudd saw in Quentin Bryce the opportunity to appoint Australia's first woman GG as well as someone whose record was congenial to a Labor government.
Historically, some appointments (notably of ex-politicians) have prompted an outcry, at least initially, such as that of former NSW Labor premier William McKell. While there were certain doubts in Labor about Whitlam's choice of Kerr (a legal man who'd had some involvement in politics), the huge backlash came after his unprecedented action.
John Howard's choice of churchman Peter Hollingworth ended in tears. The government had not done adequate due diligence about his handling, as Anglican archbishop of Brisbane, of sexual abuse allegations. Eventually Hollingworth had to quit.
Although the vice regal post is centrally ceremonial and symbolic, the "reserve powers" and the events of 1975 show the governor-general can have a pivotal role in extraordinary circumstances. And indeed a significant one, especially in terms of process, in more ordinary situations. In 1983 Ninian Stephen required Malcom Fraser to provide extra information before he would grant him a double dissolution.
Stephen, incidentally, expanded the overseas role of the governor-generalship. His biographer Philip Ayres says he gave much more of an international focus to the position, travelling widely and also reporting to the government (especially the Hawke government) on his discussions.
On some occasions abroad a governor-general is effectively a fill-in for the PM at formal functions. Usually these trips are unremarkable. But Kevin Rudd's use of Bryce to blitz African countries as part of Australia's campaign to secure a United Security Council seat was in a special and more questionable category.
Of all the personally awkward situations a governor-general might face Bryce encountered one of the most unusual, when her son-in-law Bill Shorten became opposition leader after the election. She offered to resign. New prime minister Tony Abbott said there was no need – the government had a solid majority and her term was coming to an end. If, however, Shorten had become PM, as a compromise candidate, during the hung parliament, Bryce would surely have had to step down.
Abbott sees in Cosgrove someone with support across the political spectrum and public appeal, who's particularly appropriate as the nation heads into four years of commemorating the centenary of World War 1 and, in 2015, Gallipoli. (Apart from his own career, Cosgrove's grandfather served in the First World War and his father was in the permanent forces.)
Cosgrove published a best-selling autobiography, My Story, in 2006; he expounded his views in his 2009 Boyer Lectures titled A very Australian conversation.
His wide-ranging lectures include strong support for action on climate change, the idea of Australia forming an economic relationship with Pacific countries, and stress on the importance of co-operation with Indonesia.
On the key question (for a governor-general) of a republic - which Bryce backed in her Boyer lectures late last year - Cosgove told his listeners that he was in East Timor when the 1999 referendum was held and his "major challenge was not agonising over my personal position" but making sure the Australian troops there would all get a chance to vote on polling day.
Looking back, he dismissed as "simplistic" and "rubbish" the view that the outcome was a blow to the republicans and triumph for the monarchists.
"To me, the nub of the issue was the public's uncertainty about the desirability of particular republican models—directly elected presidents or presidents appointed or elected by the parliament.
"In the end I think the public rightly took fright at the thought of somehow dismantling the main working parts of our mature and successful Westminster system of government, even if that meant maintaining the antiquated oddity of a British monarch to an Australian government and people.
"To what degree were we prepared to empower a president vis-a-vis the prime minister, his or her cabinet and the elected government? If on the other hand we weren't happy to have the parliament appoint the president as was proposed in the first of the referendum questions then were we ready for any such change?
"We can witter on about the framing of the referendum questions and the fractured nature of the factions on the republican side but Australians felt to some degree to say yes was to buy a pig in a poke. …
"This certainly doesn't imply to me that the republican issue is a dead duck. But the duck is presently in a coma. I do have a feeling though that if and when the duck awakes, the 'directly-elected president' model will still struggle for acceptance!"
In My Story Cosgove writes: "You can seek public profile or it can be thrust upon you. You can embrace it or run a mile from it. I am guilty of embracing it." He is about to re-embrace it with one of the biggest jobs in the land.