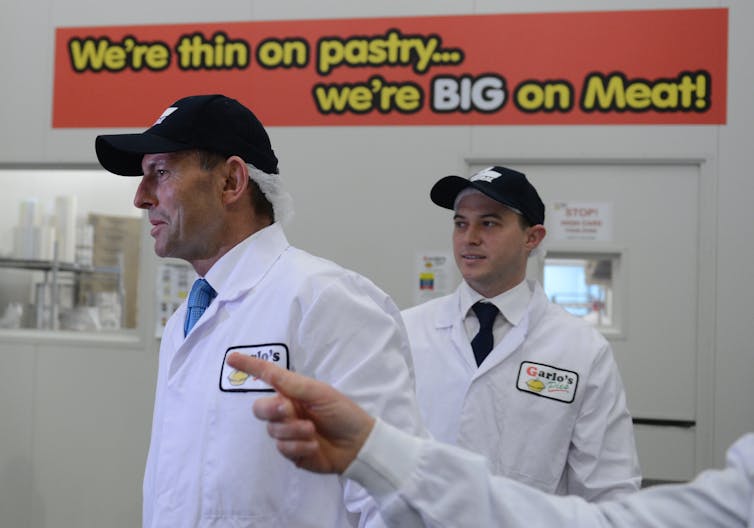 Every now and then a politician gets caught on the sticky paper. That's where Tony Abbott was today, and he didn't cope well.
It was always going to be a dog of a morning, with Newspoll showing the vote neck and neck and Kevin Rudd looking like Mr Sunshine in the headlines about his plans to change party rules to make sure no one in future could do what he did to Julia Gillard and she did to him.
Abbott was out at a Sydney pie shop with his usual campaign themes but quickly found himself mired in questions about his own conduct.
At the weekend, journalist Margo Kingston wrote that Abbott had been forced to repay nearly $9400 after travel expenses (for plane fares and Commonwealth cars) in relation to promoting his book Battlelines had been wrongly charged to the taxpayer.
Abbott's use of public money for the travel had initially been raised by journalist Glenn Milne in 2010 (he used a total figure of $6651.96).
Kingston reported, on the basis of documents obtained under freedom of information, that after the Milne article Abbott had been contacted by the Finance department, and had given back $6255.49. In early 2011, after a letter from then special minister of state Gary Gray, Abbott repaid a further $3141.93.
The promotion was before Abbott became leader, and the repayment was shouldered by MUP.
Questioned repeatedly today by a Guardian reporter about the lapse Abbott struggled, falling back on a political opponent as a crutch.
"This matter was fully dealt with by the Labor minister [Gray] last year, who said that the matter was closed", he. (There is a convention that allows repayments without further action, when mistakes are made – Abbott says "it was an oversight in my office".)
No sooner had he invoked Gray – who said today he was pleased the matter had been "substantially resolved" - than he was blaming Kevin Rudd.
"This is old news. … Why is Kevin Rudd now trying to dish this sort of dirt? … He called for a kinder, gentler polity and he called for positive politics. Now we've got the Labor party spinning this kind of stuff".
When it was put to him that the story was on an independent website that did an FOI, his response was: "Let's move on. Let's move on".
Abbott yesterday had, when asked whether he had claimed travel expenses on his book tour, replied "I did not". Today he said, "I didn't claim travel allowance".
But on any commonsense interpretation, flights and cars were "travel expenses".
It's little wonder that Abbott just wanted to shut down the questions. Misused government funds, even if inadvertent, sounds dodgy.
And the opposition has made much of allegations against former speaker Peter Slipper over travel claims (although there is a big difference - Slipper has been charged and is before a court).
Defensive staff fired off a list of Labor people who have had to repay money.
But Abbott should have known – or been told by his advisers – that the best way to defuse the issue would have been to provide an immediate full and frank explanation. Too often when faced with some difficult, off-script matter he tries to stonewall and it doesn't work.
With the polls closing Abbott will be under tougher scrutiny, and won't be able to fob off inconvenient questioning.
If we were in the campaign proper – we're not, it only feels like it – this would have been marked down as a lost day for Abbott, and that was only partly the result of the bad poll.
Kevin Rudd, in contrast, campaigning in Darwin, managed niftily to walk both sides of the street on the controversy over Julia Gillard's installation of Nova Peris as ALP Senate candidate, displacing Trish Crossin. Gillard's heavy-handed intervention was an early misstep this year, backfiring badly.
Rudd, declaring Crossin a "good friend of mine" for a long time, told Darwin radio before arriving in the city that while there he would speak to the Labor locals about the situation.
Later he announced that while "I don't like the way in which it was handled", these party people had "said they want us to get behind Nova".
"This is very tough for [Crossin] and frankly it's very tough for all of us, but I've got to say we've got to look to the future and we've got to get behind Nova."
More difficult was the task of trying to get the Northern Territory on board for the government's school funding plan. Before going into the talks the PM appealed to NT chief minister Adam Giles to "put party politics aside".
Down south, a modest but expected breakthrough on the schools program came with the signing up of Tasmania. But Victoria is still the tipping point. Education minister Bill Shorten remained upbeat about the talks with that state although "I can't say we've got agreement."
PS Shorten knows a thing or two about pie shops; last year he had to apologise to a Melbourne pie shop owner for his reaction after he mistakenly thought she had insulted Julia Gillard.