The more things change, the more they stay the same.
A young man playing for AFL club North Melbourne wows the majority of watchers with breathtaking football talent. But for a few observers, the colour of his skin is what they feel worthy of comment.
Are we in in 1982 or 2013? Is the player's name Majak Daw or Jimmy Krakouer?
20 years after Nicky Winmar let the world of Australian football know in no uncertain terms that he was Indigenous and if anyone had a problem with it they would need to sort themselves out - because he wasn't changing - how have we arrived at a point where a player can still be routinely racially abused like Daw is?
The reality is that we have come a very long way from the days when Jim and Phil Krakouer were the victims of the kind of en masse racial abuse you simply don't hear anymore at the football.
But we still have a long way to go before we can say we have truly eradicated racism from Australian sport.
In 1982 North Melbourne's recruiters hit pay-dirt with the Krakouer brothers, lured from Western Australian team Claremont. The excitement that they, and Maurice Rioli at Richmond, created, was electric.
The Krakouers' arrival at North Melbourne was the first time in the VFL/AFL history a club had recruited more than one Indigenous player in a season. Perceived football wisdom says Kevin Sheedy was the AFL mastermind of the strategy of fielding a number of Indigenous players simultaneously in the 1990s - I disagree.
North Melbourne recruiter and administrator Ron Joseph was that man. He saw in the Krakouers Phil's "finish" and Jim's "hardness". So good was the chemistry between the brothers that when they played together they won 65% of their games for North Melbourne.
So "delicious", as Bruce McAvaney would say, was the Krakouer combination that the owner of the Sydney Swans, Dr Geoffrey Edelesten, made an appointment to meet with North Melbourne president Bob Ansett. Edelesten slid a cheque over Ansetts' desk for a cool million dollars saying: "We want the Krakouers".
Ansett declined the offer, stating in my interview with him for the book Brotherboys: The Story of Jim and Phillip Krakouer:
We were going through a transition and during that transition we just needed to maintain our membership base and if we lost the Krakouers, it would have been too damaging for the club.
Even the VFL, which had dropped 11% of gate receipts in 1987, used the Krakouers' image in a full page advert in The Age. "Take The Family To See Some Aboriginal Art Tomorrow", it warmly suggested. The language may have been toned down, but the sentiment is similar in media coverage of Majak Daw - come and see the exotic footballing wonder is the tone of most articles.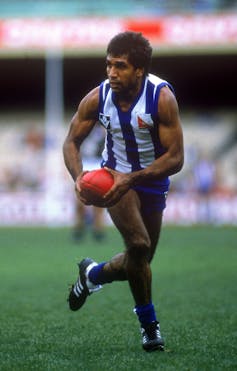 Racist? No. Patronising? Probably. Different to the coverage Daw would get if he were a whitefella from a no-name Melbourne suburb? Definitely.
As the first Sudanese player to play at the elite AFL level it is obvious, to coin a football phrase, the kid can play. The Kangaroos in their wisdom have given him time to develop in the lower grades and now he has a serious opportunity to really stamp his style of play onto the competition.
Able to play in the ruck and as a marking forward, he nailed a goal with his first kick in league football and in his fourth game against the Bulldogs he kicked six goals.
Yet other challenges still remain. Two Bulldogs supporters were evicted from Etihad Stadium after racially abusing Daw. He was abused against Hawthorn and also during his VFL career.
This is unacceptable, but encouragingly, both times Daw was abused in the AFL, those responsible were confronted and reported to security by fellow fans.
We have moved on as society in many regards but Majak Daw's experience shows us that we still have a long way to go.
We have improved markedly since the early 1980s when entire sections of football crowds would shower Indigenous players with abuse, and occasionally beer cans, for the colour of their skin.
In that regard, players like the Krakouer brothers did pave the way for a man like Majak Daw. But we have to remember we still live in a world where some people still feel it acceptable to abuse Majak Daw because he's black.
Hopefully one day we can arrive at a point where we only abuse football players for the colour of the jumper they wear.