Football teams across Europe are lining up with some noticeable stars missing from their teamsheets this month with both the Africa Cup of Nations and Asia Cup in full swing. Two of the biggest stars for Côte d'Ivoire, Yaya Toure and Wilfred Bony, may be returning to English Premier League club Manchester City earlier than planned unless their team can beat Cameroon this week. But not soon enough to stop their team crashing out of the FA Cup.
The European Club Association has published a study of how the 2015 Africa Cup of Nations will affect European football clubs. It found that 67% of players in the tournament play in Europe – 246 of the 368 players. French football clubs have released the highest number of players, with 71 from 33 clubs. Spanish clubs were second hardest hit with 26 players absent from 20 clubs, followed by English clubs with 23 players from 21 clubs.
Pressure to move
Analysis of which European clubs will be most affected by the Africa Cup is a common feature in coverage of the tournament. These issues have often driven European managers and leagues to pressure the Confederation of African Football (CAF) to change the timing of the tournament. They have often suggested moving the competition to the summer months or rescheduling it every four years instead of the current two-year cycle.
It is all a question of interests. Europe clearly sees itself as the centre of global football and its leagues have long resisted attempts to control the administration of their games. The traditional European football season, running from August to May, has been largely sacrosanct. Outsiders cannot conflict with this schedule.
Fighting Eurocentrism
But the confederation's position is also about its own interests, except that it chooses not to focus its position on labour ownership. In the context of Edward Said's work on post-colonial theory, CAF has imagined its position in an increasingly Eurocentric footballing word as the "other".
The European pressure to change the timing of this premier tournament is seen from that perspective. CAF believes that UEFA and its national league schedules are widely seen as normal and that its own are in conflict with "normal" European schedules.
The response has been to resist this pressure. The CAF has justified its resistance by citing FIFA's international calendar that allows confederations to use either the winter or summer months to host tournaments. CAF has also cited weather disruptions, which in most of Africa result from rains that are more likely to occur in the summer than in the winter months. CAF has said that in terms of revenue for the event, a two-year cycle is more viable than a four-year cycle.
All about money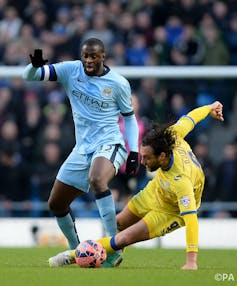 CAF has felt vindicated in holding fast to its position, particularly in view of European leagues' refusal to cut down the number of clubs in premier leagues to reduce fixture congestions and help create room for the use of winter breaks for tournaments such as the Africa Cup of Nations and the Asia Cup. The CAF has compromised in the past, and in 1992 moved the African tournament from its previous date in March to January/February, when some European leagues are on a break.
European clubs have based their arguments in favour of moving the tournament on the fact that they pay for player labour and thus have rights over those players.
Footballers sell their capacity to work in exchange for a promise to comply to management demands. In the case of football, European clubs demand a focus on club activities. They only acquiesce to labour availability for national duty because of FIFA's monopolisation of global football administration and the recognition that FIFA controls, at least in part, access to global capital. In essence, clubs depend on FIFA's competitions to generate part of their global revenue.
This debate, hinged at one end on control over labour activity and at the other on right to independence over fixture scheduling, is ultimately a struggle over a football product for which both parties share a common interest – the huge sums of money generated by footballers' labour. Resolution is always possible when parties that are in conflict share an overriding interest – in this case it is money. The only unknown is which options the parties will choose to resolve it and if the tournament will be moved in the future.