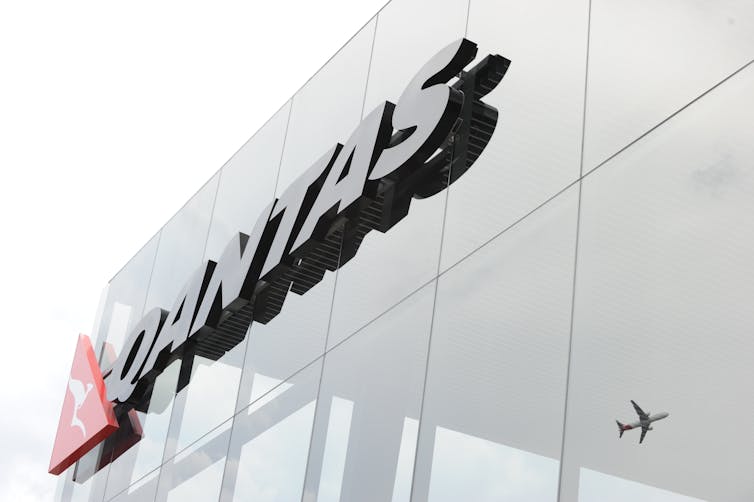 The stipulation that Qantas must remain majority Australian-owned is, above all, a legacy of 1990s Labor politics. There is little logic in keeping it today.
When the ALP government of that time walked boldly down the road of airline privatisation, this provision made the journey easier for the party and reassured the public. But things have moved on.
The argument that Qantas's ownership rules should be treated differently from Virgin's makes little sense, and is counterproductive when that holds back the Flying Kangaroo's access to capital.
The opposition has dug in against lifting the 49% foreign ownership cap on the ground that to do so would lead to jobs being exported. Labor is also playing on the traditional sentiment towards Qantas as the Aussie airline (though Virgin is also an Australian national carrier).
But if insisting on keeping the cap weakens the airline, jobs will be lost anyway (and 5000 are going already, with majority Australian ownership).
As for sentiment over iconic brands: firstly, consumers have less of it these days and secondly, to the extent they do, it can co-exist with foreign ownership (think Vegemite). Anyway, to meet agreements Australia has with other countries, the international operation of Qantas would still have to be majority locally owned, which should satisfy any "patriotism" imperative.
Labor's insistence that Qantas must be majority Australian owned is being undermined by some from its own side.
Former ALP minister Martin Ferguson last week supported a level playing field.
He said on radio that given Qantas and Virgin were both privately owned, "why should Qantas potentially have a higher cost of borrowings because of the nature of the Qantas ownership act?"
Ferguson isn't too popular among some Laborites at the moment because of his comments on industrial relations but others admire his economic hard-headedness.
David Epstein, chief of staff to then prime minister Kevin Rudd and also a former Qantas executive, has been scathingly critical of Labor's support for a debt guarantee (which has been rejected by the government).
"It's puzzling when a party claiming to be progressive wants to compound out-dated interventionism with a market distorting loan guarantee specific to Qantas. This is a step down the Argentine road," Epstein wrote in an Australian Financial Review opinion piece.
He also said the Qantas sale act, with its foreign ownership cap, should go "and the ALP should not stand in the way".
Labor is willing to compromise on the lesser limits in that act (35% for combined foreign airlines, 25% for individual foreign entities). Indeed it proposed this in government, when the Coalition was the side worrying about foreigners.
Having taken such a hard stand on the overall cap, it would be difficult for Labor to back down now.
But its stand on Qantas is another reminder that the opposition's economic message tends too often to be populist and short term, rather than part of a well thought out, longer run strategy.
As blame flies on the Qantas issue, the company itself is copping quite a lot of it, primarily for not doing enough to help itself.
Or to help the government. It infuriated the Coalition by its comments on the politically charged carbon tax, when it said on Monday: "the major issues Qantas faces are not related to carbon pricing".
This was a red rag to the government but what followed was extraordinary. By Wednesday the carbon price had become "among the significant challenges we face", in a statement from the company.
CEO Alan Joyce gave this explanation for what to the naked eye was a blatant turnaround.
"There was some commentary, maybe misunderstanding out there, about what our position was on this …. we're having to respond to rumours and comments that are being made about how we actually stand," he said.
"And what we issued today was just the normal daily clarifications that we're making on everything that we do. And it's absolutely no different or not inconsistent with what we've said before."
Prime Minister Tony Abbott denied he or his office had leaned on Qantas between Monday and Wednesday.
They wouldn't have had to. You could have fuelled a small plane on the steam that had been coming out of government ears.
In coming weeks Joyce can expect a grilling from senators over the state of the company. The Greens have won the support of Labor for a Senate inquiry into what should be done to keep the airline "a strong national carrier supporting aviation jobs in Australia". The Greens want Qantas's books to be opened.
Joyce has some bad memories of facing senators. When he appeared before a committee in 2011, after his dramatic and controversial grounding of the airline, Labor's Doug Cameron told him, "You're a bit like Richard Nixon… trying to talk your way out of everything." To which Joyce replied: "You're a bit like a McCarthy trial".
On that occasion, Joyce declared that "Qantas proudly calls Australia home and we will always do so".
Listen to the new Politics with Michelle Grattan podcast with Communications Minister Malcolm Turnbull here.