If ever there was a doubt that bookmakers (as in bet-takers, not publishers) are the clear-eyed prophets of the future, it should be put to bed now.
Online bookie Tom Waterhouse called Anna Funder as the $2.75 favourite to win the 2012 Miles Franklin Literary Award for her debut novel, All That I Am.
And win she did.
Waterhouse set Gillian Mears and Foal's Bread at $3.50, Favel Parrett and Past the Shallows at $4.50, Frank Moorhouse and Cold Light at $5 and Tony Birch and Blood at $9. Not that there appears to be much need for the views of literary critics, but if I were oddsmaker I would have shortened the odds on veteran Moorhouse for the third instalment of The Edith Trilogy.
This year, for the first time in the award's 56-year history, the Miles Franklin awards ceremony took to the road, and the announcement was made last night over cocktails at the State Library Queensland in Brisbane.
Unfortunately, Funder wasn't present to accept the honour as she was on a book tour in Britain. She wasn't prepared to cancel the tour - and rightly so - unless she knew that she had won. The judges acknowledged that it was a big ask on the shortlisted authors to attend - Moorhouse, Birch and Pavel were present - without knowing the outcome.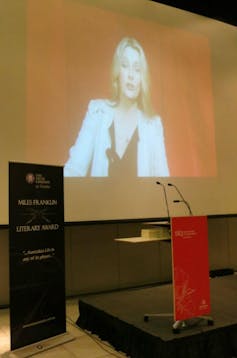 The judges praised Funder's All That I Am as "a masterful and exhilarating exploration of bravery and betrayal, of the risks and sacrifices some people make for their beliefs, and of heroism hidden in the most unexpected places".
In a pre-recorded video, Funder said she was "hugely honoured and grateful" more than she could express: "Like any big prize at some level there is no way you can deserve such luck".
Since the Miles Franklin Award began in 1957, a woman has won only 13 times. Anna Funder takes the count to 14.