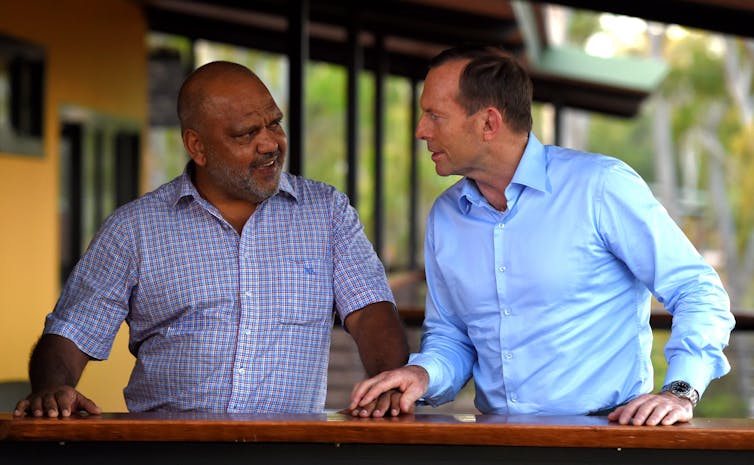 One can't help but be disappointed that more progress hasn't been made towards the referendum to recognise Australia's indigenous people in the constitution.
What is a very worthy idea that should have every chance of popular support has become bogged down in issues of timing and wording.
The government wants narrow wording and is indicating it prefers to put the vote off until 2017 (though Tony Abbott in comments on Wednesday was trying not to be specific).
But Ken Wyatt, the Liberal chairman of the parliamentary committee considering the issue, says the committee believes the vote should be no later than election day 2016.
Abbott makes a valid point in opposing holding the referendum with the election. That's when there is maximum partisanship and it would be very hard for the leaders to mix in the needed degree of bipartisanship. Anyway, all their attention would be on their battle for power – not on the referendum.
The opposition and some Aboriginal leaders want a question that is broader than minimalist – writing into the constitution the outlawing of racial discrimination.
The push for the referendum was always likely to split into these differing views, but the fact that it has will please only those who want nothing done.
It's not particularly anyone's fault. Those arguing for delay have a reasonable case – saying it's best to wait than to go early and fail. But those opposing delay also have strong logic behind them – until this thing is turbo charged it is going to languish, and why will it be any easier in the next parliamentary term?
The dispute over the question is more fundamental. But even for advocates of wide wording – surely it would be better to keep it narrower than have nothing at all? They might see it as symbolism over substance, but symbolism is important. Remember the apology.
While Labor has made it clear it prefers a broader question, this is something on which it should compromise. Broad anti-discrimination phrasing would not get government support but anyway it would be manna for a no campaign, run on the ground that it would invite legal uncertainty.
Even if Labor lowered its sights in the cause of trying to maximise electoral support, however, many in the indigenous community would not be satisfied with a narrow question.
If the referendum were held in 2017 it would be 50 years after the 1967 constitutional change that gave the federal government power to legislate in relation to Aborigines all round the country.
That was groundbreaking in policy and symbolic terms. It was also extraordinary in a political sense. The yes vote was more than 90% of the votes cast, and in every state the question was carried. For a country that finds it extremely hard to make even relatively uncontroversial constitutional alterations, it was a moment of national significance.
The challenge for those wanting to make this referendum work is to rekindle the spirit that achieved that result.