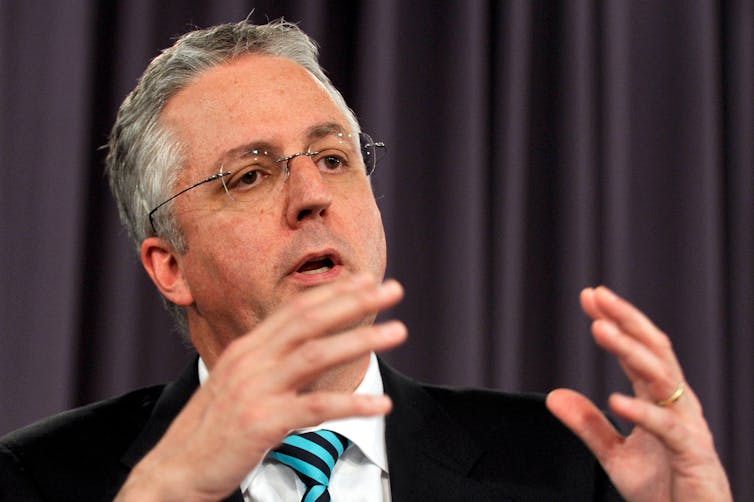 The publication of an independent audit of ABC journalistic bias is good news for the corporation. In the face of an ongoing campaign of vilification from many in the commercial media sector, and the likelihood of cuts to its budget in the coming months, Andrea Wills' review of the ABC's interviews with the Prime Minister and Leader of the Opposition during the election campaign found that the Charter obligations on impartiality were fully met.
In 23 items reviewed by Ms Wills, who has undertaken similar auditing for the BBC, she found "no evidence" of unfairness, incivility, favoritism, derogatory language or other indicators of bias.
A longer review of ABC current affairs coverage of asylum seekers arriving by boat by former 60 Minutes executive producer Gerald Stone found four items in a sample of 97 features from Lateline and 7.30 which "raised concerns about the standard of coverage" and "required further investigation".
In one case cited by Stone, Lateline broadcast an item alleging Sri Lankan government-sanctioned persecution of Tamils, linking this to the broader asylum-seeker debate. Stone found "nothing approaching proof", and "no new light shed on a conflict marked by atrocities committed on both sides". In another case, ABC journalists failed to corroborate important information about the motivations of people smugglers.
That kind of thing shouldn't happen at the ABC, even as we acknowledge that no news media organization anywhere on the planet, public service or commercial, is entirely free of such errors, and many – not least the hallowed BBC – have been found guilty of much, much worse.
But the key takeaway from these reports? There is no evidence of systematic bias inside the ABC's news and current affairs division. There may be some shoddy journalism here and there, but nothing to justify the wilder accusations of some in the media and political spheres who clearly have a problem with the concept of public service media in general.
That's the good news. But those voices will continue to make mischief for the ABC, and seek to undermine the corporation's place in the nation's culture. To prevent that, Mark Scott and his senior colleagues must acknowledge the legitimate criticisms of ABC journalism identified in these audits, and put systems of oversight and scrutiny in place to avoid similar lapses in the future.
The importance of the ABC as an impartial source of news and current affairs in a country with such an ideologically lop-sided press means that it can't be editorially sound merely most of the time. It must be above reproach at all times. Only by maintaining its reputation for exceptional quality – meaning in this context a particular level of rigour and attention to detail in its editorial processes – can ABC managers fend off the more threatening calls for government-mandated downsizing and exclusion from key sectors such as online.
Where errors are identified they must be corrected promptly, and where intentional bias is found, staff disciplined accordingly.
The ABC is a precious cultural asset, which will become more important in the Asian century, both as a model of how to do impartial, independent journalism – independent of both government and capital – and as a statement to the world of Australia's democratic and cultural values.
There is much more to public service media than impartial, well-resourced journalism, of course, but the provision of news and current affairs that can be accessed and trusted by all Australians, regardless of political affiliation, is the ABC's unique selling proposition, and its core rationale for public funding and market insulation going forward.
These audits show that the corporation isn't doing a bad job on the news front, but that there is no room for management complacency. Nip journalistic carelessness in the bud now, might be the lesson of these audits, before it grows into a toxic weed of the type which has so damaged the BBC in recent years.