The Australian Twitter News Index (ATNIX) took a break from weekly updates over the summer, but we're spinning up again for 2013 now. Before we get to the most recent developments, though, it's time to check what happened in the final few weeks of 2012, and to review what the past six or seven months of ATNIX data gathering have shown us. I'll do so in separate posts over the next few days.
ATNIX Weeks 48-52: 26 Nov. - 30 Dec. 2012
The most recent ATNIX update took us through to the end of November 2012. Here's now the following weeks unfolded (as always, click the images for a closer look):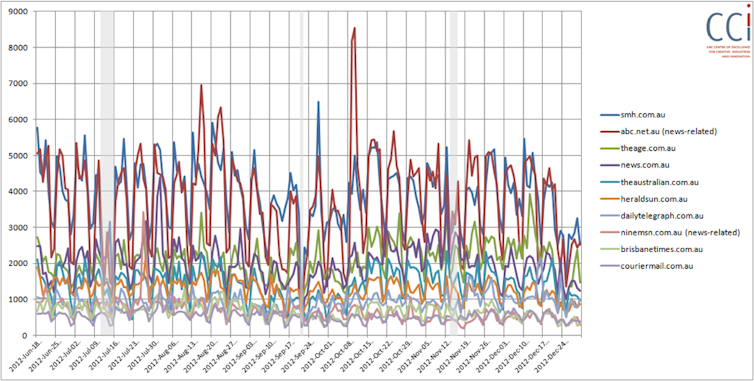 The final five weeks of the year show a gradual decline in link sharing on Twitter as the summer holidays take hold; this is especially pronounced, of course, for week 52, which started on Christmas Eve. Indeed, there is an especially sharp dip in activity on 25 December; on the other days of this final week of 2012, the volume of sharing activity remains roughly comparable to that normally experienced on weekend days.
A few notable spikes in activity during these last few weeks deserve further attention, too. During week 47 (26 Nov. to 2 Dec. 2012), while the strong performance of ABC News is driven by a wide range of stories, the Sydney Morning Herald's position is partly due to a major story on the thawing of Arctic permafrost, which picked up some 840 links in tweets during 27 and 28 Nov. The following week starts with another strong SMH story on global warming, receiving around 320 tweets.
Less immediately visible in the graph, but just as notable is a Saturday spike in SMH activity on 8 December, which lifts the number of tweets referring to the Sydney Morning Herald site well beyond its weekend average. On this day, more than 1,000 tweets refer to its various articles covering the suicide of UK nurse Jacintha Soldanha in the aftermath of a prank call by 2DayFM DJs; once again, Twitter users also demonstrate a long memory by connecting this case with a major controversy around Kyle Sandilands and Jackie O in 2009, also covered in the SMH.
The following week sees a number of spikes for SMH, ABC News, and The Age – and we're back to one of our recurring themes in 2012: the continuing saga around Julian Assange, now holed up in the Ecuadorian embassy in London. Throughout the year, we've seen Assange- and WikiLeaks-related stories generate substantial Twitter attention, especially if they are shared through the international network of WikiLeaks supporters; this looks to be the case again here. On Wednesday 12 December, a Radio National Late Night Live interview with Assange leads the list of most tweeted ABC News links (with some 520 tweets); the same day, The Age's story on Assange's intention to contest the next Australian Senate election picks up some 850 tweets. Republished in the Sydney Morning Herald, the same story gains another 800 tweets the following day.
Surprisingly, by the end of the week it is the Daily Telegraph which records its biggest spike since ATNIX started in mid-year. On Saturday 15 Dec., this is due to the more than 1,050 tweets linking to a piece about a missing Sydney teenager, demonstrating Twitter's role in spreading urgent news throughout the community. By now, we're also already starting to enter the news-free zone otherwise known as Christmas, however. Symptomatically, a piece on boy band The Collective's re-recording of Wham! hit "Last Christmas" is the Daily Telegraph's success story on Sunday, resulting in some 800 tweets.
The link sharing patterns for opinion sites over the same period are somewhat more dramatic (but also represent substantially smaller numbers). Weeks 48 (26 Nov. to 1 Dec.) and 50 (10-16 Dec.) stand out especially strongly: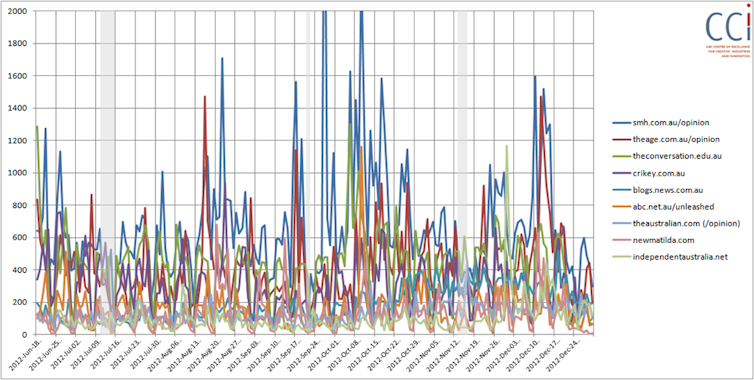 The Sydney Morning Herald's strong showing during the former of these periods is somewhat misleading, however, and stems largely from the SMH's insistence to badge some of its reports on federal politics under the National Times imprint; mostly, the 'opinion' articles shared this week deal with Julie Bishop's increasingly ineffective attacks on Julia Gillard over the AWU controversy, and a change to Australia's UN vote on Palestinian statehood as a result of Labor backbench lobbying. A genuine opinion piece on the Swedish ambassador's undiplomatic comments about an earlier pro-Assange SMH piece leads the list, though, with some 320 tweets referring to it.
Overall, though, this is a week dominated by the federal opposition's last-ditch attempt to score political points over the AWU case; Crikey's spike on the Monday is driven by a Bernard Keane piece on this issue (280 tweets), while The Conversation's leading story for the week turns to question the Australian media's ethics in reporting unsubstantiated allegations (140 tweets).
Even the otherwise relatively lowly-ranked opinion site Independent Australia scores a major win: Margo Kingston's exposé on Tony Abbott's own slush fund, Australians for Honest Politics (directed against Pauline Hanson during her 1998 heyday), was linked to in some 1750 tweets during the week – a runaway success for a site which usually receives an average of just over 500 tweets per week for all of its articles. On 30 November, because of this article, Independent Australia was briefly the most widely tweeted opinion site in Australia.
Week 50, by contrast, is largely dominated by two issues: the death of prank victim Jacintha Saldanha, and the continuing mudslinging in Australian politics. On Monday, the Sydney Morning Herald's opinion piece on the prank call leads with some 550 tweets, while a republication of Kingston's Independent Australia article from two weeks ago in New Matilda gives that site a substantial boost in reader numbers as well: some 460 tweets referred to the piece during the week.
Meanwhile, Independent Australia gains another 260-odd tweets for an attempt to use forensic IT techniques to suggest that Tony Abbott's office was involved in orchestrating James Ashby's accusations against former Speaker Peter Slipper. The major spikes in SMH and The Age activity during the week must largely be ignored, however; they result largely from the National Times-crossbadging of Fairfax's coverage of Julian Assange's Senate bid.
So much for these final weeks of the year, then. In a follow-up post, we'll review overall trends through the year.
Standard background information: this analysis is based on tracking all tweets which contain links pointing to the URLs of a large selection of leading Australian news and opinion sites. For technical reasons, it does not contain 'button' retweets, but manual retweets ("RT @user …") are included. Datasets for those sites which cover more than just news and opinion (abc.net.au, sbs.com.au, ninemsn.com.au) are filtered to exclude irrelevant sections of those sites (e.g. abc.net.au/tv, catchup.ninemsn.com.au). For our analysis of 'opinion' link sharing, we include only those sub-sections of mainstream sites which contain opinion and commentary (e.g. abc.net.au/unleashed, articles on theaustralian.com.au which include '/opinion' in the URL), and compare them with dedicated opinion and commentary sites.
See the posts tagged 'ATNIX' at Mapping Online Publics for a full collection of previous results.