Last week's Australian Twitter News Index turned out to be relatively quiet once we filtered out the blatant spam for a hair growth product, which unfairly boosted the number of news.com.au links shared. That spamming campaign still continues – and so I've once again filtered out any tweets that link to news.com.au articles and contain mentions of a product whose name rhymes with lame-o.
In principle, week 44/2012 should be interesting enough without the help of such spam: superstorm Sandy slammed into the US east coast on Tuesday Australian time, and this was also the last full week before the US election; both events, as we now know, created all-time spikes in global Twitter activity. That said, there's always the question of how much such overseas events affect the sharing of news stories published by domestic Australian sources; there's a strong likelihood that what gets shared the most originates from sources much closer to the scene of the action – in this case, then, especially from US media.
ATNIX Week 44: 29 Oct. – 4 Nov. 2012
First, to the overall figures. The total amount of Australian news links shared on Twitter this week is down by a few thousand links, compared to week 43, but at close to 150,000 tweets remains just above the long-term weekly average. Interestingly, for a second week running, the news-related sections of the ABC site manage to just beat the Sydney Morning Herald into second place, by just over 1,000 tweets; the rest of the leaderboard remains largely static. Even the relative marketshare percentages of the different sites have generally remained the same.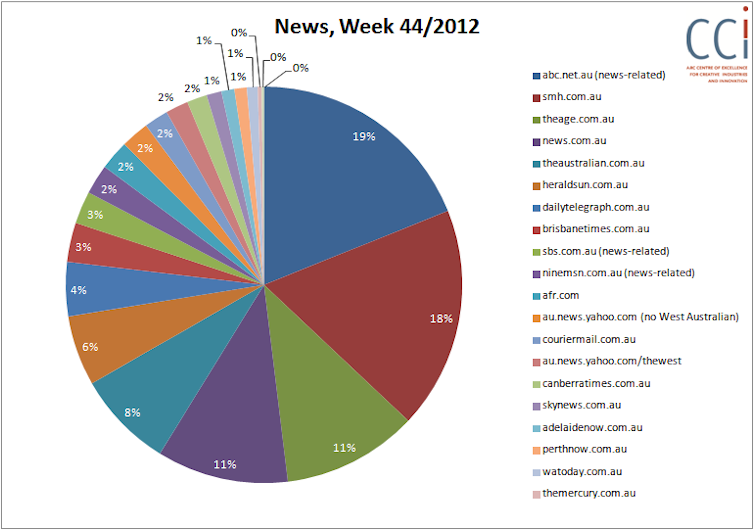 There's usually more movement amongst opinion and commentary sites and sections, but even here there's relatively little change this week. Overall, it's been an average week for sharing Australian opinion articles on Twitter: the 22,000-odd tweets we captured are just above the long-term trend, and down 2,000 from last week.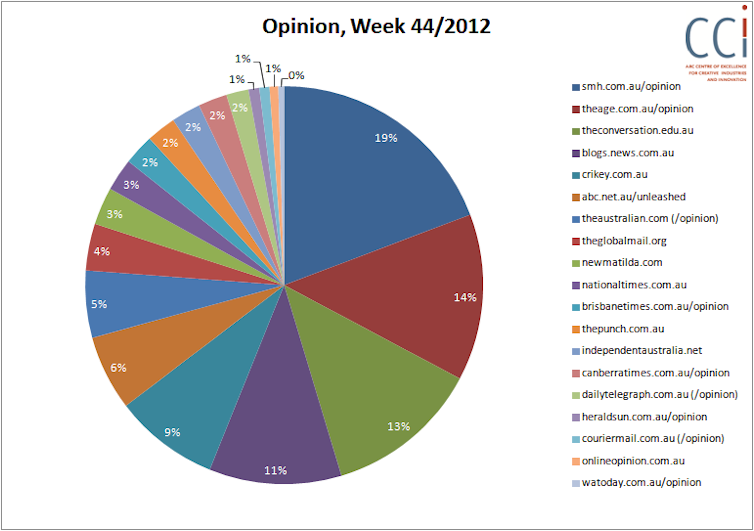 Here, the most significant shift is the continuing rise of blogs.news.com.au, which surpasses Crikey to move into fourth place. But as with parent site news.com.au's newfound popularity with spammers, there are some irregularities here: a single very active and highly partisan Twitter account is responsible for just under 1,300 of the 2,400 tweets which linked to blogs.news.com.au content; without its help, the site would be placed below The Australian's opinion section.
I've refrained from excluding these tweets (and indeed from naming the account), because here we're not dealing with a case of outright spam – as we did with the hair growth promotion – but a genuine, if hyper-active, form of engagement with the site. While the obsessive promotion of blogs.news.com.au articles which this account engages in might well be spamlike in style, it's an attempt to make a political point (which, incidentally, is highly critical of the Labor government).
Of the blogs.news.com.au writers, the blogger most popular with this account is Andrew Bolt; almost 150 of Bolt's articles are promoted in this way (one of them, in fact, is the subject of no fewer than 31 separate tweets). Piers Akerman (14 stories), Miranda Devine (12), Tim Blair (5) and Simon Benson (4) receive considerably less love. Let it never be said that the political commentariat in Australia doesn't have some very committed fans!
To the daily trends, then – and on the news front, things look comparatively quiet, with no notable spikes: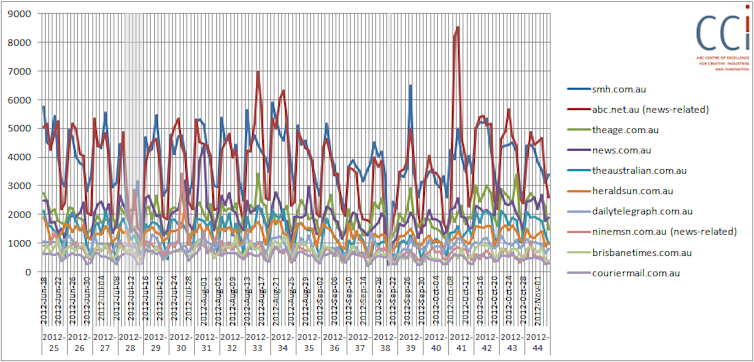 In fact, it's only in the weekly aggregate that the key stories emerge. ABC News' gallery of before-and-after photos from Sandy received some 1,150 links over the course of the week, and a link to the online livestream of ABC News 24 was shared some 400 times – indicating the significant concerns about the impact of the storm on the eastern seaboard, and the key role of the ABC as the go-to station for the liver coverage of major breaking news events. Further ABC stories relating to Sandy also featured highly. Over the same period, the major story in the Sydney Morning Herald was about revelations of hazing at Sydney University's St. John's College, shared more than 650 times; by contrast, Sandy figures only as a minor story.
What we're seeing here, it seems to me, is an indication of the fact that in spite of their use of the Internet as a common medium for news dissemination, real differences in their approaches to reporting, and in the public perception of their journalistic focus, still persist between ABC and SMH – when live news breaks, its the public broadcaster that audiences turn to; when social and political scandals are revealed, it's the newspaper.
The corresponding graph for the opinion and commentary sites and sections shows the impact of blogs.news.com.au's newly-acquired fanboy: the orange line has lifted considerably from its long-term average: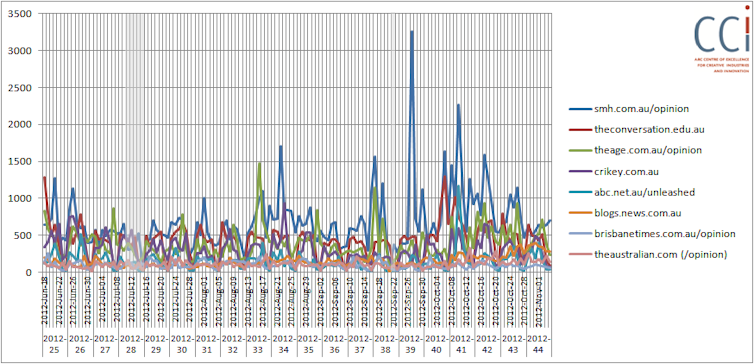 There's much less to say about the other sites. The Conversation has a strong day on Monday, but its close to 650 incoming links are shared across a range of stories of which none receive more than 80 tweets; what we're seeing here is simply the usual 'Monday effect' which routinely causes an especially strong level of news sharing at the start of the week. The Age emerges in a strong position on Friday, led largely by a piece by Waleed Aly who questions the federal government's plans to excise the entire Australian mainland from the migration zone which received some 350 tweets. On the weekend, finally, it's the Sydney Morning Herald whose commentary is most widely shared – but here, too, Twitter-based audience engagement is spread widely across a broad range of stories. As far as opinion is concerned, this has been a very quiet week.
Stand by for this to change quite substantially as we move into week 45, though. No doubt the US election will generate plenty of local interest, and commentary, as well.
Standard background information: this analysis is based on tracking all tweets which contain links pointing to the URLs of a large selection of leading Australian news and opinion sites. For technical reasons, it does not contain 'button' retweets, but manual retweets ("RT @user …") are included. Datasets for those sites which cover more than just news and opinion (abc.net.au, sbs.com.au, ninemsn.com.au) are filtered to exclude irrelevant sections of those sites (e.g. abc.net.au/tv, catchup.ninemsn.com.au). For our analysis of 'opinion' link sharing, we include only those sub-sections of mainstream sites which contain opinion and commentary (e.g. abc.net.au/unleashed, articles on theaustralian.com.au which include '/opinion' in the URL), and compare them with dedicated opinion and commentary sites.
See the posts tagged 'ATNIX' at Mapping Online Publics for a full collection of previous results.