As I write this, the controversy over Alan Jones's indefensible remarks about the Prime Minister's late father continues – fuelled by Jones's belligerent apology, the withdrawal of advertisers from Jones's show, and radio station 2GB's embarrassing attempts to portray Jones and itself as the victims of cyberbullying, or even of cyberterrorism. News of Jones's remarks at a Sydney University Liberals fundraiser broke during the final days of September, and made an impact only on the final days of last week's Australian Twitter News Index – this week's edition is where we'd expect to see any real activity related to the issue, if we are to see any at all.
ATNIX Week 40: 1-7 Oct. 2012
The first observation we must make for the new week, though, is that Alan Jones is no Julian Assange: however much outrage his comments may have prompted in Australia, they remain a purely domestic issue. The total number of tweets containing links to the Australian news sites we track, therefore, is down, not up: as last week's Assange bump washes out of the system, some 112,000 tweets remain, and the day-to-day news sharing patterns on Twitter return to comparative normality.
So do the lead sites, for the most part: the Sydney Morning Herald and the news sections of the ABC maintain their usual share of the total volume of links exchanged this week, and only news.com.au moves into an unusually strong third place ahead of The Age. All of this points to the observation that political controversies such as Jones's comments may shift the focus of the links which Australian Twitter users are sharing – but they do not necessarily increase the overall volume of links being shared in this way. We don't consume more information: what changes is which information we consume.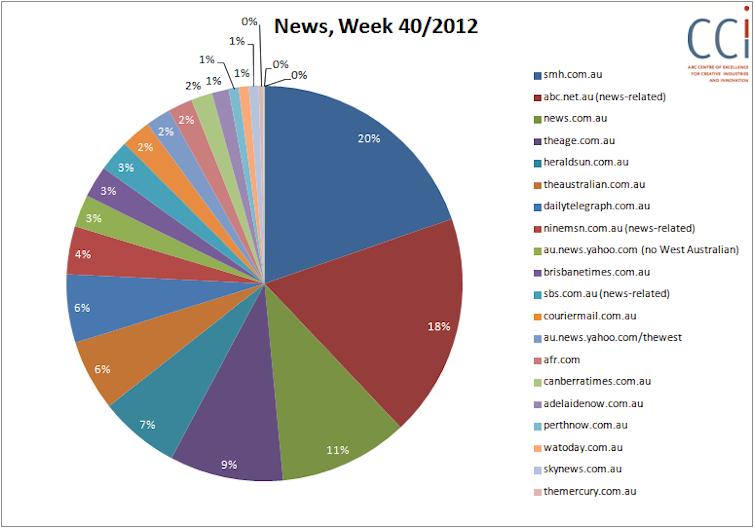 As a result, we will always see greater fluctuations in the volume and distribution of links to opinion and commentary sites and sections. During weeks without major controversies, the relative prominence of such articles within the total volume of links being tweeted will be smaller; at times when major points of contention are being discussed by Australian Twitter users, on the other hand, a greater number of links to further commentary will be shared.
So, even in spite of the comparatively lower volume of news links being shared this week (in the absence of new Assange articles or other material of international interest), the number of commentary links managed to increase slightly, to a six-week high of just over 20,000 – and as usual, it's the SMH opinion section and The Conversation which command the majority of the attention (at a combined total of just under 50%). Crikey has a good week as well, moving into third place for now.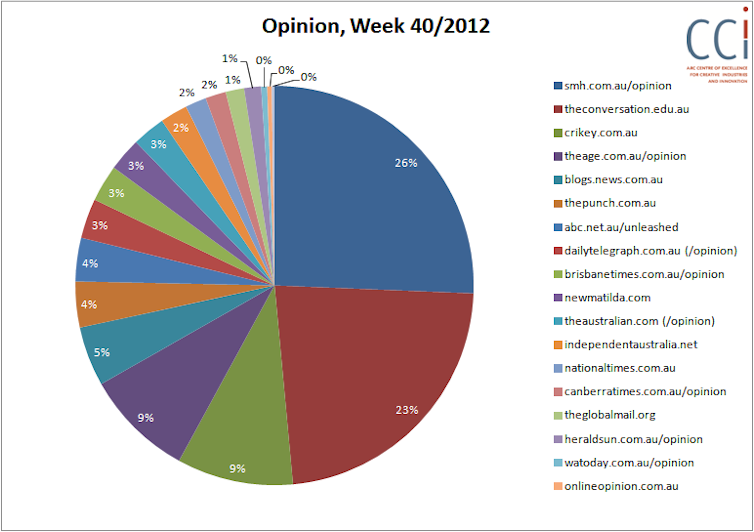 Given these patterns, there isn't a great deal to say about the day-to-day sharing of news links: it's a relatively quiet week on the news front, with the ABC's strong Tuesday performance led by articles on the dire state of Barrier Reef corals (some 200 tweets) and John Laws's critical assessment of Jones's comments (175 tweets). The relatively small contribution which even these leading articles make to ABC News' Tuesday total of just over 4000 tweeted links already points to the comparatively wide spread of what news articles Australian Twitter users shared this week, however.
The spike in links to news.com.au, also on Tuesday, is somewhat more interesting by comparison, mainly because the most tweeted link to the site (some 150 tweets) points to a photo of Opposition Leader Tony Abbott, Bronwyn Bishop, and Sophie Mirabella in front of a poster reading "Juliar…. Bob Brown's Bitch" – pointing out that incivility in the political arena has been far from limited to Alan Jones in recent years.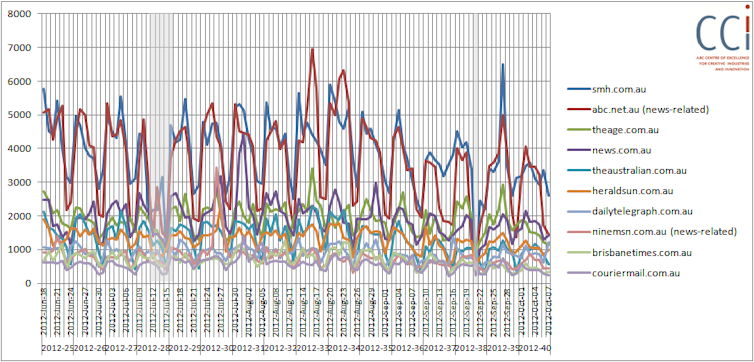 But the real story, once again, is in opinion and commentary, and takes some time to materialise. Ignore the Assange-related mid-week spike in week 39: as far as domestic issues are concerned, it's once again the weekend which sees the most significant sharing of opinion and commentary links by Australian Twitter users. It may be an exaggeration to say quite categorically that weekdays are for news, and weekends for opinion – but the Jones story, at least, has been one centred on weekends so far. (The one exception from that rule, for week 40, is Crikey, where First Dog on the Moon's cartoon about Jones's apology was responsible for one third of the tweets which pointed to the site on Monday.)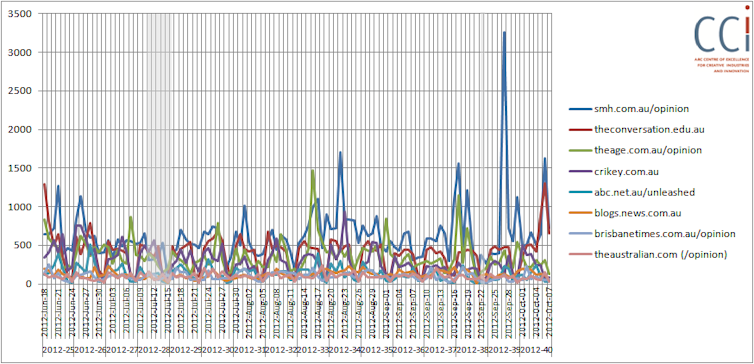 Central to that story, once again, is the Sydney Morning Herald's opinion section: Mike Carlton's inimitably titled portrait of Jones, "Prissy Shrieks of Fear and Loathing", received some 920 tweets that day, accounting for well over half of all tweets linking to the SMH opinion section. For The Conversation, the balance of tweets is even more lopsided – but here, they point to an article which relates to the Jones saga, if at all, only in a very roundabout fashion: Patrick Stokes's article "No, You're Not Entitled to Your Opinion" accounted for some 1,120 of the 1,300 tweets which linked to the site that Saturday.
So, while much will continue to be made of the social media response to Jones's comments, to his half-hearted apology, and to his employer's glass-jawed "cyberbullying" complaints (which serve only to undermine the important campaign against actual cyberbullying), it turns out that these debates affect the ongoing process of news sharing on Twitter only to a limited extent. The Jones controversy manifests mainly in the opinion articles which are being shared, and even there the focus is squarely on a handful of key pieces; at the same time, other news is still getting through as well.
Australian Twitter users aren't quite as rabidly obsessed with Jones as 2GB might like to imagine (because that, at least, would mean he's still relevant to Australian political discourse) – most of us, I suspect, just wish he'd finally finish digging that hole for himself.
Standard background information: this analysis is based on tracking all tweets which contain links pointing to the URLs of a large selection of leading Australian news and opinion sites. For technical reasons, it does not contain 'button' retweets, but manual retweets ("RT @user …") are included. Datasets for those sites which cover more than just news and opinion (abc.net.au, sbs.com.au, ninemsn.com.au) are filtered to exclude irrelevant sections of those sites (e.g. abc.net.au/tv, catchup.ninemsn.com.au). For our analysis of 'opinion' link sharing, we include only those sub-sections of mainstream sites which contain opinion and commentary (e.g. abc.net.au/unleashed, articles on theaustralian.com.au which include '/opinion' in the URL), and compare them with dedicated opinion and commentary sites.
See the posts tagged 'ATNIX' at Mapping Online Publics for a full collection of previous results.