Before we get to the core of this week's Australian Twitter News Index, a small excursion into the grubbier regions of the Twittersphere is necessary, I'm afraid. Every week, we track all the tweets which contain URLs that point to our basket of some 29 Australian news and commentary sites, and for the most part, the attention paid to those sites by their Twitter audiences is relatively stable. You can imagine my surprise when this week, I found a massive spike in links to news.com.au, therefore: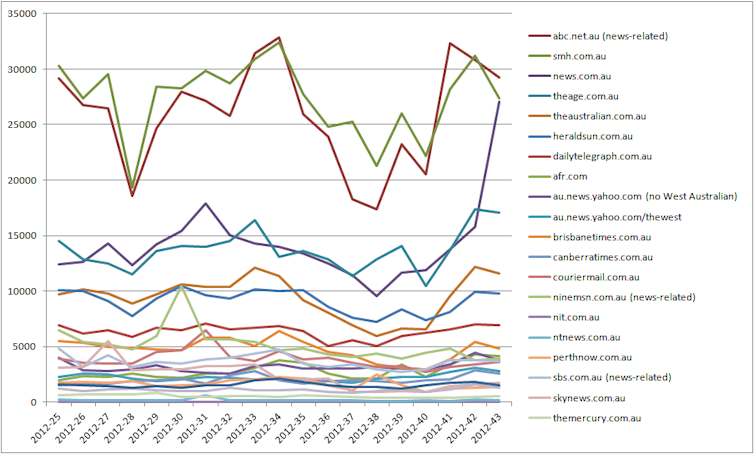 A few ups and downs in the total weekly number of links pointing to any one site are normal. Even substantial jumps aren't out of the question if there are major events generating widespread coverage, as we saw with the significant number of international users linking to the ABC's video of Julia Gillard's anti-misogyny speech in week 41. But 27,000 tweets linking to news.com.au in one week – double the site's long-term average – at a time when none of the other sites are similarly picking up substantial extra tweets? Something's not right here.
And indeed: as it turns out, some 14,000 of the tweets we captured for news.com.au this week (exactly the margin by which the site surpassed its usual average) contain the hashtag #leimo, and often also additional links to the hair regrowth product www.leimo.com. What we're seeing here – and I stress that I'm not suggesting that the company itself initiated this – is an organised Twitter spamming campaign to get the #leimo hashtag trending. The spammers do so by hijacking genuine news tweets: they pick out random stories, in this case from news.com.au, and tweet their headlines and URLs, but additionally also include their own hashtags and URLs; further, they draw on a whole network of fake accounts to widely retweet those news tweets. News.com.au wouldn't have known what happened, and couldn't have stopped it, either.
The ultimate aim of the exercise is to get the #leimo hashtag into Twitter's list of trending topics. By using a variety of news headlines, the spammers hope to fool Twitter's spam detection mechanisms, such as they are – the headlines and news URLs are real, after all, so the spam tweets may look real enough to get past the detection algorithms. It's only when we compare the sudden spike in news.com.au activity with the site's long-term average that those numbers begin to look as fake as a retired cricketer's haircut. Lame-o…
In the following discussion of this week's Australian news trends on Twitter, therefore, I've removed any tweets containing the term or hashtag 'Leimo' from the news.com.au dataset.
ATNIX Week 43: 22-28 Oct. 2012
Despammed, this week's ATNIX numbers are roughly comparable to week 42: we captured some 153,000 tweets containing links to Australian news sites this week, down 9,000 from last week. Unusually, though, the news-related sections of the ABC site just manage to beat the Sydney Morning Herald to first place; they may well have been helped in this by the temporary site outage due to an electrical fault which affected Fairfax sites this week. The rest of the leaderboard is virtually identical to last week's: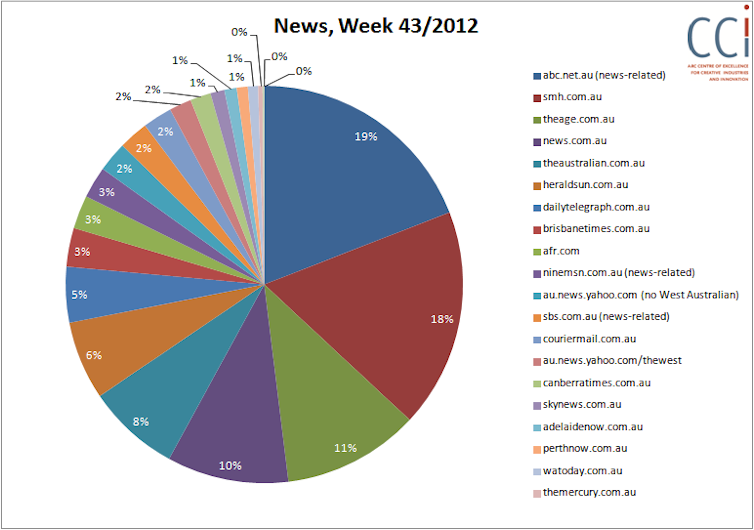 The corresponding patterns for our opinion and commentary sites and sections are also relatively stable. At 24,000 tweets linking to these sites, we're down a modest 2,000 from the previous week, and the top five sites retain their positions. Interestingly, the recently redesigned Global Mail has moved slightly backwards once again; this may indicate that the audience honeymoon with the new look is coming to an end. We'll see how things track from here.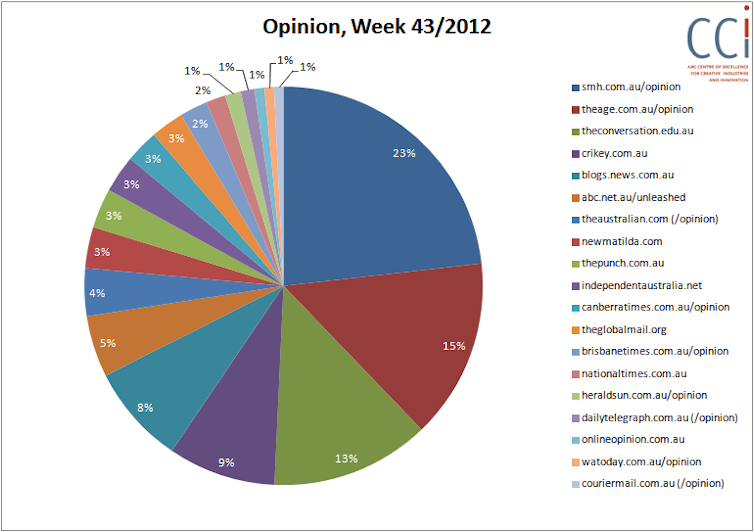 As always, though, the day-by-day patterns point us more specifically to the key stories of the week. For both ABC News and Sydney Morning Herald, week 43 was a relatively uneventful one, with news sharing patterns showing the usual strength on weekdays and decline during the weekend. The minor ABC spike on Wednesday which shows up in our daily news patterns is actually due to the 470 tweets about an article by Annabel Crabb at The Drum, on what she describes as Tony Abbott's "foot-in-mouth problem", which would be better counted towards the opinion numbers – but due to the ABC Website's somewhat inconsistent URL scheme, Drum articles by its own staff will always show up here.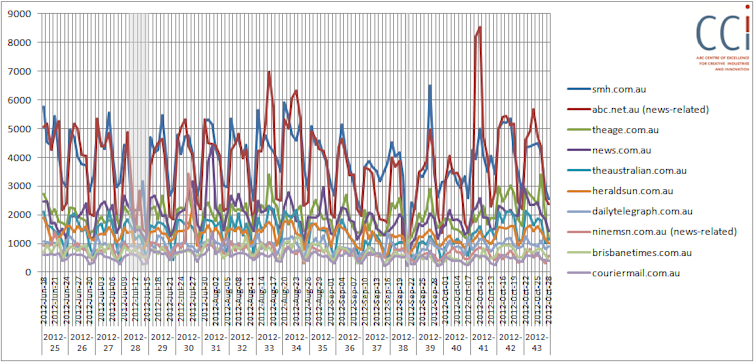 Meanwhile, the Friday bump for The Age is largely due to a piece by former professional cyclist Bradley McGee, writing about his reaction to the Lance Armstrong scandal. It's quite likely that this article would also have picked up a number of international readers as part of the 700-odd tweets which linked to it.
The daily trends for links to opinion and commentary articles show a much more mixed picture, as they do so often. The Conversation starts us off with a strong Monday performance, but for no real reason – links to the site are distributed across a wide range of stories, led by some 100 tweets linking to the live stream of the symposium on the future of higher education. But it's the Sydney Morning Herald which dominates the later parts of the week – leading especially with its republication of a piece by TV news anchor Tracey Spicer which first appeared in The Hoopla, in which she details the sexist treatment of female presenters in the news industry. Clearly, the public furore might have dissipated somewhat, but the Australian debate about sexism and misogyny still has some way to run – at the SMH, Spicer's article picked up some 570 tweets, while a version of the same piece on the Age Website added 640 tweets.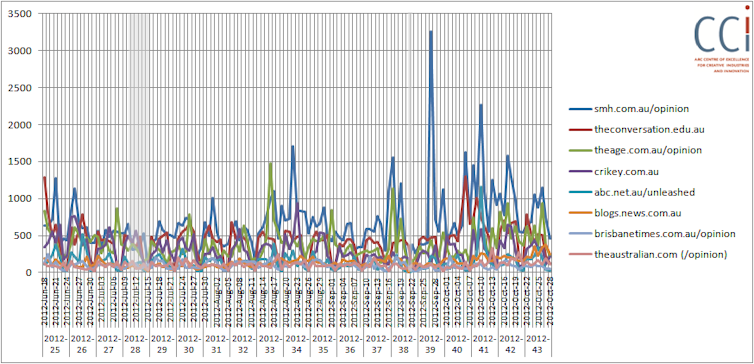 Finally, there's also been a notable growth in the number of tweets which link to blogs.news.com.au (the site which hosts the columns of a number of well-known commentators in the News Ltd. stable, including Andrew Bolt, Piers Akerman, and Tim Blair). Interestingly, though, much of that increase has been due to a single user, who has been sharing the posts published in these and other News Ltd. blogs with great dedication, usually under the #auspol hashtag and in a tone that is sharply critical of the Gillard government: some 720 of blogs.news.com.au's total of 2200 links this week were from tweets made from a single account (and no, I won't name the account here).
Which almost brings us back to where we started – the basic principles and practices are more or less the same, but when is high-volume, one-track tweeting a form of legitimate political expression, and when is it simply spam?
Standard background information: this analysis is based on tracking all tweets which contain links pointing to the URLs of a large selection of leading Australian news and opinion sites. For technical reasons, it does not contain 'button' retweets, but manual retweets ("RT @user …") are included. Datasets for those sites which cover more than just news and opinion (abc.net.au, sbs.com.au, ninemsn.com.au) are filtered to exclude irrelevant sections of those sites (e.g. abc.net.au/tv, catchup.ninemsn.com.au). For our analysis of 'opinion' link sharing, we include only those sub-sections of mainstream sites which contain opinion and commentary (e.g. abc.net.au/unleashed, articles on theaustralian.com.au which include '/opinion' in the URL), and compare them with dedicated opinion and commentary sites.
See the posts tagged 'ATNIX' at Mapping Online Publics for a full collection of previous results.