Following hot on the heels of our Australian Twitter News Index for week 34, the following week's edition is turns out considerably more sedate. For the moment, at least, it looks like we're more or less back to normal…
ATNIX Week 35: 27 Aug.-2 Sep. 2012
Given that weeks 33 and 34 showed some comparatively unusual patterns driven largely by a handful of major (in part also international) stories – the Assange saga, the Leigh Sales/Tony Abbott interview on 7.30 – we've got to go back at least three weeks to find a comparably 'normal' news week on Twitter. We captured some 142,000 links to our news sites this week (which is actually a comparatively low amount), and the usual pecking order amongst the leading news sites is restored as well – after last week's very strong performance by ABC News, the Sydney Morning Herald returns to the lead, by almost 2000 tweets.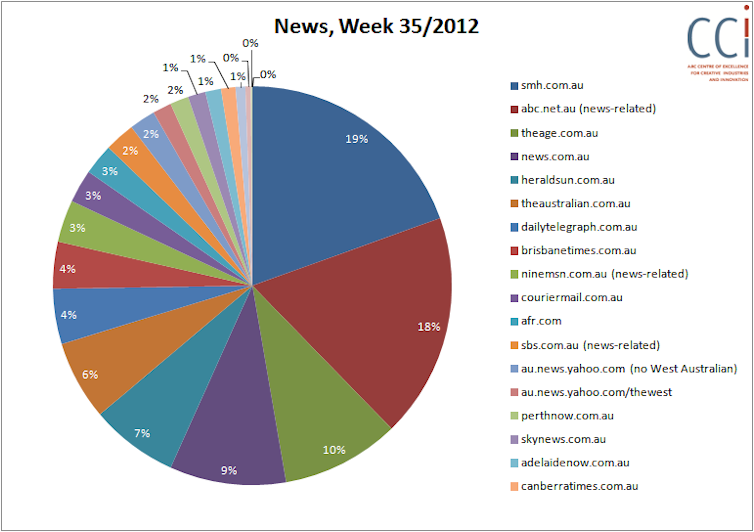 This return to normalcy is felt especially strongly amongst the opinion and commentary sites and sections, though. With 18,800 tweets sharing links to these URLs this week, there are some 20% fewer opinion tweets this week – the vast spike in links to the SMH's coverage of new data retention laws has washed out of the system, and the SMH's opinion marketshare has dropped back down to 23%. That's still somewhat above the long-term average, but leaves substantially more space to its competitors. Interestingly, it's The Age which benefits more from this than usual runner-up The Conversation: the latter clocks up its usual 2,600-odd tweets per week, but The Age's opinion section has a particularly strong week this time around (as we'll see in the day-to-day figures below). Conversely, Crikey falls back from its unusually strong, First Dog on the Moon-driven second place last week to a much more normal fourth position.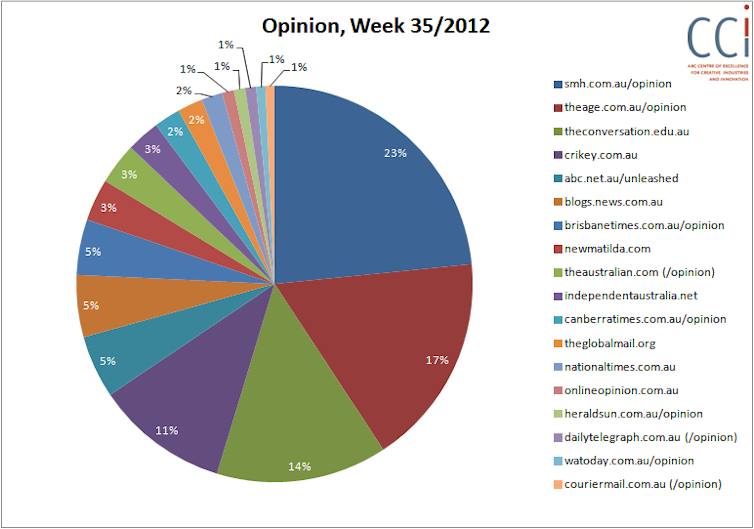 On to the daily patterns, then. For news, we see what is a very common trajectory for SMH and ABC News: a strong Monday, and then a slow decline through the rest of the week; both sites are essentially equal throughout the working week. The only slightly interesting feature here is a small spike in news.com.au links on Thursday, 30 Aug. – this is driven by the site's coverage of TV presenter and model Charlotte Dawson's attempted suicide following severe bullying on Twitter. The major story on this (a 'special investigation' on trolling) was shared some 600 times, while a number of related pieces picked up another 500+ shares, easily accounting for the 1,000 additional tweets mentioning news.com.au that day. (It's interesting that of the leading sites, news.com.au seems to be the only one receiving additional links from this story – as a more middlebrow news site, compared to SMH and ABC News, perhaps it is the more 'natural' place to look for what is at least in part also a celebrity story?)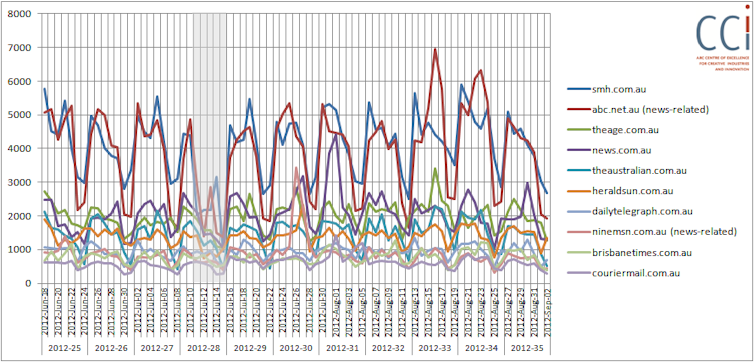 The daily patterns for opinion and commentary sites and sections look a little more messy this week. There are no major spikes as we encountered them during the previous two weeks; none of the sites make it past 900 tweets per day, in fact. There are minor spikes for the Sydney Morning Herald opinion section on Thursday, and for The Age's opinion section on Saturday (which is unusual, given that weekends are traditionally low on opinion sharing):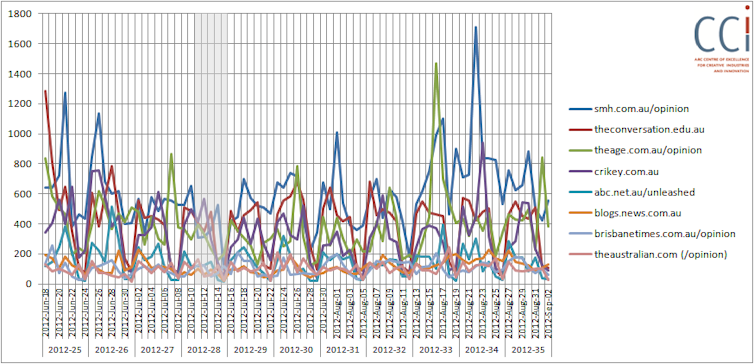 Of these, the SMH spikelet is driven by no one topic in particular, with stories on political gifts, the deaths of Australian soldiers in Afghanistan, and Gina Rinehart's commends on welfare each picking up between 45 and 80 tweets each. The Age spike on Saturday is substantially more pronounced, however – and is driven solely by Virginia Trioli's opinion article, calling out Peter Reith on his attempts to rewrite history by downplaying the Howard government's 'children overboard' lies. Some 550 tweets, or around two thirds of all tweets linking to The Age's opinion section that day, referenced this piece. Finally, Crikey also experiences a minor spike on 29/30 August – driven by a combination of multiple stories on the staff cuts at Fairfax (300+ tweets) and a piece on the U.S. ambassador's assurances, in an exclusive interview, that the country has no interest in extraditing Julian Assange (170+ tweets).
And that's it for this week – a somewhat quieter one, but we'll see what the future holds…
Standard background information: this analysis is based on tracking all tweets which contain links pointing to the URLs of a large selection of leading Australian news and opinion sites. For technical reasons, it does not contain 'button' retweets, but manual retweets ("RT @user …") are included. Datasets for those sites which cover more than just news and opinion (abc.net.au, sbs.com.au, ninemsn.com.au) are filtered to exclude irrelevant sections of those sites (e.g. abc.net.au/tv, catchup.ninemsn.com.au). For our analysis of 'opinion' link sharing, we include only those sub-sections of mainstream sites which contain opinion and commentary (e.g. abc.net.au/unleashed, articles on theaustralian.com.au which include '/opinion' in the URL), and compare them with dedicated opinion and commentary sites.
See the posts tagged 'ATNIX' at Mapping Online Publics for a full collection of previous results.