Four in ten Australians believe relations with Indonesia are worsening – 24 points higher than in 2008 – while nearly half expect China will become a military threat to us in the next 20 years, according to the 2014 Lowy Institute poll.
The annual poll also finds climate change is starting once again to become a greater concern in people's minds.
In what Lowy describes as a striking shift in opinion, 45% now see global warming as a "serious and pressing problem", up 5 points since 2013 and 9 points since 2012.
"Last year's poll saw the first rise in Australians' concern about climate change after five successive years of decline from the peak of concern in 2006. The 2014 poll confirms that upward shift," the report says.
A significant majority (63%) say the government "should be taking a leadership role on reducing emissions". Only 28% believe "it should wait for an international consensus before acting".
As Prime Minister Tony Abbott meets President Susilo Bambang Yudhoyono today, only 7% see the relations with Indonesia improving (compared with 26% in 2008). But 57% still describe Indonesia's relationship with Australia as "friendly". The poll was done in February, before relations had started to unfreeze.
When people are forced to choose what should be the single most important issue the Australian and Indonesian governments should be working on together, asylum seekers and people smuggling tops the list (29%).
More than seven in ten (71%) support turning back the boats; nearly six in ten (59%) agree with offshore processing in places such as Nauru and Papua New Guinea. People are split over the government's plan to have temporary protection visas restored.
Abbott yesterday expressed confidence that the code of conduct on intelligence matters, demanded by the Indonesians after the revelations of Australian spying, would be ready for signing within weeks.
The poll shows people are unconcerned about the Australian government spying on other countries, which was the principal reason why relations with Indonesia plummeted. For the majority, it is acceptable for Australia to spy on China (65%), Indonesia (62%), East Timor (60%), Japan (58%), the United States (54%), France (53%) and even New Zealand (51%).
The poll exposes ambivalent views towards China. Its "thermometer" shows Australians' "warmth" towards China at 60 degrees, up 6 degrees and the equal highest level in the poll's decade-long history.
But perceptions of China as a potential threat have risen, with 48% saying it is likely it will become a military threat to Australia in the next two decades – 7 points higher than last year.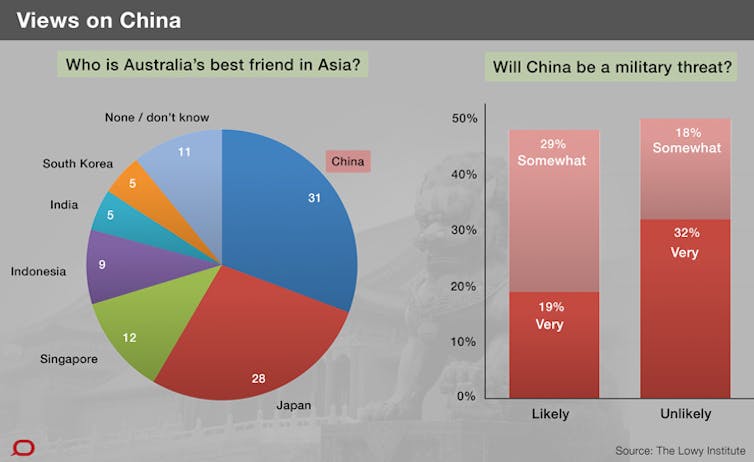 More than half (56%) believe the Australian government is allowing too much investment from China – only 34% say the amount is about right. Nearly two thirds don't know or hold no view when asked whether they admire Chinese President Xi Jinping.
Michael Fullilove, executive director of the Lowy Institute, said Australians have very mixed feelings towards China. "What's remarkable about these findings is that one in two Australians think we may be in a military conflict within two decades with our largest trading partner – a country many people today see as our best friend in Asia."
On foreign investment generally, 58% favour the government allowing it in manufacturing, 55% for the financial sector and 49% for resources.
But there are narrow majorities against foreign investment in the NBN (52%) and Qantas (51%), and bigger majorities against it in agriculture (60%) and ports and airports (60%).
Asked which of China, India, Indonesia, Japan, Singapore and South Korea is "Australia's best friend in Asia" 31% say China and 28% name Japan.
The poll shows Australian democracy is not as healthy as it might be. For the third year in a row, many people are ambivalent about the value of democracy. The young are particularly sceptical.
Only 42% of 18-29 year olds see democracy as preferable to any other kind of government, compared with 65% of those 30 and over. A third of 18-29 year olds say that "in some circumstances, a non-democratic government can be preferable", and nearly one in five (19%) say "it doesn't matter what kind of government we have".
When people are asked to choose between having a good democracy or a strong economy, only a small majority, 53%, choose "a good democracy" while 42% say "a strong economy".
Main reasons for criticising democracy are that there are no real difference between the policies of the major parties and that the system only serves the interests of the few.
From a list of ten world leaders, US President Barack Obama is the most admired, followed by former Secretary of State Hillary Clinton. Among the least admired are the Indonesian and Chinese leaders.
The poll was done of 1000 people between February 12 and 27, with an extra 150 people aged 18-29 also surveyed on some questions, including attitudes to democracy and climate change.