Tony Abbott is spending this week in North-East Arnhem Land, part of his long-held hope "to be not just the Prime Minister but the Prime Minister for Aboriginal Affairs". We asked our experts: what stories does the PM need to hear while he's in the Top End?
It's Australia's own 7 Up, following the progress of 686 tiny babies into adulthood, through sickness and health, for the rest of their lives. What started with one researcher working out of a linen cupboard 27 years ago has become the largest, longest-running and most significant study of the lives of Indigenous babies in Australia.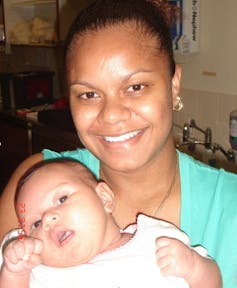 Our peer-reviewed research has provided vital clues to help us better predict, prevent and treat chronic diseases that are common killers of Indigenous Australians.
Our work has also led to practical improvements for mothers and babies, including making ultrasounds to date pregnancies available at the community level, which weren't available in the past, as well as changing health policy from a one-size-fits-all approach to making it more targeted to Aboriginal people living in both urban and remote areas.
Known as the Aboriginal Birth Cohort study, or ABC for short, we've spent the past three decades checking for the earliest signs of chronic disease in our participants and noting the age at which these appear.
Our study has reached perhaps its most crucial time. At 18, our young women and men were mostly healthy. Now, in their mid- to late-20s, we are starting to see some diagnosed with chronic diseases like diabetes, while others are becoming overweight or obese. Obesity is the most important amplifier of other risk factors for chronic disease.
Our babies are now all grown up, with a third of our young women participants having become mothers to more than 100 babies of their own. What happens in the next few years will matter not just to our participants' health; it will also shape the health of their children, and their children to come.
But there's still more work to be done. This includes tracking down about half of our participants, who as adults can be much harder to find every seven years than when they were children.
Vital discoveries, decades in the making
Back in 1974, one of us (Susan Sayers) arrived in Darwin as a trainee pediatrician and over the years noticed how many Aboriginal babies were being born too small.
Concerned about how that would affect well-being in later life, between 1987 and 1990 Susan and three colleagues recruited 686 babies born to mothers who identified as Aboriginal at the Royal Darwin Hospital – almost half of all the Aboriginal babies born in the Northern Territory during that time.
We have followed those babies ever since, with follow-up checks every six to seven years, watching as they grew up through childhood, their teen years and now well into their adulthood.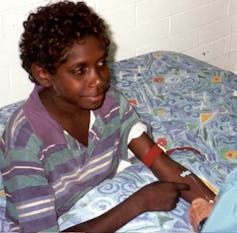 Each time we see them, we do a comprehensive health check, including:
body measurements;
blood pressure and tests of heart function;
ultrasounds of kidneys, thyroid and carotid (the artery in your neck);
blood and urine testing; and
emotional well-being and thinking ability.
We also collect details about social conditions, lifestyle and nutrition. And we compare how they're faring in growth and development, compared to their peers born with normal birth weight.
Soon after the ABC study began, the value of tracking babies' health into adulthood was confirmed by a landmark 1989 study from the UK. Professor David Barker showed the significant long-term effects of low birth weight, finding higher rates of coronary heart disease in 60 to 70-year-olds who were born small.
As a result of those findings and others – showing that low birth weight is associated with an increased risk of hypertension, stroke and type 2 diabetes – the planned follow-up period of the Aboriginal Birth Cohort study was extended to tracking our participants all the way through their lives.
The ABC study has been so successful that we're using it as a model to track the health of non-Aboriginal young people born in Darwin between 1987-1991. Called the Top End Cohort study, it's investigating the same issues of early life factors on later health and disease.
Travelling across the Top End
Just as British documentary maker Michael Apted had to travel across the UK and even overseas to follow up his 7 Up child participants since the 1960s, we don't expect all our participants to come and see us in Darwin; we go to them.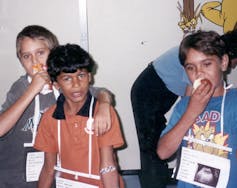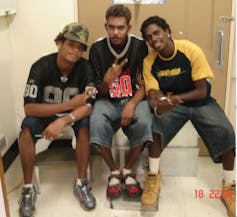 Visiting each of the 40 remote communities we work with – mainly in the Top End, but down to Central Australia and across to Western Australia too – involves travelling vast distances, sometimes by light plane but more often bumping along in four-wheel-drives in all weather, including crossing unpredictable tidal rivers.
But it's always worth the trip, particularly when you're working with communities that make you welcome and even anticipate your return, helped by the fact that so many in our team are familiar faces.
On a recent visit to the Daly River region, around four hours' drive south from Darwin, we met three of our participants at an outstation. One of the young men said: "I have been waiting for you for my check-up. You mob are a year late!" To our surprise, we found that all the other young people in their 20s there wanted to get in on the act of having a personal health check-up.
The communities we work with are involved on all levels and are always very keen to hear our latest findings. Elders in some outstations have felt so strongly about the importance of the study that they have made room for us in their own personal space.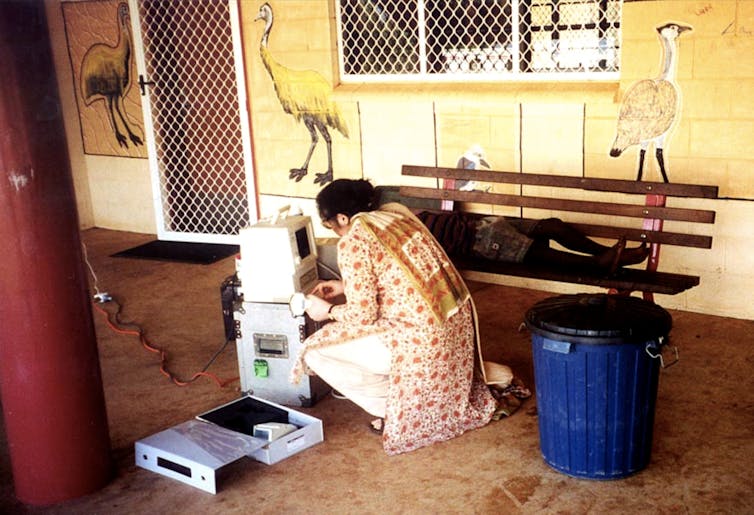 Learning more from adults to help our babies
About one in 25 Australian babies are born to Indigenous mothers – and Australia's Indigenous population is growing at a faster rate than the national average, which makes trying to close the gap in health outcomes more important than ever.
And there is some good news: survival of low birth-weight Indigenous babies has dramatically increased since the 1970s and 1980s. However, newborns of Indigenous mothers are still twice as likely to be born underweight, due to higher risk including higher rates of smoking, more Indigenous mothers having a low Body Mass Index (BMI) and a higher rate of teen pregnancy. All of these are preventable factors, which means we can and should do more to keep closing that gap in low birth-weight babies.
We have been fortunate to have won adequate National Health and Medical Research Council funding to conduct this current round of visits to communities across northern and central Australia. But obtaining ongoing funding for in between our six to seven-yearly visits is harder. This has restricted our ability to do more and learn more from this unique, life-long study of Indigenous Australian babies.
What changed between 18 and 26 up?
The advantage of following the same group of young people for all these years is that it is one of the best ways to tease out the cause of diseases they may face.
Up to the age of 18, our young women and men were healthy; had low or normal amounts of body fat (as measured by body mass index, or BMI), particularly those born with a low birth weight; and showed no early signs of chronic disease.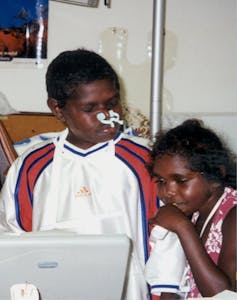 But in our most recent checks – which started last year and will continue into next year – some of the 24- to 28-year-olds we're seeing are becoming overweight. That's not only a major risk factor for diseases like diabetes and cardiovascular disease, but also magnifies the risk posed by being low birth weight.
Knowing more about the timing of when chronic disease markers like these start to appear is crucial, as it will help us – and health experts in other parts of Australia – come up with better health strategies targeted at those most at risk, at the most appropriate time.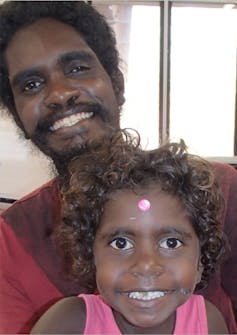 Over the next few years it is likely that some of our participants will show signs of chronic disease, so following them through this time is essential.
Of the 686 babies in the first health check, we know of 32 who have died. But our participation rate is gradually falling for another reason: the older our participants get, the more they're moving around for work or relationships, which can make them harder to find. So far in the current round of check-ups, we've caught up with about half of our participants, but we're still trying to track down about 300 more.
The more people read and share this story, the more chance we have of finding these participants and keeping this crucial research going. In doing so, we hope to find better ways to improve the lives of many more generations of babies to come.
If you are one of the original ABC participants, someone in your family is, or you would like to know when they will be visiting your community, please contact the ABC Study team's project manager Belinda Davison: Belinda.davison@menzies.edu.au or 0458 543 765.
---
Further reading in this Abbott in Arnhem Land series:
Birthing on Country could deliver healthier babies and communities
Welcome to my Country: seeing the true beauty of life in Bawaka
'PM for Aboriginal Affairs' Abbott faces his biggest hearing test
Well-connected Indigenous kids keen to tap new ways to save lives
Indigenous Australia's rapid rise is shifting money and votes
How crowded homes can lead to empty schools in the bush
Would you risk losing your home for a few weeks of work?
Listen to your elders: inviting Aboriginal parents back to school
Indigenous Australians need a licence to drive, but also to work
Keeping Indigenous teens in school by reinventing the lessons
Explainer: Can a DNA test reveal if you're an Indigenous Australian?
Explainer: what Indigenous constitutional recognition means