For a few months now we've been running question and answer sessions with authors, covering topics from the Great Barrier Reef to inequality in Australia to cat cafés. These have worked well so we're keen to expand on them, which is why we're trying out two new approaches.
The first will involve our Facebook page. We're going to post a call for questions on a subject, say "Asylum seekers and international law". Once we have a collection of interesting questions, we'll source answers from our authors and run the Q&A as an article.
A look at our facebook page shows this in action.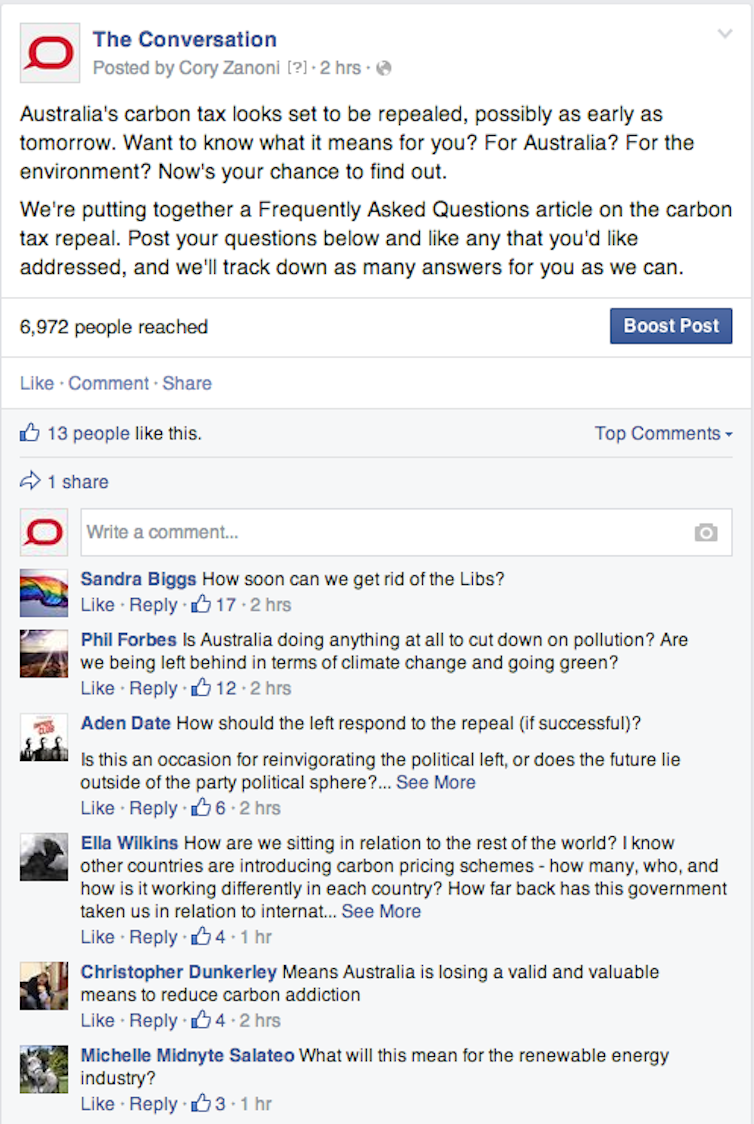 This approach will help us draw on your questions and ideas quickly and also gets our Facebook community involved in our on-site discussions.
Second, we'll be making the Author Q&As we run in the comments section of articles on-site more obvious. Rather than running a Q&A exchange in the comments, we going to publish it as part of an article.
Here's how it will work. First, we'll find a subject we'd like to explore, and an author with expertise in the topic. Then we'll post an article – e.g. "Q&A: asylum seekers and international law" – that introduces the topic and invites you to add your questions in the comments section. At an advertised time, our author will post responses. Afterwards, we'll update the article with a summary of the Q&A discussions.
Several of our authors have told us how valuable discussions with our community have been. We want to make these interactions easier and establish them as a core part of The Conversation. Let me know if there's any topics you'd like covered.