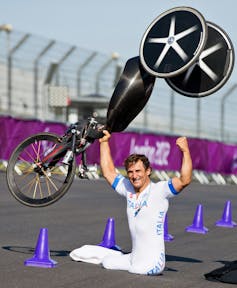 Shortly after I posted my wrap for Day 7 of the Games, Greg Blood shared with me his highlight of the day: Alessandro (Alex) Zanardi's gold medal in the Men's Individual H4 Road Cycling Time Trial.
The Road Cycling events are being held at Brands Hatch Motor Racing Circuit. Brands Hatch hosted 12 British Formula One Grand Prix between 1964 and 1986.
Alessandro was a Formula One and CART racing driver. He suffered an horrific accident in a race in Germany in 2001.
Alessandro's is one of the 4,200 stories of the Games. I am mindful in listening to these stories of Gregor Wolbring's discussions of identity in his Paralympic blogs and his observations about how we ensure the popularity and visibility of the Games leads to "real changes for the average person with a disability". Meri Vukicevic has discussed some of these issues too in relation to everyday life.
My fascination with the stories has much to do with what Peter Berger characterised as 'inveterate snooping' that is the essence of the sociological imagination. I think my snooping is a self-conscious interest in athletic performance generally. Thanks to Gregor, Meri and Stella Young I am beginning to think more about what this snooping means for gaze, perception and my everday practice.
Notwithstanding all these issues, like Greg Blood, I was delighted to learn about Alessandro's day at the races.