In November 2019, James Packer's Crown Resorts VIP exclusive gambling and hotel complex will open at Barangaroo on the Sydney foreshore. In a disappointing development, the New South Wales government has granted the casino an exemption to the state's hard-fought-for indoor smoking ban.
The move begs a question about how exclusive a casino that measures 20,000 square metres in floor space (that's about the same size as the Melbourne Cricket Ground arena) can be.
According to the New South Wales state government, it's so exclusive that the normal laws of occupational health and safety need not apply.
So, when the "VIP gaming floor" at the new Crown Sydney Hotel Resort in Barangaroo opens, casino staff will be forced to breathe toxic, cancer-causing secondhand cigarette smoke while doing their jobs.
The exemption is made possible by the precedent set when the Sydney Star City Casino was granted a smoking ban exemption for its "high-roller" room.
Both exemptions were granted on the proviso that the general public wouldn't be exposed to secondhand smoke (all gamblers who enter the VIP areas must be members) – so it's perfectly acceptable to allow patrons to puff away. But provided you're willing to spend a minimum of A$20 per hand of blackjack, you can become a VIP member at the Barangaroo casino.
Clearly, this is not a small facility that will cater only to a handful of super-rich players. Rather, it's expected to pull in A$1 billion in gaming taxes in the first 15 years of operation alone.
Indeed, it seems a much more plausible reason for the exemption is that the revenue generated from such a facility is worth sacrificing the health and safety of workers.
The case clearly demonstrates how privileging influential business interests over public health is a slippery slope to undoing progress in improving population health.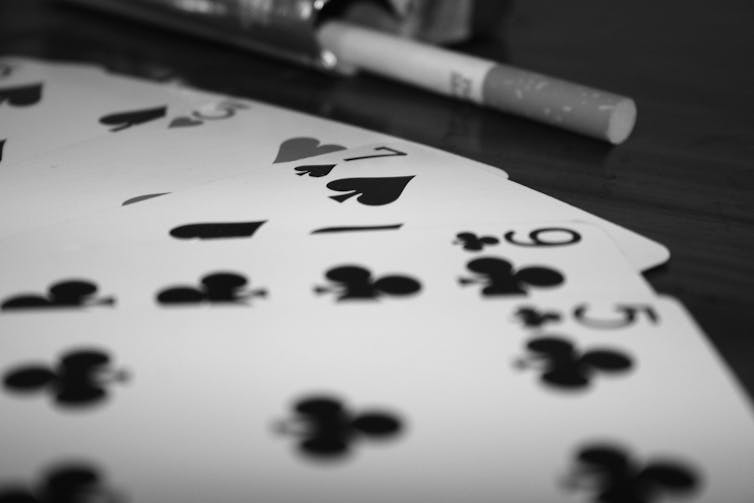 While the Smoke Free Environment Act 2000 protects the general public from being exposed to secondhand smoke, the law is firmly rooted in employee rights to a safe work environment.
Without the implementation of comprehensive smoking bans, workplaces are the major source of secondhand smoke exposure for adults. Such smoke contains hundreds of chemicals known to be toxic or cancer-causing, including formaldehyde, benzene, vinyl chloride, arsenic, ammonia, and hydrogen cyanide.
For these reasons, the National Occupational Health and Safety Commission recommended in 2003 that exposure to secondhand smoke should be eliminated in all Australian workplaces.
Public health groups have long argued that gambling exemptions to smoke-free laws make a mockery of fair work policies. Allowing the playgrounds of the wealthy to poison the workplaces of ordinary people belongs in a Dickens novel, not modern Australia.
The exemption is dressed up as being perfectly safe with the suggestion that air filters, ventilation and diligent air quality monitoring will be enough to keep employees safe.
This argument was used by the tobacco industry, and dismissed for being entirely without merit, when smokefree laws were first introduced in the 1980 and 1990s.
There's simply no safe level of secondhand smoke exposure in enclosed spaces, especially when staff are exposed to it daily.
In 2015, New South Wales is set to join other jurisdictions in banning smoking in all outdoor commercial dining areas. While this will be a welcome step forward in further improving work conditions for those working in the hospitality industry, employees at James Packer's Barangaroo casino will have no choice but to accept outdated working conditions.
The Barangaroo development has been declared as "the future of Sydney" and boasts of its focus on sustainability and innovation. It's a pity that this ethos has been granted an exemption inside the walls of the casino.