The Hon Dr Basil Hetzel AC died on February 4th 2017, after a truly transformative 70-year career in medicine, research and public health advocacy.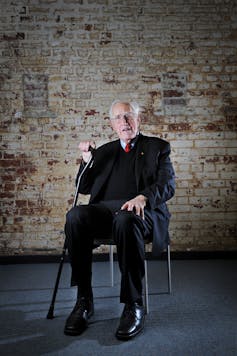 Described as an Australian medical pioneer, he identified the most common cause of preventable brain damage: dietary deficiency in the mineral iodine.
Not only that, he progressed his scientific and clinical findings to create effective public health policy to prevent brain damage, cretinism (stunted intellectual and physical development) and goitre (enlargement of the thyroid gland) due to iodine deficiency across the world. He is the reason many of us now ingest iodised salt as a preventative health behaviour.
I met Basil in 2006, when the University of South Australia was establishing a formal research leadership development program. I had the idea of recruiting several patrons to the program.
Knowing of Basil's work and, indeed, his longstanding formal and informal ties to the university, I wrote and invited him to be a patron.
And so, Basil rang me out of the blue and we discussed what role he might play. Admittedly that wasn't as yet too well defined in my head, but we talked about ambassadorial, mentoring and presenting roles.
Well dear, I'm happy to do it if you still want me,
he said at the end of the call.
And, with that, he became an inaugural patron of the University of South Australia's research leadership program, and quite possibly the only person I will allow to call me "dear".
He was a terrific patron. Over four-plus years, he would call me periodically with observations and smart ideas about things we could do. He was instrumental, for instance, in helping design robust sessions that focused researchers on grand challenges in research.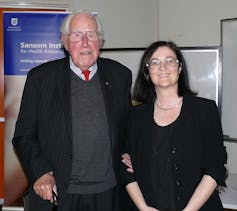 He routinely came along to contribute to and hear from the researchers in the cohort. He sought every opportunity to find out how they were going and what more he could do to help.
And he welcomed researchers into his home to mentor them and talk about all things research.
A few years on and as then Director of the Sansom Institute for Health Research, I was honoured to host what I understand was Basil's final scientific seminar. Stately and savvy, he commanded a large and mixed audience. The work was brilliant, travelling as it did from scientific discovery through to clinical trials and world uptake. The course of that work is shown in the timeline below.
He's awesome!
was the unsolicited response when I asked a couple of young PhD students the following day what they thought of the seminar.
I met Basil in the later chapters of his work and life, and he was no less impressive for it.
I admired his scientific achievements – who couldn't – and respected his humility and acknowledgement of the contribution of others when he spoke of it.
I enjoyed the edge of steel he would occasionally inject into the most genial of conversations, and I loved his humanity.
He changed the world, he was indeed awesome and he was my friend.
---
Pathway from discovery to public health impact
Starting in the 1960s, Basil Hetzel identified iodine deficiency as a preventable cause of intellectual impairment and other disorders, and initiated an effective global public health program that is still in place today.
To navigate, click your mouse on the right and left pointers to move forwards and back.
---
Content included in the timeline was provided by Howard Morris, and the structure originally prepared by Basil himself following his participation in discussion about a program of research in Nutritional Physiology at the University of Adelaide.
Howard notes that Basil emphasised the necessity for fundamental physiology research to generate programs for the translation of knowledge to improve the human condition. This was what he termed the "Big Picture". He prioritised communicating to the next generation of medical researchers, always willing to spend his time and energy exploring various avenues by which he could communicate his message of the Big Picture.
Basil published a summary of his work preventing iodine deficiency in a 2012 commentary.