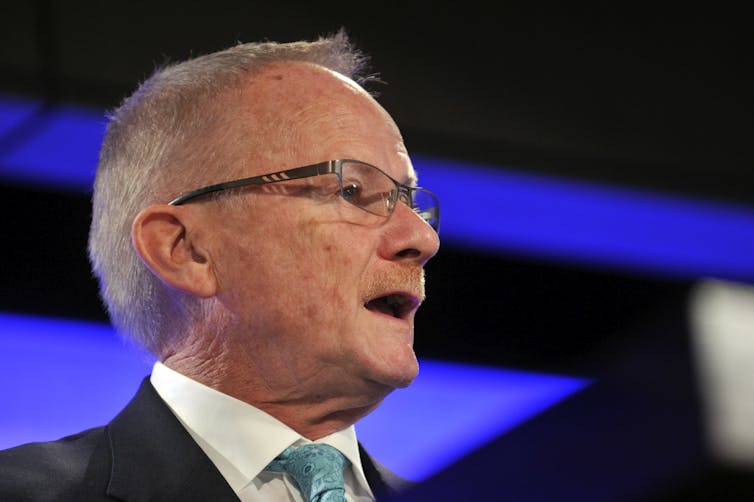 Political focus group research shows people want to hear "plans" for the country. So the government talks plans. Tony Abbott flourishes a 50-page booklet about "Our Plan". But for ambition, the "plan" of the Business Council of Australia, the big end of town's lobby group, is right up there with them.
The trouble is that the BCA has put forward such a sweeping wish list that its sheer scope will diminish its impact and likely influence.
Actually, when council president Tony Shepherd stood up at the National Press Club he didn't deliver "the plan" itself, but a foretaste of what is being worked up for release "in the near future".
One arresting line in Shepherd's speech will be off-putting for many politicians. "The plan we're putting forward for Australia requires political leaders who are prepared to lose their jobs to get things done", he said.
Sometimes politicians are willing to gamble all - John Hewson took a huge risk with his Fightback program in 1993, and lost the unloseable election; John Howard just survived when he rolled the dice on his GST proposal in 1998. But most politicians put political survival pretty high when they are evaluating reform agendas, and such a clarion call is not necessarily a strong selling point.
The BCA's message is Australia faces crucial choices; it needs to lift its game in almost everything and the situation has to be addressed urgently.
"Australia's current preparation for the future is somewhere between half-hearted and non-existent", Shepherd said. Action is required in tax and fiscal policy, population, sustainability. infrastructure, innovation, education, the workplace, regulation, foreign investment and energy.
But the BCA's approach suffers from a clean-slate mentality. For example, it calls for a fresh tax inquiry. How can this be justified, when we've recently had the big Henry tax review?
It's true that the GST and a key aspect of superannuation were excluded from that, and many are now arguing the GST should be broadened or increased, or both, and superannuation arrangements need more attention. But you don't need a full tax inquiry for this.
You need to look at the particular issue or issues and try to build a constituency for change which, frankly, is hellishly difficult. One doubts that an inquiry would make it easier; indeed, having the Henry review - which was desirable - didn't make hard things politically easy.
The BCA says the Council of Australian Governments has failed so "let's replace COAG and revert to a strategic first ministers meeting, and powerful ministerial councils that have served us well in the past".
COAG might be failing because the Gillard government is not managing it properly and maybe more should be done at ministerial level. But that doesn't mean it should be replaced; anyway, COAG essentially is just the old premiers conference by another name.
The federal-state system works well when there are common interests and good management, and at some times it works better than at others. But while there are two powerful levels of government, it is never going to be "fixed" once and for all. Kevin Rudd learnt that lesson after he promised to abolish the "blame game".
The BCA – which represents the nation's biggest companies - wants to buy into the pre-election debate, but it doesn't want to appear to go too far into the rough-and-tumble. It leaves the more knock-them-down politics to the likes of the Minerals Council of Australia.
It has taken out big advertisements in the newspapers declaring that "When Business Works, Australia Works", in which it has a dig at both sides of politics.
"Populist politics has sent mixed messages to investors and talent around the world". Well, that would be about Tony Abbott and Barnaby Joyce on foreign investment and Julia Gillard and Labor over 457 visas.
The concern about Australian governments squandering opportunity "due to the proliferation of short-term political fixes and deterioration in adequate levels of due process" seems squarely aimed at Gillard.
So is the call for "a return to policy development that is more open, consultative and inclusive", with the observation that "this process was adopted by past Labor and Coalition government and has led to some of the nation's greatest reforms and achievements". (There's a message to Abbott in that as well.)
Shepherd said "the next six months in Australia will be critical" and warned: "Perhaps the greatest risk is that we continue to wind back hard won reforms that will be even harder to win back a second time around".
Big business wants to see a change of government. But it also fears that Abbott is not "dry" enough or close enough to its end of town.
The BCA is right in attacking short-termism, which has become endemic in today's politics, and in seeing a range of key economic issues as linked together.
But if it wants to get things done it needs a more pragmatic, targeted approach concentrating on a limited number of priorities and accepting that progress which lasts will only be made by compromise and sometimes by modest steps.