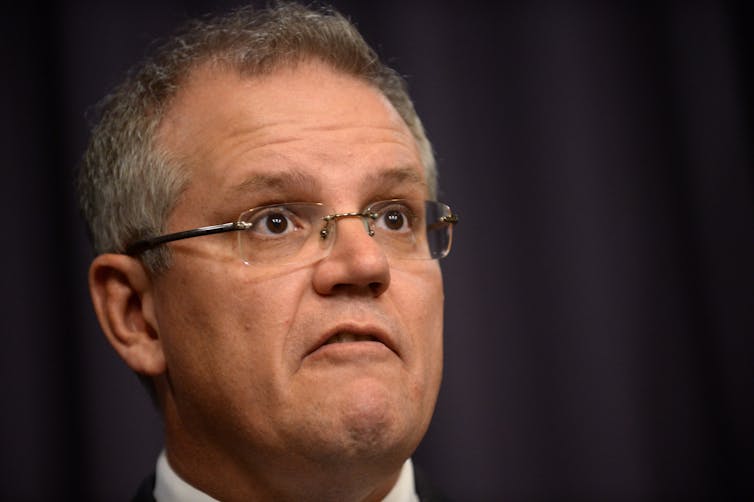 After five months of the Abbott government, no finality has been reached with Papua New Guinea about what sort of life Manus Island detainees found to be refugees will get.
The government's response to Sunday's violence at the detention centre, where there are more than 1000 people, again sends the strong message that humanitarian considerations are secondary in its border security policy.
As long as the boats are stopped – which they have been for two months now – never mind too much about those who got through previously. And indeed, never mind if the Indonesians relationship continues to deteriorate further because of the in-your-face border security tactics.
In the Manus incident some 35 detainees (whom Immigration minister Scott Morrison calls "transferees") escaped, damage was done, eight were arrested and 19 received medical attention.
As of Monday morning, five were still at the clinic. But at his news conference Morrison could not specify their injuries except that they weren't "life threatening".
The future of the people at the centre is full of uncertainties.
Australia and PNG are working towards getting people processed "as soon as that can be practically achieved", Morrison said. That's not very soon, it seems - no one has as yet been judged a refugee.
Resettlement of those who eventually are is "a further challenge", he said. This was why the government had been "moving so quickly to establish that accommodation on Manus Island that provides a place for people to be accommodated post assessment if they are found to be refugees."
So could people found to be genuine refugees stay on Manus indefinitely?
"Well, if people are resettled there, then that is a possibility but those sorts of details haven't been confirmed. It is not restricted to being temporary accommodation, but that's a matter that can be considered down the track," Morrison said.
And why is it taking so long to sort things out with PNG?
This, Morrison said, was because the previous government "left us a blank sheet of paper on this issue". (It might be mentioned that that government also left the PNG solution, which this administration has taken up with a vengeance).
The government gives little away on what sticking points there might be in its talks with PNG.
Tony Abbott said on Monday, in response to suggestions (which the government denied) that the violence followed detainees being told they would not be resettled in PNG: "Well, that [resettlement] is still very much available and Prime Minister Peter O'Neill has reassured me repeatedly that the same deal that was on offer to the former government remains on offer."
There seems considerable confusion over where things are at. Morrison said the centre manager had confirmed to the detainees "that those found to be refugees will be offered settlement in PNG". They were also told "that a third country option will not be offered and that neither the PNG nor Australian governments will be acting on behalf of the transferees in seeking alternative settlement countries to PNG."
But PNG's foreign minister Rimbink Pato said last week the PNG cabinet had decided "to appoint a group of eminent Papua New Guineans who will be assisted by relevant expertise from the UN, from the Australian Government, and other responsible stakeholders, to come up with relevant policy framework determining the question whether those asylum seekers will or will not be settled in PNG".
The Australian government should be judged culpable unless those people now on Manus who are eventually found to be genuine refugees get proper rights and the opportunity for a decent life in that country.
Abbott and Morrison – who, it should be remembered, made much fuss about human rights when opposing Labor's Malaysia solution – cannot wash their hands of these people.
Those on Manus Island have little redress but protest. The Indonesians, whose objections have been swept aside as a second rate concern as the Abbott government stops the boats, do have muscle.
Last week Indonesian Foreign Minister Marty Natalegawa was highly critical of Australia sending people back in life boats, saying "this cannot be accepted."
The heightening irritation, or worse, over Australia's refusal to heed Indonesian sensibilities about border protection activities has merged with anger over the disclosures, in the Snowden revelations, of Australian spying. Tensions increased again with the latest Snowden material revealing Australia passed on information to the US which it obtained while spying in 2013. This concerned an American law firm representing Indonesia in a trade dispute with the US.
The initial spying revelation led to a diplomatic freeze, which has hit, among other things, co-operation to fight people smuggling, and to Indonesia demanding a code of conduct on intelligence. Abbott on Monday admitted the negotiation of this was "progressing slowly. I'd like it to progress much faster".
But why would the Indonesians progress it faster? Going slowly is surely an easy way for them to underscore the wider point that they don't like Australia thumbing its nose at them by turning back or towing back boats.
Reuters reported on Monday a document from a January meeting organised by Indonesia's Co-ordinating Ministry for Political, Legal and Security Affairs which noted "that Jakarta did not expect full diplomatic links to be restored until October."
The next test is about to come. The government is about to release the report into the Australian Navy's breaching of Indonesian maritime borders several times. The government insists this was unintentional, a claim treated with some scepticism in Indonesia.
How the Indonesians react to the official explanation of these alleged accidents will indicate whether that country is in the mood to escalate the bad feeling even further.