The second single from David Bowie's iconic 1973 album, Aladdin Sane, was called Drive-in-Saturday. Part science-fiction ballad, part-vignette of a young marriage – and all lyrical and musical tour de force, it's a song Bowie utterly owned on record and in its rare live outings. His TV performance of the song on the Russell Harty Plus show shifted between boyish raunch, fey knowingness and majestically queer authority.
Some 26 years later, introducing the song for a 1999 VH1 Storytellers special, Bowie recounted the following anecdote.
Drive-in-Saturday was actually written as a follow-up single for Mott the Hoople who's already had some considerable success with another song I'd written for them called All the Young Dudes. Well they in their wisdom had decided that it was time for them to write their own singles so it was given back to me. I was so annoyed that one night in Florida … I got very drunk and shaved my eyebrows off, I was so annoyed they didn't do this song.
So his apparent ownership of Drive-in-Saturday, if we believe this anecdote, was in fact the result of a rejection by a band whose success he had helped to nurture, a rejection that also led to the unforgettable "look" of the song's era – those absent eyebrows.
His bony, hairless brows are a key part of the edgy and uncanny TV performance of the song.
Not just a starman
From the start of his career, when his influences were named (often super-explicitly by himself) as Anthony Newley, Jacques Brel, Bob Dylan and Lou Reed of The Velvet Underground, Bowie was as frequently seen as a sponge as he was hailed as a chameleon, one who soaked things up as part of his processes of inquiry and self-challenging.
It's easy to forget, though, both the direct influence he had on many artists with whom he worked as co-writer, producer, backing vocalist (Mott the Hoople, Lou Reed, Iggy Pop) and others whom he simply befriended or inspired (Devo, Blondie, Arcade Fire).
Listening to BBC 6 music in the shocked and teary hours after the announcement of the singer's death, his influence on bands from Ultravox in the 1970s to Suede in the 1990s and Radiohead (in whose new almost-Bond-song Spectre, Bowie's ghost can almost be heard walking) is audible.
Of Bowie's many incarnations some were "successful", some were not, some are the object of knowing, almost compulsory, admiration while some are quietly, keenly forgotten.
Sources of influence
But it is, I feel, precisely those "lost" stretches of his career that are in some ways the most powerful sources of influence for artists that succeeded him. On her Instagram account, for example, Madonna posted a photo of herself and Bowie, taken in 1987.
Madonna's words that accompany this picture recall Rebel, Rebel, Bowie's great, rough rock anthem of 1974. In the photo, Bowie is wearing the red pillar-box suit that was one of the costumes for his much-maligned Glass Spider tour, which was on the road at the same time as the Who's That Girl? tour, Madonna's early stadium extravaganza.
This image is clearly a backstage shot from Glass Spider and the influence of that tour – which has been condemned as ill-judged, overblown, oppressively technical – is everywhere in Madonna's work. If you don't believe me look at Glass Spider's opening moments on You Tube and compare them with the performance of Iconic, Madonna's opening song on her current Rebel Heart tour.
If you are an artist it is one thing to leave cited, cherished and admired work as an acknowledged legacy, but to have your "failures" or your blunders provide the DNA of your craft three decades after you have made them speaks to a level of force and foresight that can only be described as irreplaceable.
Lasting influence
Last November, I found myself in the audience at U2's Innocence and Experience tour and at regular intervals in that amazing show I felt Glass Spider's use of video, choreography and theatrical narrative being pretty brazenly reproduced.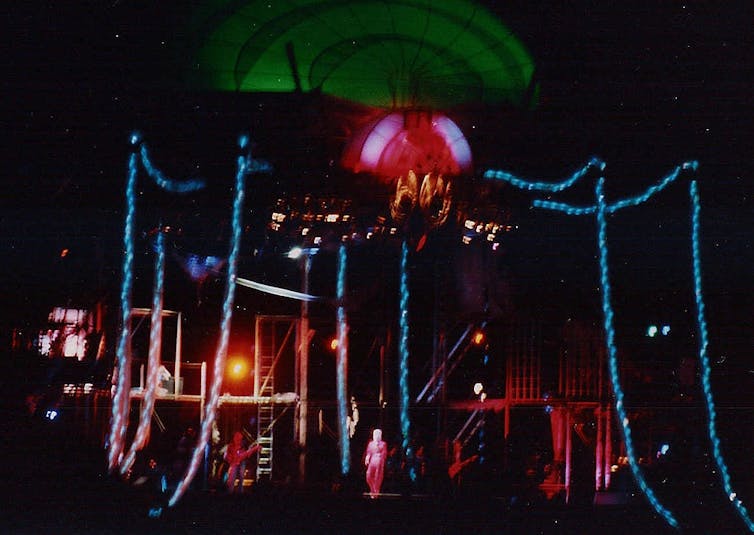 Two years after Glass Spider, Bowie formed a collective called Tin Machine and went in exactly the opposite direction to the strained, epic theatricality of 1987. Although Bowie himself spoke more warmly of Tin Machine – and I saw them in the Brixton Academy in 1991; they were awesome! – their pared–down, dark-suited, white-lit rock-combo aesthetic provided, yet again, something that would become the template for some hugely successful bands of the 2000s: Franz Ferdinand, The Killers, even Arctic Monkeys.
At a Johnny Marr gig in Leeds in late 2014, there was also more than a passing whiff of the Bowie of the Tin Machine era.
As the world grieves for what one writer has described as the "largeness and glory" of Bowie's "successful" work from Hunky Dory to Blackstar it is both startling and comforting to remember that even Bowie's "mistakes" provide the structure and inspiration for the music that is the cement of so much of our collective life.
Bowie's reaction to his rejection by Mott the Hoople suggests that in every failure there is the basis of not only a triumph but of an endlessly cherished signature style.
Denis Flannery's essay: Floating in a most peculiar way: Angels in America, David Bowie, Toneelgroep Amsterdam can be read here.