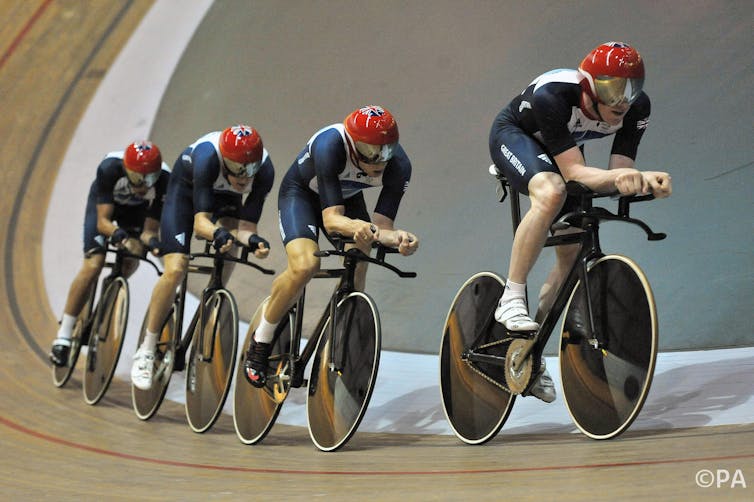 One year on from the London 2012 Olympic Games and Britain is debating the legacy of the world's biggest sporting event. Inevitably, much of the talk has focused on the socio-cultural and economic impact of the games. But rather less attention is being devoted to what appears to be a renaissance in British sporting achievement.
At London 2012, the British Olympic team secured 29 gold medals, placing it third in the medal table behind the USA (46 gold medals) and China (38 gold medals). This means that Britain secured a gold medal for every 2.2m people in its population, the USA for every 6.9m people, and China secured each gold medal for every 35.5m.
In terms of national income, figures for gold medals secured are also revealing: one gold medal effectively cost the United States $340m; for China, the figure was $202m; for Great Britain it was $83m. Such figures suggest that Britain's success at the Olympics was not necessarily due to either the size of its population or to its economic might, but to other factors.
Some commentators might suggest that Britain's recent sporting successes are pure luck; other people could say that all countries periodically benefit from a "golden generation" when there is a simultaneous (yet possibly fortuitous) convergence of factors that deliver sporting success. There is even an argument that Great Britain is simply reaping the benefits of an extensive talent pool borne of its colonial past and liberal approach to immigration, and of its affluent, sports-oriented independent schools system.
Yet such explanations fail to accurately explain what is happening in some British sports. While many critics often point to the rampant spread of commercialism (emphasising revenue generation and profit), which is most commonly associated with the English Premier League, a more subtle yet arguably more profound development has been taking place: managerialism.
Managerialism emphasises the importance of performance management and efficient resource use, underpinned by a sense of vision and strategy. Its essence is about extracting the best possible performance from available resources by utilising management techniques more commonly associated with business.
To get a sense of what this means, consider the film Moneyball, starring Brad Pitt. It depicts a true story of how performance management techniques were applied to a failing baseball team, resulting in them becoming championship contenders. Such techniques are sometimes referred to as sabermetrics: the objective measurement of performance rather than subjective judgements about it.
This whole philosophy is bound up in the gathering and analysis of data as the basis for driving performance management, team selection decisions and athletic achievement. When used in conjunction with a vision for sport and a notion, strategically, of how a nation might achieve this vision, one gets a sense of what is happening in British sport right now.
Managerialism has had a significant impact in athletics, rugby, cricket and in many other sports where Britain suddenly appears to have developed an international competitive advantage. Yet it is in professional cycling where some of the most dramatic advances have been made. Under the stewardship of Performance Director Dave Brailsford, British Cycling (the national governing body) has transformed into a world beater.
The last two winners of the Tour de France, Bradley Wiggins and Chris Froome, are both British, and race on behalf of Britain's Team Sky. In the first 99 years of the Tour de France, no Briton had finished higher than fourth place. Ahead of this Tour success, at the 2011 cycling World Championships, Britain secured first place in the medals table, winning two gold, two silver and two bronze medals.
Brailsford's philosophy is that a sport should be broken down into its smallest constituent parts and marginal performance gains sought from each of these parts. Then, when each of these small parts is brought together again, the sum of the marginal gains makes for a dramatic improvement in performance. Again, efficiency gains and big data lie at the heart of this approach.
Underpinning the notion that performance in sport has to be managed, success nevertheless has to be governed by a sense of strategy and, indeed, by appropriate resources. In the case of British cycling, such resources have come from various sources, initially from the state lottery but more recently and most notably from a £30 million sponsorship deal with Sky TV. For the British Olympic squad in 2012, there was a combination of state funding and funding from commercial partners (for instance, track and field athletes benefited from a lucrative deal with Aviva, the finance and insurance company).
This is not just a money issue though, employing the right strategy is crucial. Even before Brailsford's arrival, British Cycling began focusing more carefully on how to improve performance, locating its offices at a newly built velodrome in Manchester and carrying out a restructuring of its development programmes aimed at ensuring a succession of elite riders who could deliver a flow of medals at the world's leading cycling events.
There have been cases before of nations that have realised strategic and more scientific approaches to athlete development can pay dividends in boosting national sporting performance. One only has to think about France's Clairefontaine Academy and the players who passed through it en route to becoming members of the FIFA World Cup winning team in 1998. Similarly, the Australian Institute of Sport ensured that the country's athletes were able to secure a healthy medal haul at the Sydney Olympic Games in 2000.
However, what marks out the recent British experience is the utilisation of management techniques, performance measurement and strategy formulation normally found in multinational businesses. Some in France criticise Team Sky's corporatisation of sport and its clinical, data-driven approach to cycling. Yet it is a mark of the revolution's success that France will soon follow the path set by British Cycling, Dave Brailsford and Team Sky – they too will soon have a new, Paris-based, velodrome: all big data, marginal gains, performance management and long-term strategy.