Russia, and the Soviet Union before it, has traditionally been on Japan's diplomatic radar mostly by virtue of its proximity and sheer influence. The two countries' bilateral ties have been frosty at best, however, thanks to a decades-old territorial dispute over the South Kuril islands, referred to in Japan as the Northern Territories.
But all that is changing. Ever since Shinzo Abe began his second stint as prime minister in December 2012, Japan has been on something of a charm offensive, and it has made Russia a key part of its strategy towards a rising and increasingly assertive China.
Well-known for his strong conservative leanings, Abe initially reached out to Russia to try and make progress on the Northern Territories row, as well as signing a peace treaty to formally end the state of war that they never technically exited after 1945. The progress of these interrelated issues had been stymied since the early 2000s thanks to the Putin government's off-and-on denial that a territorial dispute even existed, and the two countries' seemingly irreconcilable views on how to go about resolving it.
So a formal resolution to the territorial dispute remains a highly uncertain possibility, and a long-term one at that. But Abe has more tangible and immediate goals, too.
Keeping the lights on
First and foremost is energy. For Japan, which imports the vast majority of the energy it uses, more oil and gas from the Russian Far East would mean a closer and more secure source of hydrocarbons than the Middle East – the supplies from which must traverse the unstable South China Sea. Russia, the rationale goes, can also sell its oil and gas to energy-hungry Japan on more lucrative terms than to Europe or China.
But more importantly, Japan believes that Russia can reshape the whole security architecture in East Asia and views it as a counterbalance to Beijing's growing assertiveness and influence.
This is in line with Abe's attempts to create an anti-Beijing coalition in the region by forging new partnerships with countries other than the US, in particular the Philippines, Vietnam and India.
But the newly improved ties between Russia and Japan were suddenly jeopardised by the Ukrainian crisis that broke out in early 2014. Abe was forced to walk a diplomatic tightrope, falling in line with the rest of the G7 to impose anti-Putin sanctions while trying to preserve whatever Russo-Japanese goodwill had been generated since 2012.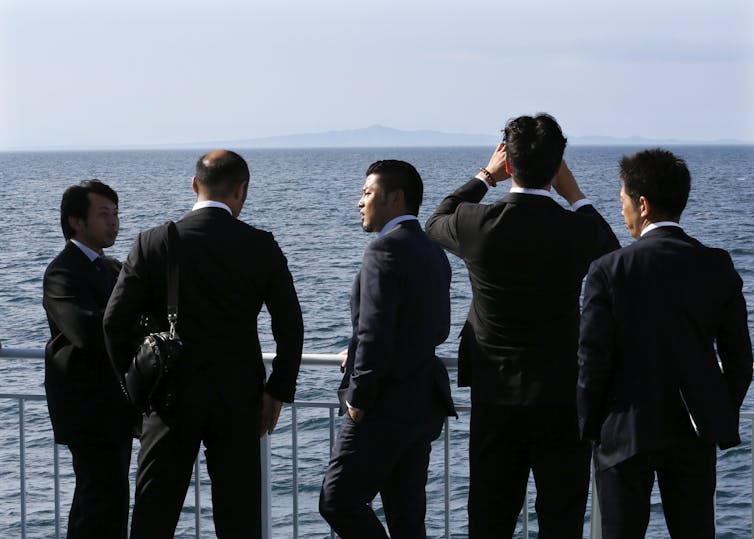 Eventually, Japan's well-earned identity as a responsible member of the international community with a reactive foreign policy prevailed, and Tokyo imposed a series of sanctions on Russia. Predictably, they had little practical impact, but they nonetheless provoked a political backlash from Moscow, one that chilled the two countries' relationship for the next two years.
All the while, as Russia dug its heels in for a stand-off with the West, it attempted to "pivot" eastward, specifically to China. But for all that Moscow paraded its thickening relations with Beijing as a symbol of its defiance, the results of Russia's eastward turn have been distinctly lacklustre, as both it and China prioritise their variously severe domestic economic problems.
More importantly, Beijing has made it abundantly clear that it will not sacrifice its traditional economic interests in the West in exchange for closer ties with Moscow, whatever powerful political symbolism such an alliance might have.
So once again, Japan has seen an opening – and the plan is already underway.
Come together
When he visited Russia in May 2016, Abe unveiled an eight-point plan for bilateral economic cooperation, which he is likely planning to use to exert pressure on Moscow in exchange for concessions on the territorial dispute.
Abe has another bit of leverage besides. He has put a lot of effort into achieving a rapprochement with Putin even as the other G7 countries have pressured him to help them punish Russia for annexing Crimea in 2014. That means Japan is the only country in the G7 willing to engage with Russia on unambiguously friendly terms, making itself a highly valued go-between in dangerously tense times.
The question is whether Russia will respond in kind. The Russian leadership's recent statements have made it abundantly clear that Moscow does not entertain any gesture towards ceding even some of the islands to Japan.
Nonetheless, Abe is clearly committed to convincing Putin that in a region increasingly shaped by China's interests, everyone else has to club together to protect their own. Whether the Kremlin truly buys it remains to be seen.