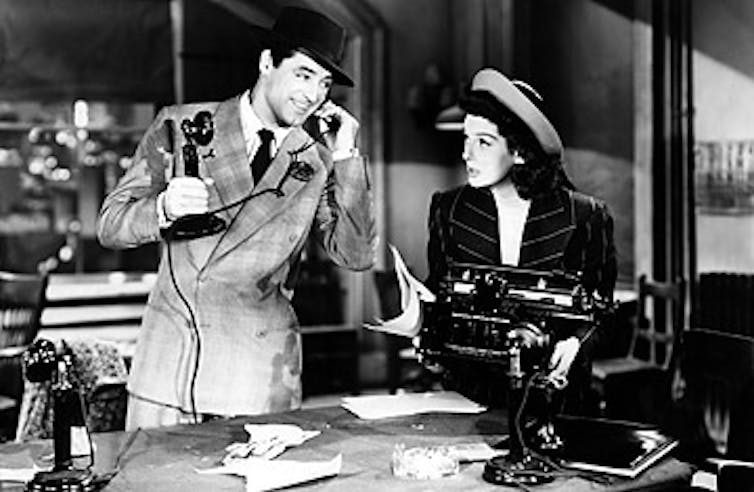 In an incident that highlighted for me how far Australian media organisations have moved in their drive for "efficiencies", I discovered how hard it must be to be a journalist trying to make a living from the profession these days. The incident in question was a TV interview with a presenter on Sky News. The filming was at the offices of the Sunday Times where Sky News have a desk and camera located in the middle of the floor where the journalists normally sit. It was late in the evening however, the office was empty and I was met by a casual employee who had taken a break from his real job as a local restaurant worker to set me up with a microphone and sit me in front of the camera. There was no lead in, a few seconds before my turn, I was told "you're on" and that was it. 5 minutes of discussion and then the presenter moved onto the next part of the story. It wasn't clear when he had found the time to actually research the story, find out who I was and actually piece all of that together on live TV; but he did.
The casual worker had to get back to his real job at the restaurant but told me that he had recently completed a Masters degree in journalism. There was little he actually had to do in this case because the actual control of the camera and technical management was all done remotely from Sydney.
The presenter had asked me to appear on his show because he had read one of my articles on The Conversation about the US and China and the Prism affair and wanted to ask about attitudes to the US as a result.
For anyone writing on The Conversation, it is a common enough story. 43% of authors on The Conversation get media requests and 70% of the content gets republished on some other site. My US China story got republished in the Warrnambool Standard for example, although this was the first time an article of mine had made it into actual print.
For overworked journalists and editors, it is simply that much easier to pick up stories from service bureaus and sites like The Conversation than trying to find these stories elsewhere or have to actually go and get the news themselves with primary source reporting.
For mainstream media organisations, the pressure is increasing daily to produce content that will drive traffic and advertising revenue with ever smaller budgets. For them, sites like The Conversation have been a godsend. There are no restrictions on reprinting content, the quality is good and it is free. The Conversation puts up on average about 20 new stories a day providing a constant stream for other media sites to pick and choose from.
In return, authors are getting an increased readership and theoretically at least, an increased reputational reward from the exposure.
This type of relationship is becoming a fixture of the new digital landscape of news production. News organisations are increasingly trying to use content from bloggers and even professional freelance journalists for free and convincing them in turn that they will be paid in "reputational value".
In an astounding example of this, freelance journalist Nate Thayer was asked by The Atlantic if he would republish a version of an article he had written for another site. Bear in mind that the Atlantic is a prestigious magazine and Nate Thayer is an experience journalist who once interviewed Cambodian dictator Pol Pot. The editor at the Atlantic explained however that they couldn't pay because they had no more freelance budget and besides, the standard rate for an article was just $100. The Atlantic is profitable and posted revenue gains in 2012, increasingly from online advertising.
Traditional media is likely to follow models set by sites like the Huffington Post and try and increasingly source its content for free. At the same time, their hired journalists will have to do more with less. In another twist to this, the Chicago Sun-Times has fired all of its photography staff and will rely on its journalists taking photos using iPhones.
In this environment, you would have to wonder why anyone would want to take up a career in journalism but the number of students enrolled in journalism courses in Australia has increased in recent years. Universities would argue that it is the generic skills that these students are gaining that will stand them in good stead for the workforce - it is certainly not preparation for a career in journalism because there are simply not the jobs and the jobs that are there are disappearing each day.
The West Australian for example, has recently announced layoffs of 100 staff including 33 editorial redundancies.
One major problem in this scenario however is that the majority of analysis and opinion requires an original source and so someone, somewhere, will have to actually do some original reporting. As these sources diminish in numbers, it will have the net effect of making everything else downstream simply reflect a narrower news feed and everything may start looking the same. Some may argue that perhaps that is where we have already arrived.