This article is one in a series, Healthy Liveable Cities, in the lead-up to the Designing Healthy Liveable Cities Conference in Melbourne on October 19 and 20.
---
We know what makes for healthy and liveable communities, which in turn produces massive payoffs. But we often lack comprehensive policies and frameworks to deliver on the promise. In producing Australia's first baseline measure of liveability across our capital cities, we found none of them perform well across all the key indicators.
Our report considers seven domains of a city's liveability that also promote health and wellbeing:
walkability

public transport

public open space

housing affordability

employment

food environment

alcohol environment.
When it comes to delivering liveability, the evidence of geographical inequities within and between cities is widespread. Outer suburban areas are clearly less well served than inner-city suburbs.
To highlight just how much work needs to be done, and what's at stake if we don't get it right, we delve here into three key domains: walkability, public transport, and housing affordability.
---
Further reading: This is what our cities need to do to be truly liveable for all
---
Walkability
Walkability is the foundation for achieving liveable, healthy cities. But our analysis of Melbourne, Perth, Brisbane and Sydney reveals a mismatch between the aspiration of walkable communities and the policies needed to achieve this.
This was particularly evident when considering dwelling density. State policies in Melbourne, Sydney and Brisbane all include a density standard for suburban development of 15 dwellings per hectare. This is a low policy ambition that will perpetuate urban sprawl.
Perth has a more ambitious target for new suburban development – 26 dwellings per hectare – while Brisbane's target for "urban" development is 30 per hectare.
These latter targets – still low by international standards – are more consistent with the evidence on the density needed to create walkable neighbourhoods, with more shops, services and public transport.
But despite state governments setting very modest density targets, there is little evidence that even these policies are being implemented.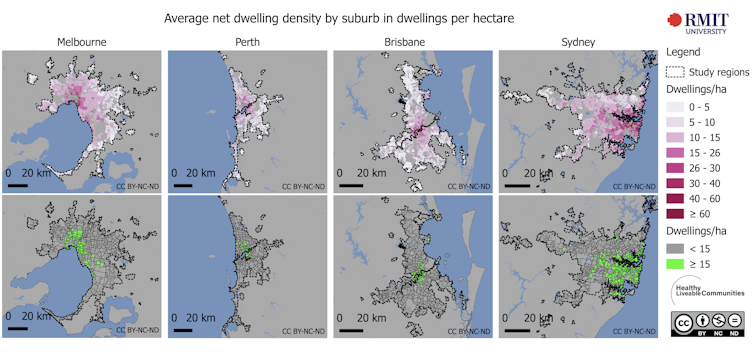 Only Perth and Melbourne appear to have measurable policies and targets for increasing access to local destinations. However, only a minority of dwellings in both cities (less than 10% and 40% respectively) meet their state government targets.
This is important: local destinations are essential for walkable neighbourhoods.
The final element that makes neighbourhoods walkable is the design of the street network. More connected street networks, like grid-patterned networks, increases proximity to local destinations and provides residents with alternative routes.
We found that all cities except Sydney have measurable spatial policy targets to increase street connectivity (block and/or lot size), but few have street connectivity targets.
Public transport
Policies and targets that combine proximity (having a public transport stop within 400 metres) with frequent service (at least every 30 minutes) are a better indicator for healthy, liveable communities.
When this more ambitious target was applied, we found around 36% of dwellings in Melbourne, Adelaide and Sydney have this level of access. The proportion is 18% in Perth and between 11% and 13% in Brisbane, Canberra and Hobart. In Darwin, only 4% of dwellings have this level of access.
Melbourne, Perth, Brisbane and Sydney show a clear pattern of better access to nearby and frequent public transport in areas closer to the city centre.
Fewer areas in smaller cities such as Canberra, Darwin and Hobart have access to public transport comparable to that of larger cities. The spatial pattern of access is less clear, though in Adelaide and Hobart public transport access is higher closer to the inner city.
Residents of some cities face greater public transport access barriers than others. But these results show the majority of dwellings in the capital cities do not have access to nearby and frequent public transport services during weekday work hours.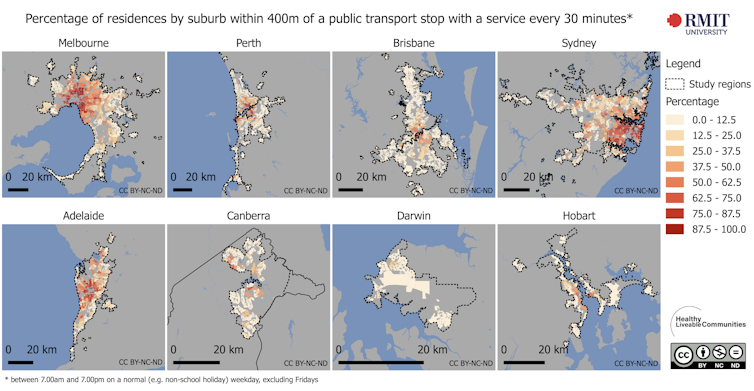 Proximity targets are easier to achieve. However, other Australian cities could consider following New South Wales' lead by adopting more ambitious public transport targets. These should combine proximity with frequent services, with short-, medium- and long-term targets for achieving these more ambitious goals.
---
Further reading: Eight simple changes to our neighbourhoods can help us age well
---
Housing affordability
We identified no state-specific measurable spatial policy standards for improving housing affordability, availability or quality.
With such a major policy gap, we assessed housing affordability using the only two national liveability indicators found to be associated with health and wellbeing: the 30/40 measure of housing affordability, and the proportion of households renting.
The 30/40 indicator identifies households as being in housing affordability stress when a household's income is in the bottom 40% of Australia's income distribution and it uses more than 30% of its income to pay for housing.
Using the 30/40 indicator (based on the 2011 Census), more than one-third of lower-income households in Sydney, Brisbane, Melbourne, Darwin and Perth appear to be experiencing housing affordability stress. Sydney had the highest percentage (38%), closely followed by Brisbane (37%). Fewer lower-income households in Canberra (31%) appeared to be encountering housing affordability stress based on the 30/40 indicator.
The proportion of households renting varies significantly between cities. It's highest in Darwin, where 43% are renting.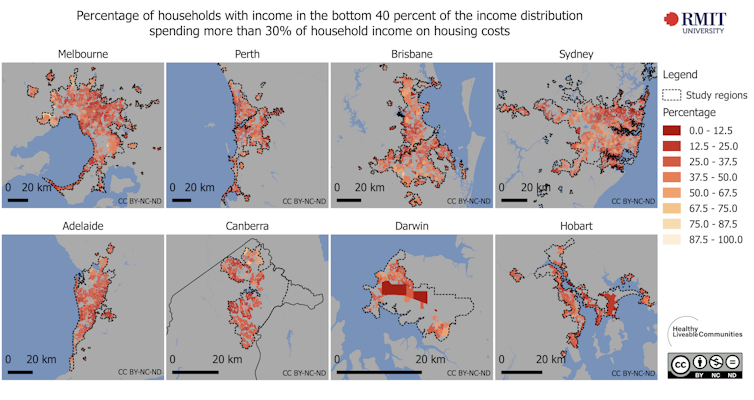 In Sydney and Brisbane, and to a lesser extent in Melbourne, housing affordability stress appears to spread across much of the city.
Low-density housing on the urban fringe is sometimes seen as a policy solution to housing affordability problems. However, we found the suburbs with the highest housing affordability stress were located toward the urban fringe.
Given that outer suburbs have poor access to public transport and are less likely to be walkable, these are the areas most at risk of mortgage stress, given high household spending on private car use. Suburban expansion without considering these other factors is unlikely to relieve the housing affordability stress these households experience.
We need comprehensive, integrated planning to ensure they have access to walkable communities, public transport, cycling infrastructure and local jobs to reduce their car dependence.
How to make our cities more liveable
All three levels of government share the goal of increasing the liveability of our cities. But our study identified only a limited number of measurable spatial policy standards that could be used to assess progress toward achieving this goal.
Our research has shown it is possible to create spatial indicators that will allow urban policies to be benchmarked and monitored over time, and for the level of implementation to be assessed. This could assist in assessing progress and in determining the highest priorities for local, state and federal investment.
And if linked to desirable results (such as use of active and public transport, shorter commuting times, less traffic congestion, and better health), these indicators could provide an early warning of unintended outcomes that require policy adjustment.
We discovered that Australia urgently needs integrated and comprehensive urban policies that will better shape cities that foster health and wellbeing for all residents. Walkable urbanism, even on the city fringe, must underpin healthy liveable cities.
This will require leadership from all levels of government, as well as the development industry which delivers suburban development.
---
You can hear more from researchers involved in Creating Liveable Cities in Australia at the Designing Healthy Liveable Cities Conference on October 19-20 in Melbourne. It's being hosted by the NHMRC Centre of Research Excellence in Healthy Liveable Communities. Register here.