Throughout history, the arts have played a major role in recording and reflecting the state of human society and the natural world in which society exists. Today, scientists and policy makers are struggling in some countries to gain the support that will lead to meaningful action on climate change and other environmental challenges.
A vast body of evidence shows that human influences on the global climate are clear. Without rapid, substantial and sustained efforts to reduce human-caused emissions of greenhouse gases, we risk severe, pervasive and irreversible impacts on ecosystems and society.
Australia has been identified as one of the developed countries most at risk from the adverse impacts of climate change. However, the Australian government is yet to announce its targets for addressing climate change beyond 2020. Australia will join all other countries in Paris in December to reach a new global agreement on responding to climate change.
It is against this background that the ART+CLIMATE=CHANGE 2015 festival of climate change-engaged arts and ideas was developed. Comprising curated exhibitions alongside a series of keynote lectures and forums featuring local and international guests, these events are attracting a broad audience and provide a clear intellectual space for discussion and dissemination of ideas.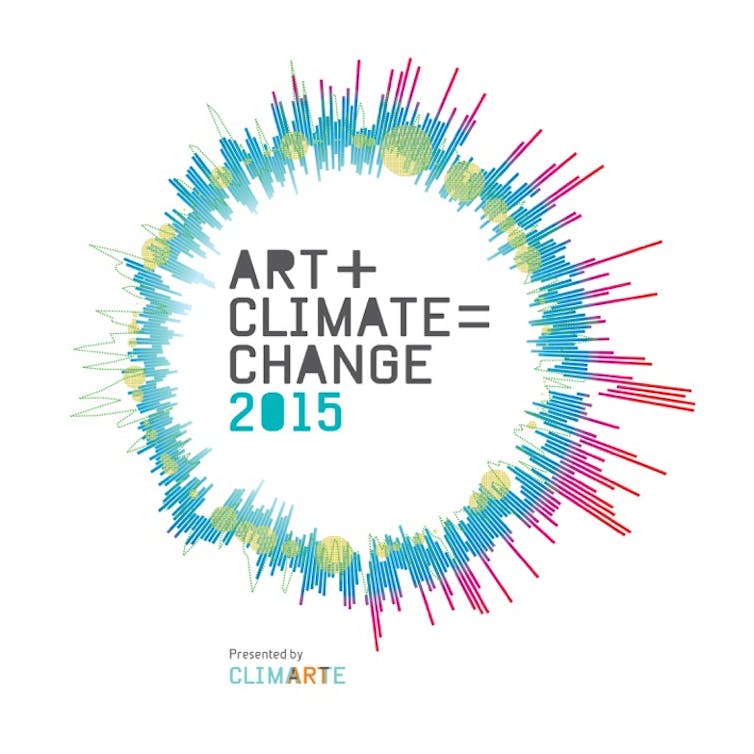 Can art change the world?
It is important to remember that while we need the rational, practical knowledge of science, we also need the unique personal, aesthetic responses that art provides. These responses can engage the personal values and emotions that are so crucial to motivate action.
An example of art driving social, political and environmental change is the photograph Rock Island Bend 1979 by Peter Dombrovskis. Intended for inclusion in a photographic calendar for the Tasmanian Wilderness Society, Rock Island Bend was reproduced more than one million times as part of a campaign to save the Franklin and Lower Gordon Rivers from proposed dams. Rock Island Bend became the visual embodiment of the campaign to protect these rivers in the lead up to the 1983 Federal Election.
Rock Island Bend showed the Australian public what was at risk: a transcendent place, a wild and mysterious landscape, the Nature of our unconscious. Even though this was a place almost no one would visit, it was nevertheless too special, too beautiful to be destroyed.
Rock Island Bend played an important, some say a decisive, role in saving the Franklin and Gordon Rivers by raising awareness and garnering action that helped defeat the incumbent federal government.
Of course we cannot predict whether any particular work of art will contribute to such dramatic consequences, but the arts provide an important part of the cultural atmosphere that we all breathe.
Contemporary art, with its intimate connection to the time in which it arises, has the intellectual and creative capacity to be a powerful trans-disciplinary change agent, bringing together otherwise disparate fields of science, policy and politics.
Art and science
Artists such as David Buckland (UK), whose Cape Farewell organisation led expeditions of artists and scientists to the Arctic, Mandy Martin (AU) with her confronting evocation of coal mining impacts in NSW, and Amy Balkin (US) whose Public Smog project seeks to list the world's atmosphere on the UNESCO World Heritage Register are some of the scores of Australian and international artists represented in twenty five exhibitions in Melbourne and regional Victoria.
Public fora provide opportunities to engage with the artists and exchange views with a wide cross-section of the community. These include innovative approaches like anthropSLAM, a ThoughtLAB: Baby it's hot outside, set in 2050, and the Maldives Exodus Caravan Show.
AnthropSLAM is like speed-dating artists; leading local and international artists each present a 1-3 minute pitch about an artwork they've submitted to the Anthropocene Cabinet of Curiosities.
The ThoughtLab on 12 May asks a guest panel to interact with the audience to dream alternative futures and respond to a record heatwave in Melbourne in 2050 that throws the city into chaos.
The Maldives Exodus Caravan Show is in Federation Square until 17 May. The caravan and inflatable island focus on the current political unrest in the Maldives and resonate with the plight of low lying Pacific island states in the face of climate change.
Critical and creative thinking by both artists and curators provide a unique and innovative way to engage with both the challenges and opportunities arising from climate change. In a conversation that is so often bogged down in party politics and ideological orthodoxy, ART+CLIMATE=CHANGE will develop new alliances across geographical borders, academic disciplines and social demographics, and may just provide the catalyst that can prick our collective conscience.
This article was co-authored by Guy Abrahams, CEO and co-founder of CLIMARTE.