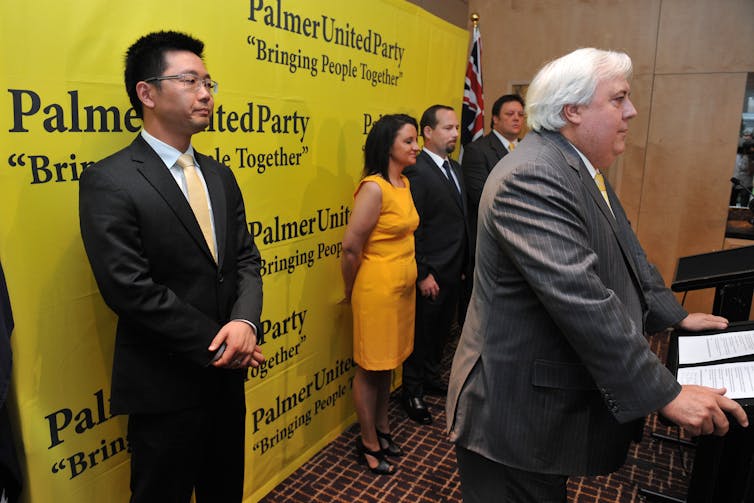 The political rise and rise of Clive Palmer has a long way to play out. Tony Abbott is no doubt rejoicing that from July the Senate will lean more to the right - he should be okay to get the carbon and mining taxes repealed. But the power of the Palmer United Party looms as something of a nightmare.
Palmer will play things toughly and shrewdly. His huge resources enabled him in effect to buy a big junk of political power – through the amount he could spend on advertising and the number of candidates he could run, which maximised PUP's Senate vote (he has got $2.2 million back in public funding).
He has three senators (subject to a recount in Western Australia, announced today), half the number of crossbenchers the government needs to pass legislation. Today he announced an alliance with a fourth, Ricky Muir from the Australian Motoring Enthusiast Party. A "memorandum of understanding" has been signed; PUP and Muir will work and vote together. That leaves two other newbies who will be sharing the balance of power (when the Greens side with Labor), Bob Day of Family First and David Leyonhjelm of the Liberal Democratic Party, plus existing senators Nick Xenophon and John Madigan.
That means PUP will be able to stop the government passing bills it opposes and its support will be necessary (but not sufficient) to get bills through.
If PUP lost the WA seat on a recount, it would no longer be in such a pivotal position, with only two of the magic number of six. But Palmer's arrangement with Muir has given him insurance against that contingency.
The government will be looking with some alarm at that deal. It hoped to be able to negotiate with the "micros" individually. Palmer is alert to that tactic. He noted on the ABC's Lateline on Wednesday that Senate leader Eric Abetz had said he wanted to deal with senators one by one. "That won't be happening with us or with our friends. He'll have to deal with us as a group, otherwise he won't be dealing at all."
At the moment Palmer is ahead by a handful of votes in the seat of Fairfax but there is a recount underway, so it's not clear whether he personally will be in parliament.
That recount, incidentally, is another example of Palmerism at work. Electoral officials have never seen the like of it. More than 20,000 votes that have been challenged for one reason or another by PUP or the LNP. It is estimated that the recount in this one seat will take until the end of next week. Imagine what the Senate recount in WA will be like.
Political sophisticates have been inclined to say dismissively that if Palmer is elected he'll not bother turning up much in Parliament. One is reminded of the Labor people who used to write off Tony Abbott as unelectable. It is too easy to underestimate political players.
Palmer's achievement in starting a party from nothing and in the same year garnering enough votes to grab partial Senate balance of power (and not just with one fluked place) indicates what he can do. Why, with so much scope for influence, would he not be focused on how he would use it – and on how to get more? Even if he didn't hold Fairfax on the recount, he is likely to remain engaged. (On the other hand, over time he might find his team tricky to handle.)
The first thing he is trying to get is extra resources. Those are in the gift of the government. "We'll be seeking from the Prime Minister the same level of resources that the Greens had in doing the same job".
But the Greens have party status and many more senators. No matter, in Palmer's view. "It's not about the number of senators, it's the volume of work". He warned: "We won't vote for legislation till we fully understand it". Abbott is unimpressed, flagging today there would be no largesse for the PUPs – he would stick to the staffing convention.
PUP is still a micro party but it is possible that it is on its way to becoming a minor party, like the Australian Democrats were. Palmer plans to run candidates in state elections. How he does at the next federal election will depend on many factors, not least the way in which he uses his influence. If he overplays his hand, that could rebound on him.
It is very unlikely that PUP will become a long term part of the political system. But a small party that is centrally placed can have a substantial influence for some time, as the histories of those as diverse as the DLP (in its heyday) and the Democrats have shown.
What will be interesting about PUP as this parliamentary term goes will not be just its role on the carbon and mining taxes but how it behave on a whole range of other issues.
It could have been all very different. Palmer originally canvassed seeking Liberal National Party preselection to fight Wayne Swan in Lilley. Abbott didn't want that to happen. It was important to have a grass roots candidate, Abbott said, "someone who is going to do the hard yards".
The LNP did not win Lilley. If Palmer had run for the LNP and won that seat (only a possibility) he would have been a noisy irritant on Abbott's backbench. He would not be determining the fate of legislation. Maybe in retrospect, Tony might be wondering whether he made a bad call on that one.