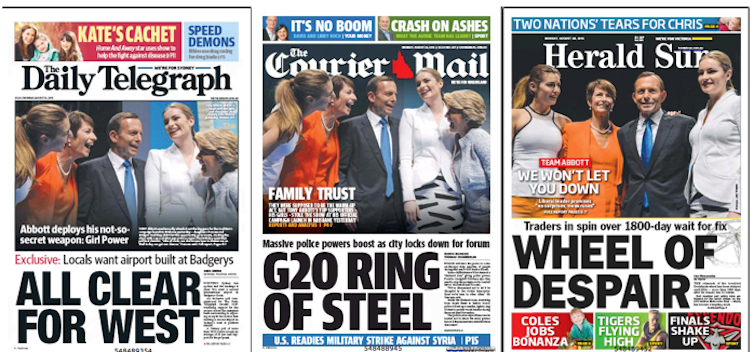 There has been a change in the front pages of the east coast News Corp tabloids in the last few days. The campaign for the Coalition has become much more homogenous: for the first time, the same images and storylines adorn all three front pages of the Herald Sun, the Daily Telegraph and the Courier Mail - this time of Abbott and not Rudd.
Up until now, there has been diversity in the actual same-day stories in these publications, but no negative treatments of Abbott and the Coalition and none positive of Rudd and the ALP.
In each publication, the trend has been to run 3-4 days of election front pages, followed by a totally apolitical front page, that takes our minds off the election altogether. This pattern has been staggered across the cities that contain the highest concentration of marginal seats.
But yesterday and more noticeably today, this diversity has all but evaporated, with an advertorial for family values and trust featuring. In Queensland, "Tony Abbott's top supporters – his girls"; whilst in Sydney "Girl Power" is his "secret weapon" and an important part of "Team Abbott" in Melbourne. The stories are about the national launch of the Coalition campaign in Brisbane yesterday, and the photo opportunities make for a happy occasion. It remains to be seen whether the ALP will get the same treatment when it launches its campaign next weekend, surprisingly close to election.
Yesterday the ALP did get the same story featuring in each of these tabloids - either on the front page or flagged there - about Rudd's appointment to film an appearance on the ABC's Kitchen Cabinet, which was presented as a self-interested attempt at publicity that demonstrated he wasn't serious about the "urgent" talks on the Syrian crisis. The headline was "PM Cooks his Goose".
In a sense, the story does capture what is happening - at least in the polls, where Rudd's campaign trail has been all over the place compared to Abbott's which has been much more focused.
The key difference here is how much time each have spent in cities with the most marginal seats. It is these cities where the tabloids have been the most active in their own campaigning, and where Abbott's campaign has been much more concentrated - as the following image from today's Guardian's Campaign Watch demonstrates.