President Donald Trump has been waging a war on regulation since he got into office on the ground that government red tape costs the economy billions of dollars a year.
Among the victors in this battle have been energy companies, banks and the president himself, who recently promised he's "just getting started." Perhaps the biggest losers, however, have been consumers.
The best illustration of this is the neutering of the Consumer Financial Protection Bureau, which began immediately after Mick Mulvaney stepped in as interim director in November.
So how much harm could he do in two short months? As someone who has written about consumer law for more than 30 years, let me count the ways.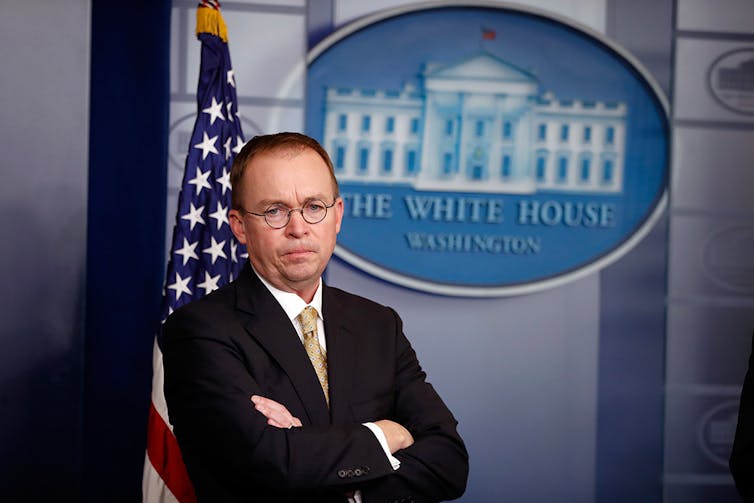 'Pushing the envelope'
The Consumer Financial Protection Bureau may be best known for levying a US$100 million fine against Wells Fargo in 2016 after the bank opened millions of unauthorized accounts.
But the bureau, originally conceived by Sen. Elizabeth Warren, has done so much more since Congress created the independent agency in 2010. Under Mulvaney's predecessor, Richard Cordray, the bureau moved forcefully when it concluded companies had cheated consumers.
Through last summer, the bureau recovered nearly $12 billion for more than 29 million consumer victims of everything from illegal credit card fees to auto lenders that discriminated against people of color. In 2016 alone, the bureau announced 42 new enforcement actions, or nearly four new cases a month.
Mulvaney, who is also Trump's budget director, argued his predecessor's governing philosophy was to "push the envelope" in pursuing the bureau's mission. Mulvaney, Trump and other Republicans argue that the CFPB director – who can't be easily removed by the president – has too much power, making the bureau a prime target in their goal to eliminate regulation they believe puts a strain on the economy and small businesses.
While Cordray had previously never used the "push the envelope" language in describing his mission, he reacted to Mulvaney's charge by embracing it, tweeting that he did "push hard to see that people are treated fairly by big banks, debt collectors and payday lenders."
It seems unlikely that the bureau would take on a bank like Wells Fargo for similar fraudulent conduct or pursue many of Cordray's other actions now that Mulvaney is in charge. His boss has even praised a bill passed by the House that would strip the CFPB of the authority to go after banks for doing what Wells Fargo did, while Mulvaney himself has co-sponsored legislation aimed at killing the bureau.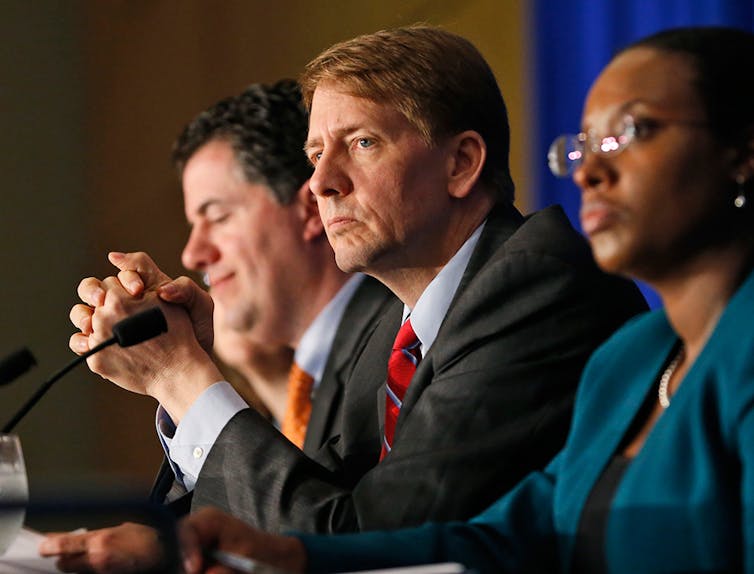 A new governing mission
While Mulvaney agrees that the bureau's job includes protecting consumers such as credit card users, he says it also works for credit card issuers – despite the fact that its very name states that it exists to protect consumers, not banks.
One reason Congress wanted an agency to protect consumers was because existing bank regulators in the run-up to the Great Recession had not only failed to prevent predatory lenders from taking advantage of consumers, thus contributing to the subprime fiasco, but at least one even protected them. I believe the U.S. already has enough bank protection agencies, from the Federal Reserve to the Office of the Comptroller of the Currency, without adding the bureau to the list.
In January, Mulvaney told his staff that the bureau's actions should be guided by how many complaints it receives on a particular matter.
By that measure, the CFPB wouldn't have gone after Wells Fargo because few consumers seem to have complained to the bureau about the unauthorized Wells accounts. That may be because consumers often don't bother to complain when they have suffered only a small loss. And yet collectively the Wells customers had much at stake, as demonstrated by the fact that Wells has agreed to settle the case for $142 million, a number that may yet grow.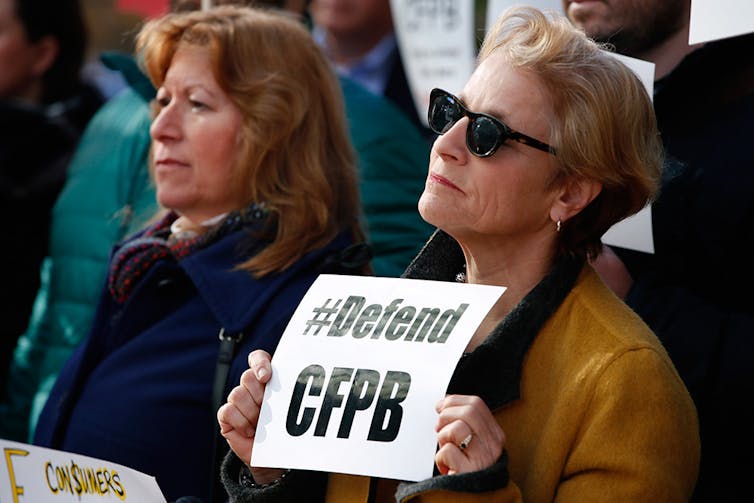 Enforcement – or lack thereof
So what has Mulvaney actually done since taking over?
While he pledged to be vigorous and consistent in enforcement of federal consumer financial law, he has also said that the bureau should bring cases reluctantly. As such, you might wonder how many he is actually filing.
The answer would be none.
The bureau has instead dropped a case, without explanation, against a group of payday lenders that charged consumers as much as 950 percent interest a year.
It also terminated at least one investigation, though we can't know for sure how many it has ended because the bureau usually doesn't publicly announce such actions.
That investigation was against a company that had made several campaign donations to Mulvaney. A ProPublica investigation previously reported that the installment lender, World Acceptance Corp., trapped consumers in a cycle of debt with deceptively expensive loans.
We can't know whether Cordray himself would have eventually ended that investigation anyway and thus determine if its termination was the result of a lack of evidence. But we can be fairly certain that he wouldn't have done what Mulvaney did around the same time: say, he may reconsider a rule intended to keep payday customers from falling into endless debt traps. That rule took the unremarkable step of requiring lenders, before extending some loans, to verify that borrowers can repay the debt.
Another noteworthy move by Mulvaney concerns the CFPB's Fair Lending Office. The law that originally set up the bureau tasked this office with enforcing laws prohibiting discriminatory lending. He has revoked that power, suggesting that preventing discrimination on the basis of race and gender will now be less important at the bureau.
For the next five months – or until the Senate confirms a permanent director – the CFPB is led by someone who once called it a "sad, sick" joke.
What is sad and sick, in my view, is that an agency established to protect consumers may be more eager to protect predatory lenders than consumers. And that is no joke.