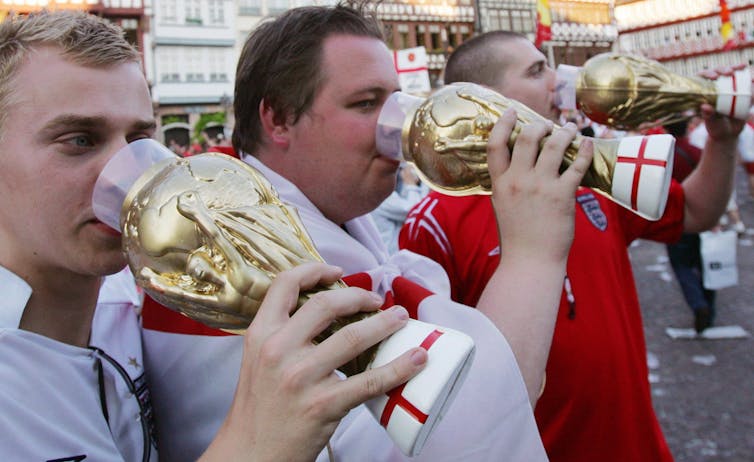 Last week, a number of Adelaide's pubs were exempted from local licensing laws. The reason? To cater for early morning World Cup games. Sizing up this decision, it's worth bearing three things in mind:
Alcohol has been used as a vehicle for restoring order to city centres before.

Drinking has been central to social conversations about basic political rights for centuries.

This latest move signals again how skilled the alcohol industry is at adopting traditions.
I speak from first hand experience.
In 2006, some old school friends decided to travel to Cologne to sample the World Cup atmosphere, and invited me along. Hopping on a train in Amsterdam, we were billeted in a lovely self-contained carriage, replete with comfy seats and tables. "Just like a bar, but without the booze", someone quipped. As if by magic, an attendant arrived with a trolley full of beer. Would we care for refreshment?
By the time we reached the German border, spirits were high. Then something curious happened. Our cell phones beeped simultaneously. Vodafone wanted to welcome us to the host nation, and provide us with the number of consular services. Someone was watching. But there was beer, friends, sun and adventure, so no-one much felt like discussing the politics of surveillance.
Hanging out of the window as we reached Cologne, I noticed three paramilitary police officers standing on the platform, semi-automatics hugged to their chests. They were positioned exactly where our carriage stopped. "Welcome gentlemen. You're going to behave, aren't you?" We nodded, and were politely escorted from the station.
Out into the city, we were instantly seduced first by the Cathedral's splendour, and next by the fan festival awaiting us. Supporters from many nations amicably mingled, the convivial air helped along by copious food stalls selling tasty treats at reasonable prices, and just as many real pubs selling real beer in real glasses.
With the Germany v Sweden game approaching, we searched for screens. The fan parks had sold out, and we ended up watching in an Irish-themed pub. Two police officers cheerfully steered us into the venue, then stood at the door to keep an eye on proceedings.One of our group, a British Bobby, remarked that this was a pretty smart way to keep the peace.
Bewitched by beer, we'd been cordially kettled. The experience underlined claims from sociologists about the role of alcohol as an agent of order.
According to Fiona Measham, in the early nineties, alcohol reinvented itself as a substance that could address challenges of law, order and urban regeneration. In the UK, renovated club-style bars, and drinks marketed as psychotropic products, lured the rave generation back into city centres. Here, they could be watched. Naturally, there was a pretty penny to be turned in providing this service.
Historian James Nicholls reveals that this politicisation of drinking has been a feature of European culture since the late eighteenth century. Looking at the rhetoric of the time. Nicholls found that the basic liberty question-could people be trusted to make good decisions, or did they need to be ruled?- was often discussed in relation to the gin trade.
Nicholls also contends that the alcohol industry has perennially protected itself from political attacks by cloaking itself in cultural tradition. For sports scholar, nothing represents this better than the spectacle of televised football. Sport, Beer, and Gender: Promotional Culture and Contemporary Social Life details how sport, advertising, global media events and the licensed drinks trade naturalise the idea that the best way to enjoy a game is with a beer in your hand. And never you mind if that's first thing in the morning.
At least, I suppose, Adelaide's breakfast boozers have history on their side.