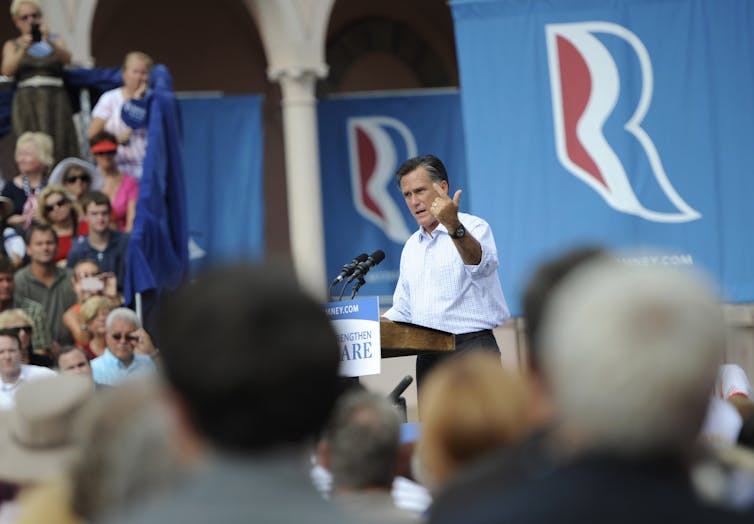 Analysis during campaign season centres on two things: what candidates say and how they're performing in polls. We pay far less attention to the nuts-and-bolts of local organising. Yet the ground game matters, as we saw in this year's Republican primaries. Though anti-Romney sentiment ran high, none of the anybody-but-Romney candidates could pull together a ground game to compete with his. Short of funds and unable to qualify for the ballot in key states, Romney's competitors floundered through the primaries until it became clear only Romney could piece together enough delegates to secure the nomination.
In many ways, Romney has taken on their underdog role in the general election against President Barack Obama. Romney and his Boston-based team of strategists have far less experience than Team Obama running a national campaign, and analysts predicted the former Massachusetts governor would face major enthusiasm and fundraising gaps.
Yet Republicans have had an edge for most of the campaign in money and enthusiasm (though both may have been misallocated). GOP voters may not love - or even like - Romney, but they're keen on defeating Obama. And the Obama campaign will fall well short of its one-time fundraising target of $1 billion.
The one thing we haven't heard about, though, is Romney's ground game: field offices, volunteers, get-out-the-vote drives. (We know the Republicans are working to keep out the vote when it comes to young and minority citizens, but that's a subject for another day.)
Which is why I was excited to see this report from the Republican National Committee. It details volunteer contacts in swing states, showing numbers much higher than 2008. A snippet from the report:
"Overall, we have made more than 26 million voter contacts, thanks to the efforts of our 73,000 volunteers. This week, we expect to make our 30 millionth voter contact. By mid-September, we had already surpassed the 2008 operation in total volunteer voter contacts.
We've knocked on nearly 2 million more doors than in all of 2008, and we've made six times more phone calls than at this point four years ago."
Sounds promising. Here are the caveats:
–We don't know the efficacy of these contacts – that is, whether they can sway undecided voters or turn out reticent ones.
–An excellent ground game can help decide a nail-biter but can't overcome a significant lead (so if Obama pulls away in the next few weeks, the point is moot).
–The Obama ground game is nothing to sniff at. Yes, enthusiasm and donations are off the 2008 pace. Here in Miami, Obama bumper stickers and yard signs, plentiful in 2008, are rare sightings indeed. But the campaign has been experimenting with micro-targeting in swing states, and has twice as many field offices as Team Romney.
With those caveats in place, it looks as though Romney has put together a far better infrastructure than the McCain campaign in 2008. But before he can leverage that advantage, Romney will first have to generate some forward motion to close the growing gap between himself and Obama.