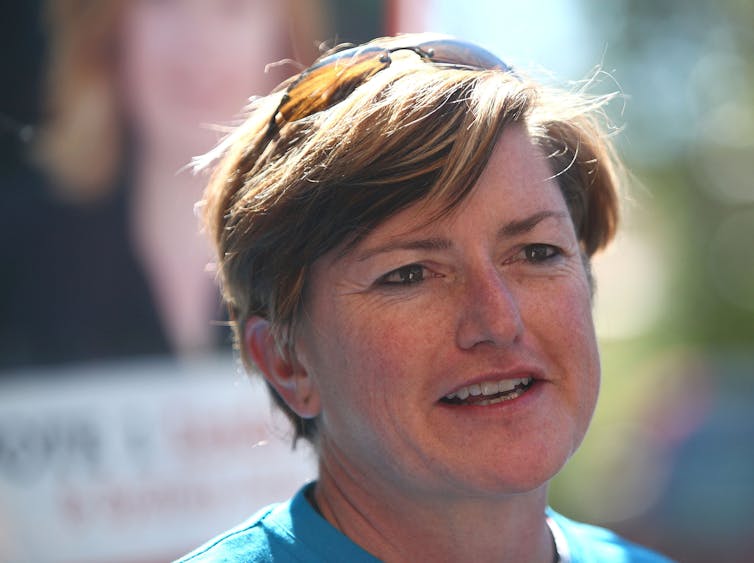 Sometimes it's hard being a sister. Take Christine Forster, the gay sibling of Tony Abbott, who's promoting same sex marriage, an issue that is giving the Opposition leader grief, while she remains one of his loyalist supporters.
Today Forster was due to attend the Australian Marriage Equality's election campaign launch in Sydney. But she pulled out, after Abbott's comment on Wednesday that "I'm not someone who wants to see radical changes based on the fashion of the moment".
"I didn't want to be the centre of media attention", Forster told The Conversation. "That would have been a distraction from the central marriage equality campaign".
Instead, she sent a strong message that can be interpreted - without too much of a stretch - as saying she would keep up the battle on the family front.
"Marriage equality is not an issue of right or left", it said. "If the Coalition wins … I would like to see it engage in open debate which would hopefully lead to a conscience vote on the issue, just as has occurred in the Conservative Party in the UK and the National Party in New Zealand.
"There are a growing number of us in the Liberal Party who are working to make marriage equality a reality. Our approach is to engage in a constructive way with those who hold a different view".
Forster, a Liberal City of Sydney councillor and a journalist working for a publication covering the oil and gas industry, was in the audience at Sunday's debate, as Abbott pointed out, when the marriage equality question put him on the spot.
Abbott refused to allow a conscience vote on gay marriage this term but some time ago said that whether there is one in the next parliament will be up to the party room.
Given overseas trends and Australian public opinion, it is hard to see the party room, despite its likely conservative make up, not approving a free vote. (An Essential Research poll in May found 58% saying people of the same sex should be allowed to marry; only 32% opposed.)
Abbott this week implied the issue mightn't necessarily come up again quickly in parliament. In his dreams. If there was a Coalition government a private member's bill from Labor or Greens would be certain and any attempt to stop it being tested would be counterproductive.
The gay marriage lobby has been one of the most well-organised and persistent in contemporary Australian politics. Its supporters have popped up constantly to ask a question whenever they can get at leaders, ministers and opposition frontbenchers.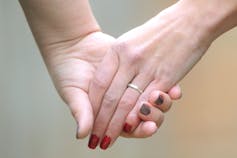 Even though the hung parliament didn't deliver a legislative change, it advanced the cause because Green and Labor private members' initiatives became a focus of attention.
The 2011 ALP conference changed Labor's policy, to support marriage equality (while also allowing ALP MPs a free parliamentary vote). That allowed cabinet minister Penny Wong, who is in a gay relationship and has a young child, and other ministerial advocates to speak out publicly.
The issue's heightened profile (plus Christine's nagging, no doubt - she "has argued with me until she is blue in the face") led to Abbott's statement about the party's say.
Kevin Rudd, previously opposed to gay marriage, did his Damascus road conversion just before he seized back the leadership. He is now running hard on the issue, in the debate promising a bill in the first 100 days of a re-elected Labor government to legislate gay marriage (still with a Labor conscience vote).
Today Australian Marriage Equality announced a mega campaign. The American-based ice cream company Ben and Jerry's is partnering with AME to run a social media and shop front effort.
Ben and Jerry's has long supported the cause, as part of a wider agenda of gay rights and social justice. Its site says that in 2009 it renamed its iconic Chubby Hubby flavour to support the same sex marriage law passed in the US state of Vermont: it offered scoops of "Hubby Hubby". Last year in Britain it created "Apple-y Ever After" as part of the campaign to legalise gay marriage. British legislation was passed this year.
The gay marriage lobby's campaign includes a website with the positions of most candidates; there is a large scale social media blitz. Leaflets will be distributed to half a million voters in seven inner city seats: Brisbane, Perth, Curtin, Sturt, North Sydney, Wills, and Batman.
Tony and Christine have rather different views on the prospects for gay marriage becoming the law in Australia.
He said on Wednesday: "If this country lasts a thousand years quite possibly at some point we might be a republic, but I don't think a republic is inevitable any time soon and similarly I don't see same sex marriages as inevitable."
But Christine predicts there will be a strong push up from the community during the next term. Given the 42-98 defeat last time, even allowing that Coalition MPs were "bound", she thinks it might take another term to win the battle.
"It's hard to predict given that we don't yet know the make-up of the incoming parliament, but I'd like to think it would get up in the next term."
They both agree on one thing. She'll stay in her brother's ear.