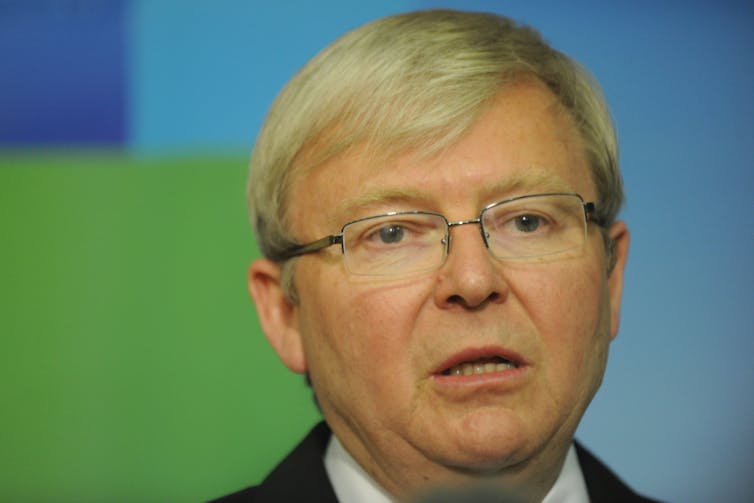 It was not one of Kevin Rudd's easier days. Amid the pall cast by the poor Newspoll, the Prime Minister was in Lismore campaigning with Janelle Saffin, MP for Page and one of Labor's more outspoken backbenchers, a critic on issues from live exports to coal seam gas.
Rudd was talking health but the local media were interested in Saffin.
She was a popular local member, a questioner said, but some of the things she was passionate about - increasing the dole, having asylum seekers processed onshore, stopping live exports - weren't reflected in Labor policies. Why should people be voting Labor?
Rudd launched into a character reference, paying Saffin an over-the- top compliment: she was so hard working "she makes me feel like a slouch … She has a work ethic like I've never seen in my life".
Anyway, the ALP was "a broad church. We have internal discussions all the time".
The serious interrogation of the day was on how Rudd had promised to be positive but Labor's advertising (and general) campaign is now relentlessly negative.
His answer to this charge is somewhat Jesuitical. He'd said at the campaign's start that every ad would be policy-based and those on air now "are policy-based". (Based on Abbott's policy and how it would be funded.) The "spotlight" ad launched on Sunday put the attention on Abbott, who had been turning himself into a "tiny target" and not saying where the cuts would fall.
The ALP advertising has gone negative because Labor strategists have decided this is the best way of fighting back against the increasing Abbott momentum. With the material of the past six years, the Liberals are also focusing on negatives.
As former Labor heavyweight Graham Richardson said today: "Negative ads work". Former Liberal staffer Grahame Morris agrees. "Negative advertising certainly works"; he adds the rider, however, that "its power is diminished if you spend three weeks saying you are not going to do it".
But Andrew Hughes, lecturer in the Research School of Management at the Australian National University, is critical, from a marketing perspective. He says it goes against the positive pitch in advertising generally, which people are used to.
"Politics is not different – politics is just another thing they consume in their lives," Hughes told The Conversation.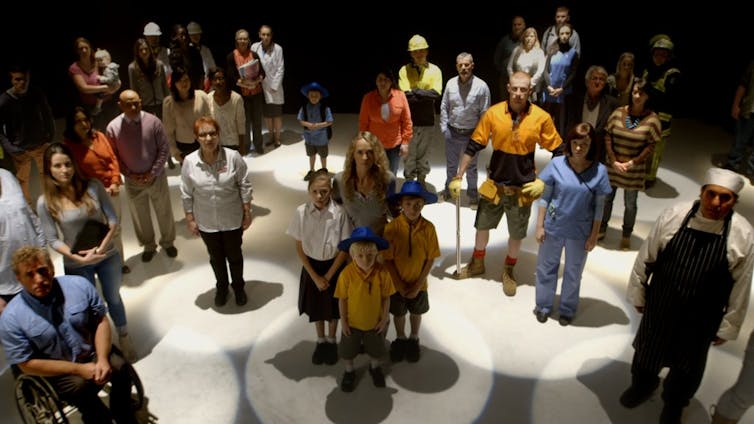 Hughes says the Labor ads are not giving people a reason to change to Rudd. If he were advising the ALP he would build a campaign of positive advertising around key policy areas where Labor had advantages, using lots of visuals, people in marginal seats and few words. "I probably wouldn't put Rudd in. He's been slipping. His brand is becoming tired".
Just when Rudd needs an absolutely united front in his campaign, a crack appeared today. His Northern Australia policy has caused trouble from the start and now has brought more.
Rudd last week outlined a personal "objective" of cutting the company rate in the NT by one third. He said he had worked with the Treasurer, Chris Bowen, Finance Minister Penny Wong, and the leadership group on the policy – which when released was widely criticised for being ill-thought through, to say nothing of inconsistent with Labor's previous attacks on similar opposition ideas.
Pressed on Sky today to endorse the one third fall, Wong shied around the hurdle more than once.
"What do you want the company tax rate to be?" Wong was asked. "Well I'm not going to be drawn on that. The Prime Minister has indicated what his preference is. We'll go through the process that has been outlined". That process which includes consultations with the NT government and business, with a 2018 timetable for implementation.
The Wong incident is particularly notable because normally nothing can drive her off message.
Later she issued a further comment to The Conversation: "The Prime Minister's objective is a worthy one and I support the Northern Australia policy".
But the damage was done – and "worthy" didn't equal endorsement.
On the other side, Abbott felt confident enough to taunt those who had criticised last week's controversial observation that his Lindsay candidate Fiona Scott had sex appeal. Appearing with Scott today, Abbott followed her answer to a question with the comment, "At the risk of exciting anyone, can I just say, obviously from that answer, she ain't just a pretty face ok?" Of course it set off new debate, but it's clear the Liberals believe (or know from their research) that people are taking a pretty relaxed view of his initial remark.
The day wasn't entirely bad news for Rudd. Against a background of several recent discouraging polls, Essential had Labor on a primary vote of 40% and the two-party vote 50-50%. This contrasted with Newspoll's 34% primary and 46-54% two party result.
Hard heads on both sides won't be putting great store on the Essential showing. The bipartisan feeling is that the Coalition seems well-placed at this stage. But any poll that bucks the trend contains some comfort for Labor, and politics can always take strange turns.
Meanwhile the leader issued the war cry. "Kevin Rudd is a fighter". Only the picky in Labor ranks would have found it slightly troubling that he was referring to himself in the third person.