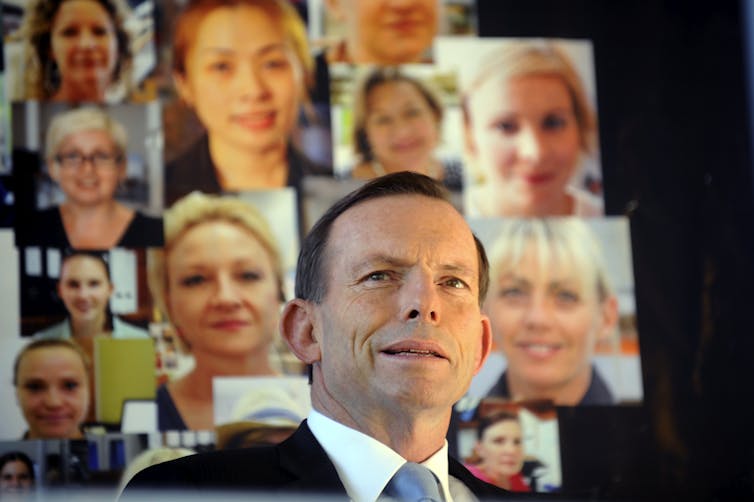 Oops, another election candidate gone. That's three so far - two Labor, one Liberal. The latest casualty belonged to Tony Abbott and ran a site called "Mini-Mods", originally set up for Mini Cooper enthusiasts. It contained all sorts on unsavoury jokes and references, reportedly described as "tit banter."
It was clear from morning that Kevin Baker would be politically dead by nightfall.
Abbott initially said Baker "absolutely has done the wrong thing" and "to his credit he has pulled down the site, he has abjectly and I think quite properly apologised". But as soon as the opposition leader said he was getting a further briefing on the matter, the end of the story was written.
By late afternoon Baker announced his campaign was "over". He does, however, remain on the ballot paper, with a Liberal tag attached, because nominations have closed and ballot papers are printed.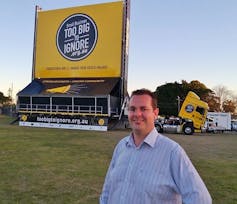 But it's all right – there won't be another Pauline Hanson moment (she was disendorsed, but couldn't be taken off the ballot paper and was elected). Baker was (indeed still is) running for Charlton, a solid Labor seat. So by discarding him, the Liberals keep themselves nice without forfeiting any political chance.
It is a different tale with Ray King, Liberal candidate in McMahon, the seat where Treasurer Chris Bowen could be vulnerable despite his 7.8% margin. King was called before the 1996 Wood royal commission on police corruption.
Abbott is sticking to him solidly. "Not only would I be comfortable to have him as an MP, I would be proud". King would be right behind the Coalition's "tough on gun crime policy" and, as a recently serving policeman, appalled at government cuts to Customs screening of cargoes.
"As for Ray King's appearance 20 odd years ago before a particular commission, hey come on! This is a government in Canberra that has ministers appearing before the Independent Commission against Corruption".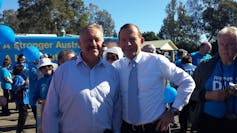 Labor won't let up on King, pointing out in a statement that he was investigated by the Internal Affairs branch of the NSW Police force over his relationship with a number of "associates", and "is a close friend of disgraced former NSW detective Roger Rogerson, a man who served 12 months in prison after being convicted of lying to [the] NSW Police Integrity Commission". It also noted that Rogerson's sister is working on King's campaign.
Labor is challenging Abbott to ask the family of the late Billy McMahon, after whom the seat is named, to campaign for King.
The Liberals say King was never convicted of anything and had promotions after appearing before the commission.
Rogerson, who was jailed the first time for perverting the course of justice, has given his backing to King, telling Fairfax Media: "He's a decent, hardworking fellow who will serve the people of McMahon very well. I don't know him well but he would make a better politician than some of these union blokes the Labor Party gets in."
An endorsement, one would think, that King would be better without.
Another Liberal candidate came embarrassingly into the spotlight this week – for ignorance rather than matters of conduct, character, or associates.
Tom Zorich, standing in the South Australian Labor seat of Wakefield, was asked during a debate with Labor incumbent Nick Champion about how the opposition's direct action policy worked.
"I'm not across all those issues", he confessed. "As a candidate and a businessman I'm not across everything… I haven't got much to tell you about that."
"Being a candidate I'm here to offer myself as a person that represents this area and this electorate. I'm in a different sphere to where Nick Champion is and I will say to you now I don't have [knowledge]… across all the issues … and I'll leave it at that."
There was some sympathy for Zorich, on the grounds that candidates can't be expected to have the grasp of detail that MPs do. But this is not really much of an excuse. Firstly, the direct action policy is a very central one for the Coalition. Second, what about briefings and homework? A party should do the former; the candidates the latter. And what happened to the idea of putting up mustard-sharp youngsters in unwinnable seats as training for contesting winnable ones in the future? They'd at least learn their stuff.
Kevin Rudd this morning was delighted to seize on Abbott's problems with Baker and King. "It's time for Mr Abbott to show a bit of leadership and a bit of guts. Man up", said the PM.
He was of course echoing what Abbott from time to time tells him to do on various issues. There is a good deal of verbal virility in this campaign.
On another front, Rudd's feisty daughter Jessica did some manning up (or whatever the female equivalent is) – she took on Rupert Murdoch.

In a direct (as opposed to through his newspapers) campaign intervention Murdoch tweeted: "Conviction politicians hard to find anywhere. Australia's Tony Abbott rare exception. Opponent Rudd all over the place convincing nobody."
To which Jess Rudd tweeted: "Thanks for taking the time each day to tell us what to think".
Rudd claimed not to have seen the Murdoch text but "Jess will say what she wants".
Like father, like daughter, when it comes to responding to the media baron.
Postscript: Both sides will woo Queensland voters by having their campaign launches in Brisbane. The Liberals will launch this Sunday; Labor will launch the following Sunday.