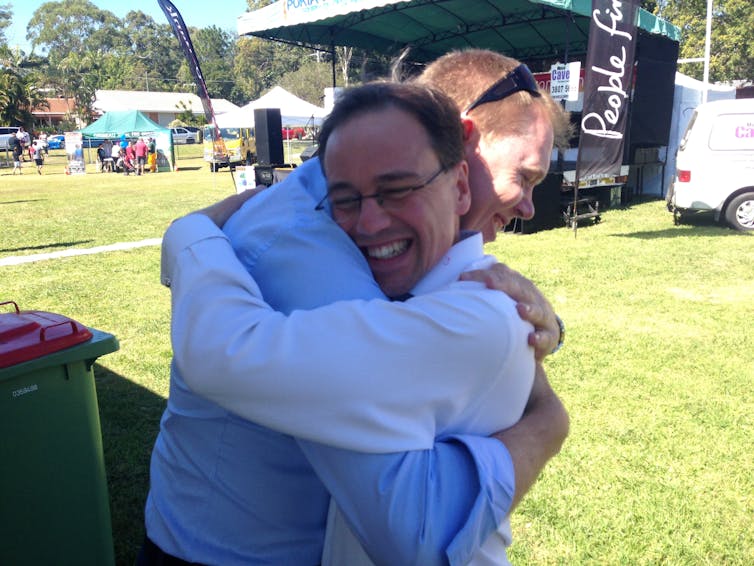 Forde is a litmus test for Labor. In the state where Kevin Rudd desperately needs to win seats from the Coalition, the ALP has thrown everything at this one, recruiting former premier Peter Beattie to try to work some electoral magic.
Yet, with just two weeks to go, Beattie admits: "If you're a betting man, you probably wouldn't put money on me." This is despite the Liberal National Party (LNP) holding Forde by a very modest 1.6% margin.
But having survived some tough spots, he adds: "It's not over yet. I'm a fighter - I've been in worse political positions before… and we've won."
Queensland generally has turned from Labor's hope of salvation to a state of anxiety. When a poll the other day showed Rudd trailing his LNP opponent Bill Glasson 48-52% in his solid ALP seat of Griffith, people thought it was a "rogue" result. With Newspoll in The Australian since showing the same two-party result, it's another matter.
Newspoll's survey of the eight most marginal Queensland Coalition seats, done Monday to Wednesday, had the Coalition ahead 60-40% in two-party terms, and Labor's primary vote at 32%, compared to 36.5% at the 2010 election.
Beattie, hat shielding his fair complexion from the already warm Queensland sun, started today's campaigning outside Logan Hospital, just over the border of the neighbouring electorate of Rankin. There, Wayne Swan's former chief of staff Jim Chalmers is running for ex-minister Craig Emerson's old seat.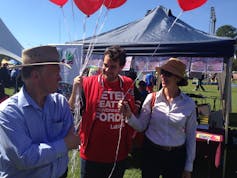 The Chalmers team is a little mystified by some of the recent Queensland polling, reporting that the feeling they've been getting on the ground is more positive.
Beattie moves onto the Eagleby Festival, where the sitting LNP member for Forde, Bert van Manen, is also pressing the flesh.
Ever the shrewd politician, Beattie finds out that he is allowed to speak. But he doesn't make a "speech". He just stands up and says that he knows people there are sick of politics, wishes them a great day, and quips "the good news is I'm not going to sing." He says just enough to make his presence felt.
Van Manen today has the support of Liberal frontbencher Greg Hunt. They greet each other with a huge bear hug: the campaign trail can bring out a special camaraderie among those bound together in the quest for victory or survival.
During his three years in federal parliament, van Manen, 48, who formerly ran a financial advisory business, has remained totally locally focused, which may stand him in good stead this election. "We've just been focussed on our community plans".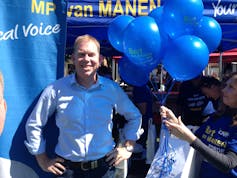 He tells The Conversation that the structure of his campaign was set six months ago and has altered little because of his surprise new opponent. "Election campaigns can always throw you a curve ball; this was one out of left field."
A former Labor member for Forde, Mary Crawford, recently wrote in The Conversation that the seat would not be "an easy run for Beattie". She described van Manen as "a very personable local man, whose social conservatism will no doubt appeal to many constituents".
Forde spans an area between Logan, south of Brisbane, and the top of the Gold Coast. Its population is multicultural; the median weekly household income is $1,301 and the median mortgage repayment is $1,950 a month, both around the national median.
Beattie says Forde is "tough - we're behind". A Newspoll done on Monday and Tuesday saw Beattie trailing 46-54% on a two-party basis and Labor's primary vote on 38%. It is understood that Labor polling is in line with the two-party result, although the ALP primary vote was a little higher.
Beattie has said if Labor can't win Forde, it can't hold government.
After announcing Beattie's candidature with much fanfare less than three weeks ago, Rudd hasn't been back to the seat.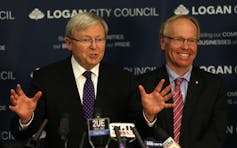 "He expects me to be big enough, and ugly enough to look after myself," Beattie tells The Conversation, over a decaf coffee in a McDonald's cafe between stops. "I'm not a freshman when it comes to campaigning… Once you've ridden a bike, you know how to ride it."
The ride is, however, not always totally comfortable.
It's awkward when he is asked his opinion on things Anna Bligh did in government. Beattie handed over to Bligh, is fond of her, and doesn't want to bag her decisions. But he has to be honest, he says. No doubt that's politically savvy as well. The Bligh government got an almighty thumping at last year's state election.
Beattie's made it clear that he didn't think the Bligh government should have accepted the recommendation for higher electricity prices. Both Bligh and LNP Premier Campbell Newman "should have had the guts to say no", when recommendations were made.
Beattie as state leader was one of the best retail politicians in the game. But in Forde, some voters are distinguishing between the man and the product. A local cafe owner has been impressed by Beattie's several visits for coffee; van Manen had been expected, but has not yet shown up. But the small businessman says Labor still won't get his vote.