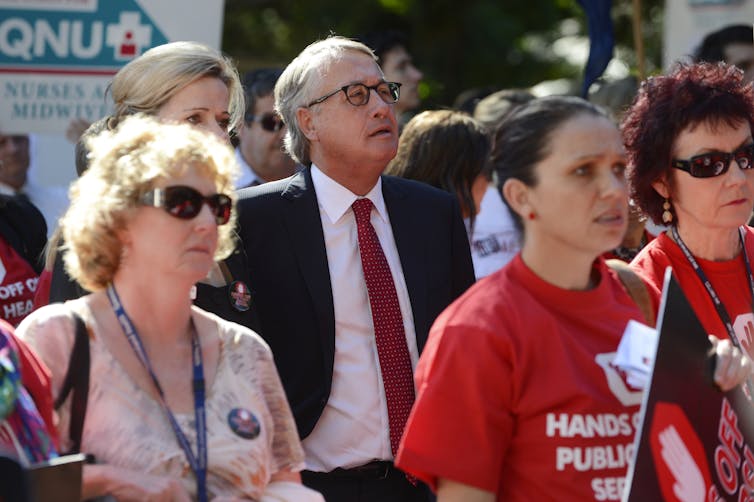 Former ministers – those who backed Julia Gillard - are very "former" in this campaign. Some of them, such as Greg Combet and Craig Emerson - are heading for post-parliamentary life. Senator Stephen Conroy, who doesn't face the people for another three years, is on a trip to the United States.
But ex-treasurer Wayne Swan is beavering away in his Queensland marginal seat of Lilley (3.2%), with some excursions to help colleagues elsewhere. No longer the man who fronts the news conferences or releases the weekly treasurer's note, Swan nevertheless has a bit to say on the national economic debate. Via Twitter.
The release today of PEFO – the Pre-election Economic and Fiscal Outlook for those not on acronym terms with this Treasury/Finance department document – had Swan tweeting that it "exposes Lib's economic scaremongering", and recommending an article by the Age's Tim Colebatch. And: "Today's release of PEFO is D-Day for @TonyAbbottMHR & @JoeHockey. Must reveal size of blackhole ($73 B+) and the cuts they'd make to fill."
Swan has lost none of his sharpness, which critics see as his pursuit of a class war. After a story in The Australian reporting business attacks on the government, he tweeted "Surprise, surprise … so called business leaders (Lib tin rattlers) talking economy down on front page" This was followed by: "These tin rattlers for the conservatives shamelessly push Abbott's agenda of jacking up the GST & ripping away fair IR laws."
On another day, he tweeted "BCA at it again, doing the bidding for Lib's wage cutting agenda under the guise of "productivity reform".
Since Kevin Rudd's return the BCA has been brought into the sun, with the PM having a series of meetings with it and the ACTU on productivity. But the BCA remains critical.
Swan told The Conversation he doesn't miss PEFO but "I maintain an interest in what's going on" in the national scene.
Back among the main players, the face offs over costings and debates are testing political judgement and nerve.
PEFO's projections were the same as in the economic statement (except for the surplus in 2016-17, for which PEFO has $4.2 billion and the statement $4 billion). It must be a relief to Treasury, much criticised for its forecasts, that it can hold its numbers for 11 days.
PEFO reinforced the message that the outlook is gloomy but it was not "new" news, because it has all been in the economic statement. That provided a cushion for the government. Behind the scenes, however, the Liberals are already starting to worry about the economic problems they will have if they win, and how to deal with them.
The government is right that there is no excuse now for the opposition (which reluctantly accepts there aren't better numbers than PEFO) not to release its costings ASAP. But the Coalition sees advantage in holding out as long as it can get away with it. It threw up various excuses: it needs time studying PEFO; it's waiting for numbers from the Parliamentary Budget Office.
The Coalition is feeling more confident - even while compromising its policy credibility by ruling out ever changing the GST although promising a full tax inquiry.
Labor is becoming less confident. Rudd this week is pushing hard his skills agenda, with dollops of money. The story line is that we need a better skilled workforce as we move to the post-mining boom economy. But, vital as it is, the skills agenda is hard to make gripping for the voters.
Labor had hoped to get a fillip from the debate; instead, Abbott did better than the ALP expected. And in a Labor campaign that is presidential, the leader is looking tired as he dashes around. Abbott also has a natural advantage here – he has an athlete's level of fitness and physical stamina.
Rudd now finds himself caught on the debates front. After calling for debates with Abbott everywhere, he's got a dilemma with a forum to be run by Sky TV in Brisbane next week.The idea is that they would both be on the stage together. Abbott has accepted. Rudd doesn't want to do it (he would prefer formal debates organised by the commercial channels). Sky says the forum will go ahead regardless. What does Rudd do? Hard not to turn up.
(Concerned about Sky getting too many breaks the ABC's Mark Scott today wrote to the campaign directors proposing an ABC-hosted Regional Australia-focused debate, making sure issues outside the capital cities are discussed.)
Abbott likes the community forums, because they get the public involved (rather than just those pesky journalists). Perhaps they better bring out the "real Tony".
The "real Tony" broke through today - too much. Campaigning out in Sydney's west, he was asked what the candidate for Lindsay, Fiona Scott had in common with the former member for Lindsay Jackie Kelly. "They're young, they're feisty. I think I can probably say have a bit of sex appeal. And they're just very very connected with the local area". (The knockabout Kelly was always a favourite and friend of Abbott's.)
For Abbott, the remark was particularly ill judged, because it will be used to validate critics' opinions of his attitude to women. Later he said he had been "a bit exuberant". Seeking some bright side, Liberal sources said Scott, trying to wrest a marginal seat from Labor, had got a lot of publicity.