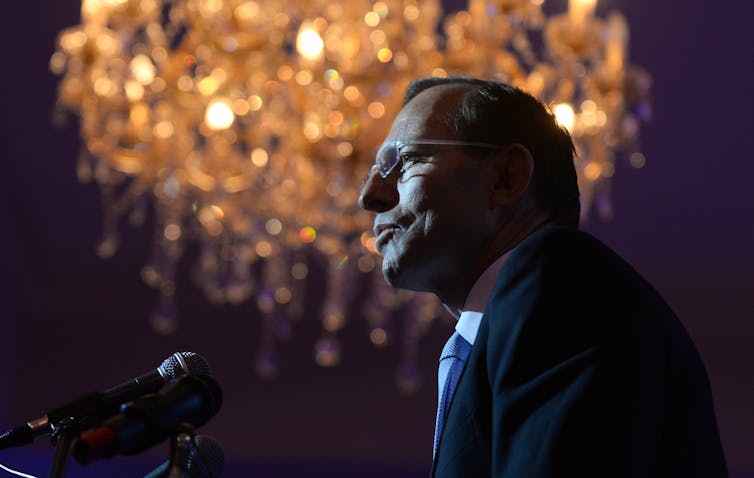 When you want to avoid an exam you need a really good excuse. There was no way Tony Abbott would ever have accepted the invitation to debate Kevin Rudd on Sky tonight. But as it happened he was able to come up with a reasonable get out.
"Tonight I have an engagement to go to a post-Ramadan event in Sydney", he said. "I don't believe in just cancelling things that have been arranged for some time to suit Mr Rudd's convenience". No indeed.
The argument about the election debates-to-come (when, where, in what form) will be settled, with huffing and puffing, over coming days. But what of debates past?
The ANU's Australian Election Study has asked voters following each election from 1990 to 2010 about the debates, and the results are reported in Ian McAllister's The Australian Voter: Fifty Years of Change. People were asked, from what they had seen or heard, who they thought had won.
Who wins the debating is not necessarily a pointer to who wins the election, although a win or loss feeds into the campaign dynamics. John Howard lost most of his debates but won most of his elections.
In 1990 PM Bob Hawke trounced Andrew Peacock (47-15% according to the respondents), and later won the election. The debate result was very different from their 1984 encounter - the first election with a televised debate - when Peacock was the victor. Hawke won the election but after that experience, in 1987 he declined to debate John Howard.
In 1993, PM Paul Keating did over John Hewson (44-22%) and Hewson lost his "unlosable" election.
In 1996 challenger Howard beat incumbent Keating at debating (36-23%) and won the election.
Howard was narrowly beaten by Kim Beazley in 1998 (28-30%), the year Howard scraped home at the GST election with a minority of the popular vote. In their next encounter, 2001, Beazley again won the debate (56-18%) but again lost the election; 2004 saw another Howard debating loss, this time to Mark Latham (25-42%), and another Howard election victory.
But it was a different story in 2007 when Howard lost both the debating (13-60%) and the election to Rudd.
In 2010 Gillard beat Abbott at debating (37-23%), while neither "won" the election, which produced the hung parliament. Nearly half the voters in the ANU study after the 2010 election said that had watched the Gillard-Abbott debate.
Does the debate have an effect? McAllister writes that "the number of voters who are swayed by a debate, net of other things, is very small. Those who are influenced in their vote by the debate tend to be non-partisans, or supporters of minor parties."
In this regard, Essential Research today had some interesting findings from asking people when they expected they would make their final decision about who they would vote for.
More than half said they had already decided (53%). These included 69% of Coalition voters and 55% of Labor supporters. Fifteen per cent said they would finally make up their mind "during the election campaign"; 12% said in the last week before the election; 3% said the day before the election, and 8% said on election day.
This last figure makes some sense of the mad marathons we see from leaders at the death knock of campaigns (especially Abbott's 36-hour continuous effort in 2010).
Those least likely to have made up their minds were people aged 18-24 (33%), Green voters (36%), and other party/independent voters (29%).
Another question also tackled this matter of "rusted-on" versus non rusted-on voters. When people were asked how likely was it that they would change their vote before the election, 44% said they definitely would not change their mind (59% of Coalition voters, 40% of Labor voters) while another 30% said it was very unlikely they would do so.
Only 21% said it was it was "quite possible" they would change their mind "as the campaign develops" – a small proportion from one vantage point, but a potentially large pool for leaders seeking votes. Those most likely to say that it is possible they will change their mind were Green voters (35%), supporters of "other" parties and independent (49%), people aged 18-25 (32%) and women (25%).
These results suggest some voters have parked with the Greens as a protest, waiting to see if they want to jump one way or the other, or perhaps that Green supporters are evaluating that party during what could be a difficult election for it.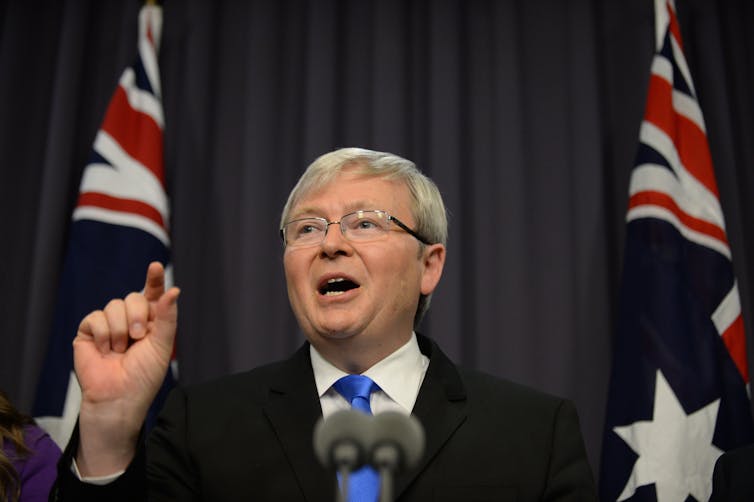 Most significant is that young voters are more likely than average to be persuadable. Rudd in particular will be pinning hopes on this demographic.
Remember his pitch to the young on the night he won the leadership back: "It's clear that many of you, in fact far too many of you, have looked at our political system and the parliament in recent years and not liked or respected much of what you have seen.
"In fact as I rock around the place, talking to my own kids, they see it as a huge national turn off. … I want to ask you to please come back and listen afresh. It's really important that we get you engaged, in any way we can.
"We need you. We need your energy. We need your ideas. We need your enthusiasm and we need you to support us in the great challenges that lie ahead for the country. With your energy, we can start cooking with gas."
The Liberals have to be in this hunt too. One Liberal campaign source said tonight the feedback from local areas was that in the last few weeks there had been a "significant increase" in young people joining the party or volunteering to help. Since late yesterday, there had also been a notable rise in Facebook "likes" from younger people.
Both leaders have gone into this campaign defining the economy as the central battle ground. The opposition has flayed the government over debt and deficit; Rudd is taking on the argument, not running away from it.
Today's Essential poll has found the two leaders neck and neck when people are asked which would they trust most to handle the management of the economy: 32% said Rudd and 35% chose Abbott. Compared with a similar question about trust in the parties that Essential asked last month, Rudd rates considerably better than the Labor party on management of economy.
This election really is all about "the economy, stupid". There will be plenty of prepping on eco numbers and lines before the leaders finally do meet on that debating platform.