Just over a year after reports that some people seeking asylum were housed in accommodation with red doors, apparently making it easier for them to be identified, MPs on the Home Affairs Select Committee published a critical report in late January into the state of asylum housing in the UK.
Details within the report provide a shameful account of failings by some of the private firms that run asylum housing. The chair of the committee, the Labour MP Yvette Cooper, said:
The state of accommodation for some asylum seekers and refugees in this country is a disgrace. And the current contract system just isn't working. Major reforms are needed.
Back in January 2016, The Times called the red doors for asylum seekers "apartheid on the streets of Britain". The private security contractor involved, G4S, had not addressed concerns raised about the doors with its subcontractor Jomast, potentially exposing people to the risk of hate crime.
G4S insisted it had no policy of painting the doors of asylum housing red. In early May 2016, it wrote to the Home Affairs Select Committee, to say that "the majority of doors are no longer red" and that "any further repainting that might be necessary will be funded by G4S".
Despite these concerns, in December 2016, the UK government decided to extend and expand the contract with G4S, as well as the contracts with the companies Serco and Clearsprings – neither of which was involved in the red doors incident. The extension was made by the immigration minister Robert Goodwill, who lodged a short written statement in parliament announcing the government would take the option of extending the current Commercial and Operating Managers Procuring Asylum Support contracts for asylum support – known as COMPASS – until 2019. These primarily provide accommodation, transport and other related services for people seeking asylum.
The announcement got little coverage, but is a deeply concerning decision.
A litany of complaints
The background to COMPASS stems to 2012, when six contracts were awarded to G4S, Serco and Clearsprings. COMPASS was worth more than £620m – the largest contract ever awarded by the Home Office. The decision to award welfare housing for people seeking asylum to private companies removed the expertise of 13 specialist providers, mainly local authorities.
G4S is one the world's largest security employers, but when it was given the contract, like Serco, it had no experience of providing asylum housing. The company is the subject of a number of serious allegations regarding failure to protect those in its care.
Serco has also received complaints. These include allegations of the mistreatment of women in relation to its contract for the Yarl's Wood immigration detention centre. An undercover Channel 4 News report in 2015 showed Serco staff at the facility referring to detainees as "animals", "beasties" and "bitches". After carrying out an independent review into the allegations, in January 2016 Serco pledged to improve conditions including hiring more staff and removing barbed wire.
The decision to extend the COMPASS contracts also flew in the face of three damning parliamentary inquiries – two in 2013 and one in 2014 – which have included allegations of malpractice and mismanagement of the asylum accommodation contract.
In 2014, the National Audit Office also found G4S and Serco failed to meet key performance targets "notably relating to the standards of property" and their "poor performance[s]". This failure led to fines which stood at £5.6m in 2013-14.
The new report from MPs indicates a continuation of the dismal housing conditions. Problems include: a house with a known asbestos risk, vulnerable women placed in mixed-sex accommodation; children living with the presence of vermin (infestations of mice, rats or bed bugs); women in the late stages of pregnancy being placed in rooms up several flights of stairs, and unrelated individuals being made to share a bedroom. "No one should be living in conditions like that," said Cooper.
Yet, the COMPASS contracts, which were due to end in August 2017, have been extended for two more years. The government did little to explain its decision, but in his written statement Goodwill said he recognised that "there are improvements that can be made". As a result, the amount of money that the Home Office pays has been increased, and a new higher price band introduced for any increases in the number of asylum seekers requiring accommodation. The additional money will also allow the contracted companies (G4S, Serco and Clearsprings) to increase their property portfolios and widen the areas in which they operate.
Warnings ignored
G4S has attracted censure in parliament over a number of years. A number of MPs, including the now mayor of London Sadiq Khan, have specifically called for G4S not to be awarded further government contracts.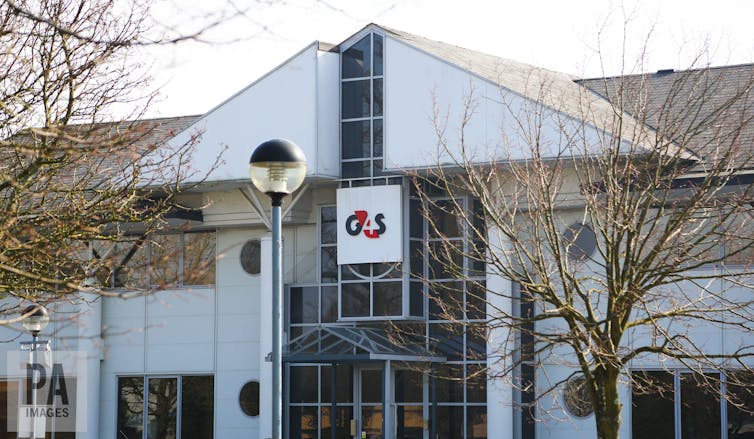 In 2012, Keith Vaz, the former chair of the Home Affairs Committee, suggested the government should "establish a register of high-risk companies that have failed in the delivery of public services". Such a register would allow MPs to consider whether G4S, and other private companies, are suitable for bidding for further government contracts – such as those running asylum housing – and prohibit those who are not from bidding or being awarded.
In September 2016, Liberty and 40 other organisations demanded an inquiry after G4S was awarded the contract to deliver the Equality Advisory Support Service, which provides expert advice and assistance on issues relating to equality and human rights across England, Scotland and Wales.
A way forward
Many of us who have worked with people seeking asylum during the challenges of COMPASS believe the contract and provision of asylum housing would be better transferred to a consortia of local authorities. In its report, the Home Affairs Select Committee suggests arrangements "could have been replaced with a better approach when the term of the contracts ended". It argues that local authorities are crucial to COMPASS, recommending immediate action to transfer the necessary resources to enable local authorities to improve standards and monitoring – including giving them powers of inspection, higher standards and new penalties, and report publicly on their findings.
Looking to the future after 2019, Cooper concluded:
When the current contracts run out, they should be replaced with a completely new system – handing power back to local areas to decide on asylum accommodation rather than this top down approach.
Asylum housing should be delivered by voluntary sector and statutory providers who know and understand the local area, and are committed to ensuring that people are treated with dignity and are accommodated in safe, secure and suitable housing.