Sunday mornings are special.
Sure, 99% of the non-political world is sound asleep (or still attempting to make their way home after a night on the town), but for many political enthusiasts Sunday mornings are when long breakfasts are accompanied by a cavalcade of politics oriented shows.
This week, the major Sunday programs were even more eagerly anticipated as Labor prepared for its leadership ballot.
Early start
Sunday morning news really begins at 7AM. Weekend versions of Sunrise and Today gave a concise overview of the major issues. Channel Seven's Sunrise had an interview with former ALP powerbroker Graham Richardson and their political correspondent in Canberra.
The time constraints of commercial television ensured the discussion on the question of Labor's leadership was short and sharp. The show kept on returning to the leadership battle throughout the morning in various and "entertaining" guises. Apparently, some people find politics a bit dull and they would like to know about other things going on in the world as well. Strange.
Laurie Oakes
Channel Nine's Today has a consistent weapon that keeps on firing – Laurie Oakes. Not only is he a decorated political journalist, Oakes is also able to get interviews with key players.
This Sunday he interviewed Kevin Rudd, arguably the biggest player in the current debate. Watching the interview was like watching two well-crafted Swiss watches tick. Oakes' questions were pointed and probing while Rudd maintained his calm, cool and collected persona.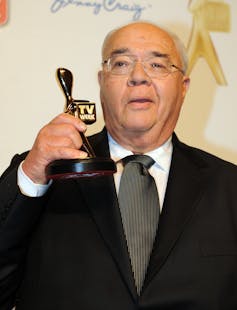 In an interesting exchange, Rudd recounted a conversation he had with Nicola Roxon at Canberra airport after being deposed as PM in 2010. According to Rudd, Roxon had told him that she was able to work with him as PM which contrasted with comments she had made earlier this week.
Other than that, Rudd revealed no surprises but no one would have expected anything other than a safe, rational performance just before the leadership ballot.
Insiders
Arguably the current flagship of the political shows starts at 9am on the ABC. Hosted by Barrie Cassidy, the Insiders program draws on senior journalists and interviews with senior political actors to drive its hour on air.
This week's show gave some excellent insight into the Gillard and Rudd feud. The show's format of not having to go to commercial breaks or provide coverage of other topics ensures that it is a political junkie's most potent fix.
A problem for all shows this week was the fact that the leadership battle had enormous coverage in previous days. The challenge for these shows was to find unique or original angles of analysis. On the whole, they did this, especially in presenting the latest estimates of the final result of the leadership ballot.
Moreover, the analysis of these shows, especially on Insiders, wrapped up all the main points that had been raised throughout the week. They successfully set the stage for tomorrow's vote.
Important television - that struggles to attract viewers
Clearly, the prime minister is favoured to win comfortably. While Rudd has vowed to not challenge Gillard a second time, his presence in parliament will ensure that he continues to attract interest from the media. Indeed, it's expected that he'll try to become leader again in the not too distant future.
And with that realisation, Sunday breakfast has ended along with the political shows for another week. For many, Sunday morning politics programs provide compelling viewing. However, it seems that they don't attract a great deal of viewers. Rather, one of their important roles is to provide material that will feature in the nightly news bulletins and drive the political debate for the coming days.