From the moment prime minister Kevin Rudd called the election on August 4, The Conversation has kept you up-to-date and informed with the best political analysis from Australia's sharpest academic minds.
In federal election campaigns, voters and politicians often lose sight of the major issues affecting Australia in the desperate pitch for votes. That's why The Conversation took a big picture view, and leading experts tackled 12 key policy areas facing Australia, whichever party wins government on Saturday.
In case you missed them, curated highlights follow.
---
How we make our money
Gregory Melleuish, Associate Professor at the School of History and Politics, University of Wollongong on the economy – from the drop-off in mining revenue to the future challenges of supporting baby boomers into old age:
Australians and their politicians have become conditioned by years of having the funds flow in from the mining boom. They have become used to having the purse strings loosened and find it difficult to adapt to more difficult times.

The real problem is that our political leaders have refused to acknowledge that there may very well be bad times coming. The public has not been prepared for a discussion which focuses on the need for possible economies in the years to come. The discourse of the election still assumes that a Commonwealth government would continue to spread its largesse around the country.
---
The Australia we're building
Vivek Chaudhri, Associate Professor, Department of Management at Monash University on infrastructure:
Infrastructure lays the foundation not just for economic growth, but equally, the types of infrastructure investments that are supported – and the means by which they are funded – shape the social fabric of the nation.

Elections campaigns ought to be an opportunity for the voting public to engage with the big-picture visions of our political leaders and the different trajectories they would take to get us there.

But so far, there has been a dearth of analysis, debate and commentary on what the key infrastructure projects ought to look like.
---
The way we work
George Collins, Deputy Vice-Chancellor (Research & Development) at Swinburne University of Technology on the relationship between innovation and productivity in Australia:
In his admirable attempt to pack a full term as prime minister into 72 days and as an exemplar of political productivity, Kevin Rudd has indicated economic productivity as one difficult issue he wants to tackle.

Industry and trade unions have been eager to join government to do something about the flat-lining of this most stubborn economic indicator but deep down understand that the solution to the productivity problem is far from simple.
---
Governing Australia
Jennifer Menzies, Adjunct Senior Research Fellow and Robyn Hollander, Associate Professor in the School of Government and International Relations at Griffith University on governance, the role of the states and the federal/state divide:
Federal election campaigns are increasingly focusing on a broad range of issues, such as education, health and law and order, which are largely the responsibility of the states and territories. Despite this, establishing and managing the relationship between the Commonwealth and state governments is seldom a top priority for an incoming prime minister.
---
How we grow and care for each other
Yvonne Haigh, Senior Lecturer, Management and Governance at Murdoch University on caring, from paid parental leave and childcare to disability and aged care:
In the current election campaign, the major parties use the language of "care" in a battle of claims and counter claims over "who cares the most". This public face of care on the one hand emphasises the importance of economic management, building productivity and providing the right conditions to secure the nation's borders. On the other hand, demonstrating each party's "care credentials" is played out in their policies on paid parental leave, child care, disability and aged care.

The policies of both the major political parties appear caught between a neoliberal emphasis on the importance of the economy, and a social democrat emphasis on the importance of society. At a simple level, we assume policies put forward attempt to balance the pros and cons of both positions: one that protects us from the vagaries of the market while ensuring Australia continues to develop into a vibrant and diverse society.
---
How we live and die
Jim Gillespie, Deputy Director, Menzies Centre for Health Policy and Associate Professor in Health Policy at the University of Sydney on healthcare, from service reform and hospitals to balancing the budget and keeping Australians healthy:
This year is shaping up to be one of the first federal elections in decades where health is not a headline issue. So far, both parties have avoided grand promises. And the partisan rancour that once marked Australian health policy has diminished.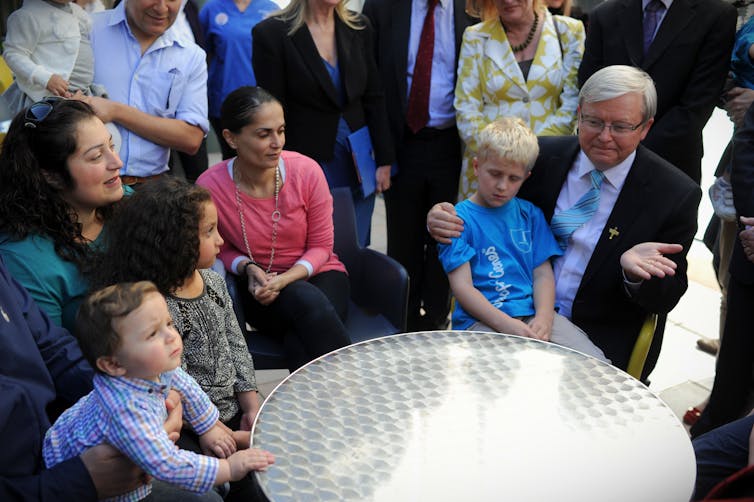 ---
The ground beneath our feet
Jonathan Law, Director, Minerals Down Under Flagship at CSIRO on Australia's mining and resources boom, its challenges and how we are positioned for the future:
Australia has a massive global advantage – thanks to its geology. Almost 60% of the continent remains to be explored for minerals and energy.

But the harsh reality is, it won't be explored without a national vision that balances development with social and environmental constraints.

Natural resources are now at the centre of political, economic, social and environmental debate. Driving this is the world's growing population and shifting dynamics of the global economy.

Nowhere has this debate been more polarised than in Australia where, on the topic of minerals and energy, national and commercial interests compete on the global stage.
---
Australians, one and all?
Eva Cox, Professorial Fellow Jumbunna IHL at the University of Technology, Sydney on social inclusion, equality and addressing Indigenous disadvantage:
Politics and policy during elections offer a compressed vision of what the contenders for power decide will win votes and what they hope to achieve.

Voters have been told for years that the role of government is primarily to make economic work for GDP growth. But the constant debates on surpluses, deficits, spending and cuts leaves little space for debating social policy directions and values of equity, fairness and social cohesion.

While economic growth and engagement are important, both individually and as a society, making these the basis for policy decisions likely to cause serious harm to our social ethos and, more specifically, to those who lose out.
---
What do we look like?
Andrew Markus, Pratt Foundation Research Chair of Jewish Civilisation at Monash University on the "face" of Australia: what we currently look like, and how and why asylum seekers and immigration issues dominate our political debate:
Surveys ranking the electoral significance of political issues consistently find economic issues are ranked first, followed by health and education. Population issues and asylum, along with the environment, rank as second level issues.

One of the most recent surveys, conducted in July 2013 by Essential Research, asked respondents for the "three most important issues" in deciding their vote at the federal election. It found just 9% indicated "managing population growth" and 14% rated "treatment of asylum seekers" as important, up from 6% in November 2012 and 11% in June 2013.
---
Looking after Australia
Andrew Campbell, Director, Research Institute for Environment and Livelihoods at Charles Darwin University on conservation, sustainability and biodiversity in modern Australia:
In election season, policy wishlists abound. Rent-seeking interest groups, industries and communities compete for media and politicians' attention. The richer ones buy both.

Environmental concerns, if mentioned at all, appear lower down in the ubiquitous polls. Are we relaxed and comfortable about our environment and how well it is being managed?

According to the last two State of the Environment reports, it is difficult to be definitive about environmental condition because we've failed to invest in proper monitoring. But overall trends in water quality, wildlife habitat and fauna populations are mostly negative.
---
The way we learn
Field Rickards, Dean of Education at the University of Melbourne on education, all the way from early childhood to tertiary level:
If you have been paying attention to education coverage in recent weeks and months, you would be forgiven for thinking the Australian education system is on a verge of a major crisis. It is not. But there are some matters that need attention.

To bring it back to basics, Australia has a good education system and we perform well on international measures. However, there are some matters that need to be addressed.
---
Australia and the world
Joseph Camilleri, Professor of International Relations at La Trobe University on how Australia engages with the rest of the world, and how the rest of the world sees us:
Australian political parties and election campaigns normally pay little attention to the wider world. The coming federal election is unlikely to be different.

Yet, powerful changes are transforming Australia's international environment. Two are particularly worthy attention.

The most obvious change is the far-reaching shift in the world's economic and geopolitical centre of gravity – from the West (United States and Europe) to the East (Asia).
---
Stay tuned to The Conversation for the best post-election news, analysis and comment as we bring you all the wash-up from the big day on Saturday.