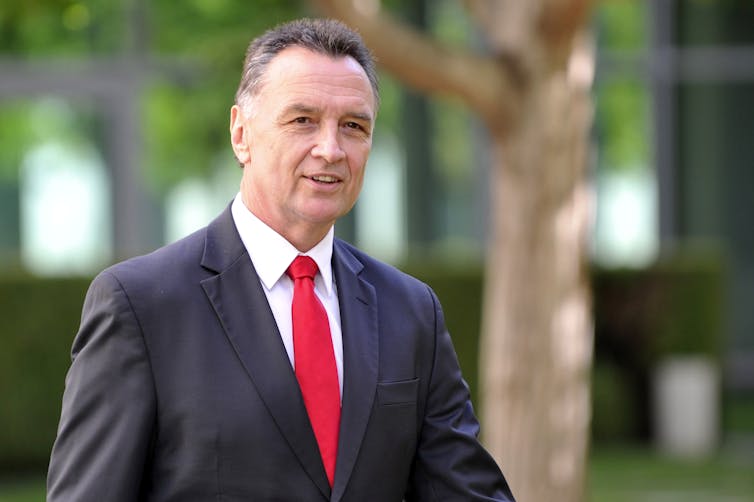 Tertiary Education Minister Craig Emerson, who will have to juggle his new job with his old one of Trade Minister, brushes off fears that he won't have enough time for both. Rather, he sees the two as a good fit.
A highly-educated Australian community is vital to capitalise on the Asian century, and one of Australia's big exports into Asia is educational services.
As an initiative in the new role the Prime Minister has handed him, Emerson, the senior of the trio of new ministers in higher education and research announced in Monday's reshuffle, is keen to promote the extension of Australian TAFEs into Asia.
When in Malaysia last year, he was asked whether Australia could establish TAFE campuses there.
"This is familiar territory for Australian universities – we do have campuses in many places," he says in an interview with The Conversation.
"The new development is the interest that is being shown to me as Trade Minister for developing TAFE campuses."
"Because they do need highly trained electricians, plumbers, carpenters and graphic designers, to name but a few. And increasingly people who have got training with health and aged care.
"This is why I've said the Asian century offers a splendid diversity of career opportunities for young Australians.
"It would be easy to think of the Asian century project for the elites, but we are very much designing the policy for kids from the suburbs of our capital cities to be able to go live and work in Asia and utilise the vocational skills and on-the-job training they have.
"No more than 20 years ago, the idea of Australian universities establishing campuses in Asia was pretty novel. So now we are opening a new chapter for our vocational education sector", which has "a reputation for very high standards."
While physical TAFE campuses are not yet common, last year more than 30 TAFE providers delivered vocational training to almost 60,000 students in the region, mostly in China.
Emerson, whose full bundle of responsibilities includes Trade and Competitiveness, Tertiary Education, Skills, Science and Research, will be assisted by Don Farrell (Science and Research) and Sharon Bird (Higher Education and Skills).
As the cabinet minister, "I'll be doing the policy work" as well as consulting with universities and other key institutions," Emerson says, when asked about the division between him and the junior ministers.
He already knows some of the vice-chancellors, including Glyn Davis (Melbourne), Peter Coaldrake (Queensland University of Technology) and Margaret Gardner (RMIT) as well as Ian Chubb, now Chief Scientist but formerly vice-chancellor of the Australian National University).
But he warns, "I'm unlikely to have time to go to lots of dinners – that's a sacrifice I'm willing to make."
Trained in economics, Emerson did his PhD at the ANU under Ross Garnaut, who was an adviser to Bob Hawke when he was PM as well as producing this government's climate change reports. Emerson was a post doctoral-fellow at ANU, before he worked for Labor minister Peter Walsh and later for Hawke.
Emerson has been, and remains, minister assisting the Prime Minister on Asian century policy. He is committed to promoting the Asian century white paper's objective of increasing the number of Australian universities in the world's top 100 to 10 by 2025 (at present we have six).
"It's very competitive," he warns. Existing overseas universities are improving all the time; new ones are springing up, including good ones in China (which Emerson will visit when Prime Minister Julia Gillard goes there next month).
"This is a race that is well and truly under way and in order for us to achieve the white paper aspirations we will have to run faster in a contest where already universities from other countries are running fast," he says.
Within Australian universities, it is vitally important to "encourage creative thinking". This is "at least as important as technical skills". He sees this as an advantage that American universities have. One reason why young Americans can get fabulously rich in Silicon Valley is that they have been encouraged to think creatively, he says.
Emerson will not be drawn on what's likely for the sector in the May budget, which is expected to be tough, although presumably also moderated by the fast-approaching election that, on present polling could see a Labor wipeout. But he does defend the research funding cuts in the last year, saying they were against a growing base.
When The Conversation spoke to Farrell he had not yet had a discussion with Emerson about precisely what he would be responsible for.
"I'd expect some discrete areas, like CSIRO and ANSTO (the Australian Nuclear Science and Technology Organisation)."
Farrell presses the point made in the recently-released government policy on industry and innovation (A Plan for Australian Jobs) - that Australia needs to get more value-add from its science.
"We've got a great science tradition," he says. There are "really bright people" in Australian universities and other institutions and in lots of areas, world class research is being done.
But a principal weakness is "that we often invent things but don't always get the credit for getting them out into the community, as consumer products, medical advances and the like. We often leave it to others.
"We have to ensure that we get the credit and the advantage for rolling these things out."
The scientists need to step up. "It requires a little more determination on the part of the science community to grab their idea and roll it out", Farrell says, adding that "the government will assist – promoting a culture to get the advantage."
Farrell, a former official of the "Shoppies" union, found himself in the headlines in 2010 as one of the "faceless men" behind the coup that installed Gillard. He became parliamentary secretary for Sustainability and Urban Water after the election. This brought him into contact with prominent scientists in those areas, he says. From that job, he is proud of sponsoring legislation for the recycling of a wide range of products including television sets and computers.
Farrell is frank that this budget will be difficult but says, "My job will be as advocate [for the science and research community]. I've been a pretty good advocate in the past – I'd like to be a good advocate in this new role".
Bird, a former high school and TAFE teacher, has spent a year as a parliamentary secretary for higher education and skills, so she is already very familiar with the sector. Based in Wollongong, she has focused especially on foundation skills including literacy and numeracy programs.
"Coming from the Illawarra region, I am very conscious of the role post-school education can play in transforming the region and creating jobs with a long-term future, whether in smart manufacturing or emerging manufacturing industries," she says.
"My passion is the ability of the sector to prepare us for the really good, long term jobs of the future. You want to transform the economy so the jobs are sustainable and securely remunerated. This is particularly important for the regions."
Bird has also been impressed by the effect of the government's decision to uncap places in boosting the number of disadvantaged people going to university.
"The number of them who are, like I was, the first in their family to go to university is really encouraging. Particularly those from a disadvantaged background", such as from migrant and refugee families. "We should make sure we sustain that improvement".