An election "is also a contest between media outlets", my fellow panellist Professor Sinclair Davidson observed in his blog yesterday.
Not quite so in Western Australia, where The West Australian remains the dominant daily newspaper.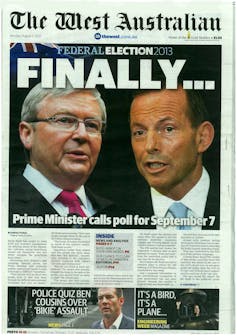 This, however, does not mean a lack of diversity in media voices given the online presence that most media outlets have across the nation and the substantial audiences that they attract. On one count, 30% of people said the internet was their main source of news, only slightly behind television (31%) and with newspapers in third place (13%).
"The West" entered the election coverage cycle yesterday nicely summing up public ennui induced by the protracted political disarray and that has defined Labor rule in recent years (see right).
The newspaper devoted roughly six of the 76 pages in the issue to election coverage visibly striving for impartiality with equal space devoted to large photographs of Kevin Rudd and Tony Abbott on the front and inside pages. In contrast to the Daily Telegraph's bold crusading approach, The West was noticeably measured. While noting the "three agonising years" of the "ugliest and most divisive period in recent political history" in Australia, the editorial almost absolved both sides of politics of fault: "neither side of politics is fully to blame for this unsavoury state of affairs".
The Tele on the other hand took the view that the Rudd government has forfeited its right to rule because, among other things, Mr Rudd is absolutely tied to old Labor and its socially divisive and financially ruinous policies; his government reinvigorated the people smuggling trade; his government tried to intimidate a free media; and his government didn't keep its word on the carbon tax.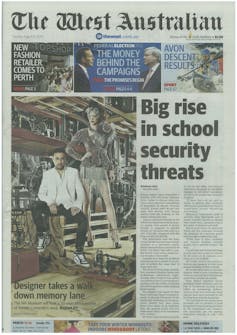 On Day 2, The West's election coverage earned only a pointer on the front page to three inside pages of coverage, with a story on a big rise in school security threats making up the front page lead, and a large picture of designer Aurelio Costarella and a caption pointing to this story on page 7. About a third of the letters page carried election-related letters and the op-ed pages had one election-related item about Gen Y's political disengagement. So, add "disengagement" to "ennui".
It was not easy to conclude from yesterday's editorial whether The West was neutral or intending to remain so. While noting that voters have many reasons to desire a change of the "error-prone Labor Government", the editorial wanted Mr Abbott to "give us a reason to turn desire into action". So, keep Labor unless.
However, the heading accompanying the editorial – "Our chance to clean up the mess in Canberra" – may contemplate getting rid of the Labor government. Or, should we read, our chance to avoid a hung parliament?