Roald Dahl hated adaptations of his work, and often I agree with him. The original books have such a place in so many people's hearts and open up the imagination so much that once on screen they can feel a bit faded. But the BBC's feature-length adaptation of Esio Trot is another story. This slightly less well known book has been beautifully treated.
It would be hard, almost impossible, to harbour a grudge against this particular fairytale retelling, with a star cast including Judi Dench, Dustin Hoffman and James Corden. Esio Trot offers an indulgent retreat into a simpler world of a shy old man (Mr Hoppy) falling in love with the eccentric, fun-loving widow (Mrs Silver) who lives in the apartment downstairs. And it's perfect for Christmas – Mrs Silver herself puts her Christmas tree up on the first of August every year.
I don't approve of this adaptation because it's true to the book, as you might assume. It actually takes quite a lot of liberties with the original text. James Corden's narrator, for a start, is an inspired addition to the tale. His fast-paced storytelling takes place on his journey through London on the school run, as we just catch the bus, walk through the park, hop into a taxi, rush into the school playground, collect his little girl Roberta, and arrive home. This creates a distinct contrast between the urban rat race and the slowly blossoming love story, ideal for a sleepy New Year's Day.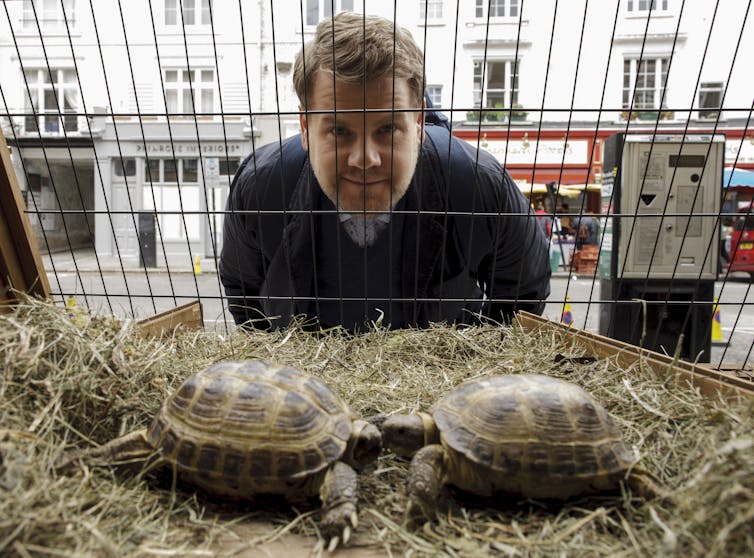 The modern world is incorporated in several clever and subtle ways as we warm to Mr Hoppy. His Facebook status is "not in Facebook". The story is also skilfully punctuated with the addition of a lift. It is in the lift where Mrs Silver and Mr Hoppy have their first encounter, where Mr Hoppy first falls in love, where the seasons move from spring through to winter and we see Mrs Silver pictured in an array of outfits from bunny ears to dresses for the dance marathon.
So what else is different to the book? The film begins by telling us that this is a "story full of passion and surprises, as indeed is our Mr Hoppy". Mr Hoppy is "ours", and as such, the viewers are instantly on side, in a way that isn't so immediate in the original text. Looking back at my own edited collection of essays on Roald Dahl's children's literature, my notes on Esio Trot read, in a perhaps uninspired way, "marriage by deception".
This may make me sound pretty down in the dumps, but in the original text this is essentially true. Mrs Silver is becoming increasingly anxious that Alfie, her much-loved tortoise, hasn't grown, and this gives Mr Hoppy the perfect opportunity to execute an elaborate, fantastically bizarre plan of the type we often see in Dahl's fiction – think of James's peach escaping through being lifted out of the ocean by the seagulls.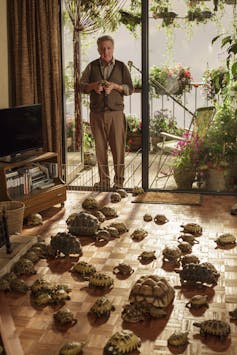 Mr Hoppy fills his own apartment with tortoises of the same colour but slightly larger sizes than Alfie, persuades Mrs Silver to chant a rhyme to make the tortoise grow – "Esio Trot" – and then when she is out he swaps Mrs Silver's small tortoise for a slightly larger one using a large claw on a rod that he has engineered especially for the task. In the book, Mrs Silver is so enchanted by the change in Alfie that when Mr Hoppy asks her to marry him, she instantly accepts. Mr Hoppy returns the tortoises to the pet shops, with the original Alfie being bought by a little girl called Roberta (here's the link to the narrator's daughter in the adaptation) and they live happily ever after without Mrs Silver being any the wiser as to Mr Hoppy's deception.
From the text, alone, as my notes indicate, I was clearly left with a bittersweet impression. But in the adaptation, there is something of a love triangle to unravel, with the addition of the unwelcome Mr Pringle who also tries to win Mrs Silver's affections. Dramatic tension, of the Sunday evening viewing style, is created as Mr Hoppy attempts to cook for Mrs Silver and Mr Pringle while concealing all the tortoises in the kitchen. Mrs Silver is also made aware of the trick after Mr Pringle spoils it all for Mr Hoppy. So yes, the subversiveness of the original is painted over, but it does make for the perfect festive viewing.
The dialogue and exchange between Hoffman and Dench is as magical as Mr Hoppy's beautiful botanic balcony. Corden's narration is a tonic to all of us watching out for the metatextual as he walks through picture frames and is interrupted by his daughter while telling the story. Beautifully shot, creatively and cleverly retold this tale is not to be dismissed as "only" children's. It is universal, comedic and a delight to all.
Would Dahl have approved? I'm not sure. But regardless, if this kind of material welcomes in and sets the bar for the New Year, then 2015 is set to be truly fantastic.