There is a profound silence in conflict. Women's voices are absent. They are excluded from decision-making and peace processes across the world's trouble spots.
This exclusion not only perpetuates political and social structures that disenfranchise women, but also violates international law.
What is the law?
The landmark United Nations Security Council Resolution 1325 on Women, Peace and Security was the first time the Council put the "soft" security issue of women squarely on the international security agenda.
It mandates women's inclusion at all levels of peace processes, and requires that all actors are responsive to the particular challenges and needs of women during and after violent conflict.
But implementing the resolution has been difficult as states have not translated rhetoric into real action.
Australia's failure
Australia is a prime example of this inability to turn talk into reality.
There has been vocal support of Resolution 1325, but until recently, no real steps have been taken here to implement it as a national-level policy.
My own research into the Solomon Island's case and the Australian-led Regional Assistance Mission to the Solomon Islands (RAMSI has shown that we have been inconsistent when it comes to our international commitments.
Although Australian actions within RAMSI have sometimes addressed gender, they have fallen far short of 1325's mandate. Women should be participating in decision-making and peace processes. Gender should be considered in training and protection should be a priority. That hasn't happened.
This is largely due to the lack of an overarching policy framework, or National Action Plan on the 1325 resolution, so the implementation has been ad-hoc and dependent on the commitment of individuals or particular organisations.
All talk, no action
The disconnect between rhetoric and action is clear when we look at AusAID's policies, which failed to engage women in the Solomon Islands peace process.
This was despite the fact that women's groups played a central role in peace-making in the lead up to the regional intervention by Australia, both in civil society and through official channels.
In fact, Solomon Islander women were excluded entirely from the negotiations that bought peace to the Solomons, and the resulting Townsville Peace agreement.
Afterward, they continued to be excluded from post-conflict decision-making processes.
Indeed, in one incident, Australian RAMSI personnel prevented representatives from the Solomon Islands' National Council of Women from entering Parliament to participate in discussions about how to end the armed violence.
There is evidence that women were engaged on an ad-hoc basis by some RAMSI staff, but such engagement was not systematic. It highlights than in the absence of binding policies mandating it, women's participation is likely to fall through the cracks.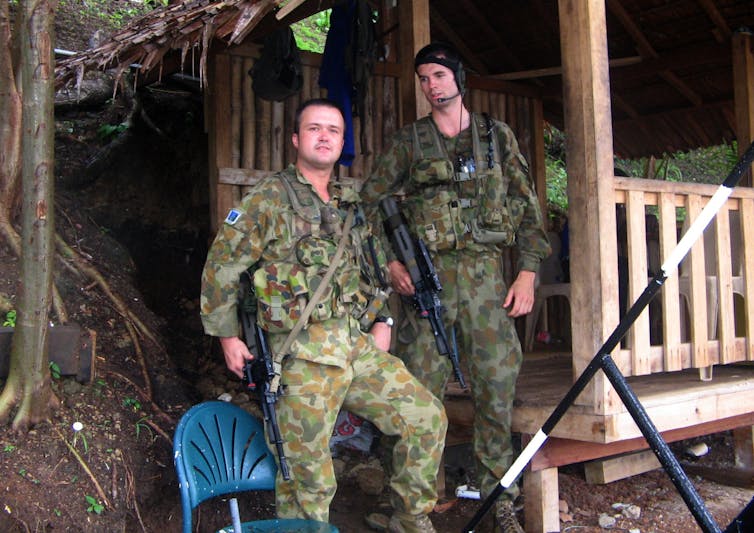 Lip service
And the marginalisation continues. Not a single woman has elected to the Solomon Island's Parliament since the conflict.
I don't suggest this is Australia's fault – rather it is due to a wide range of cultural and social pressures that motivate voters to elect men to positions of power.
But it is important to note the contradiction between Australia, through AusAID, promoting women's participation in government, and Australia, through RAMSI, excluding women from other arenas of the peace process.
RAMSI has not been consistent in addressing the specific needs and challenges faced by women in since the civil war, even though gender-based violence was a central issue during the conflict.
That there was no gender advisor for the first six years of RAMSI's operation highlights the low priority gender is accorded in "hard" security oriented operations.
In fact, an Amnesty International study concluded that women's protection needs were given little more than lip-service by donors who favoured a focus on men's economic opportunities.
Violence continues
One particularly concerning issue is that of RAMSI's failure to fulfil its obligations to protect women from ongoing violence.
Domestic violence rates rose significantly after the intervention and were not addressed, and there is evidence that some RAMSI personnel engaged in the exploitation of women and girls.
RAMSI personnel are drawn from 15 states, so Australia, even as the mission leader, cannot be held completely accountable for these breaches in the protection of women and girls.
Change needed
It's clear that Australia's current ad-hoc system of implementing Resolution 1325 has failed to ensure our international obligations around women, peace and security.
The adoption of a robust National Action Plan (NAP) on 1325 would help translate Australia's rhetoric into action, and so it is a welcome move that the government has recently released a draft NAP for review by the community.
This will help incorporate Resolution 1325's principles into national structures and processes, including development assistance.
It will affect the mandates and codes of conduct of Australian soldiers and police in security and peace operations.
It will also commit the government to addressing sexual violence in conflict resolution processes.
But it can't just be another superficial policy which addresses "soft" security issues. It must include accountability and reporting mechanisms, and get the agreement from a wide range of stakeholders.
Resolution 1325's principles present a major challenge to the current distribution of power in decision-making processes,and to many deeply held social or cultural assumptions about gender roles.
But it is essential that the importance of women's participation in peace processes is understood not only as just and fair, but as pragmatic.
Including women and being responsive to their needs is key to long-term peace-building success, and should be a cornerstone of all peace operations.